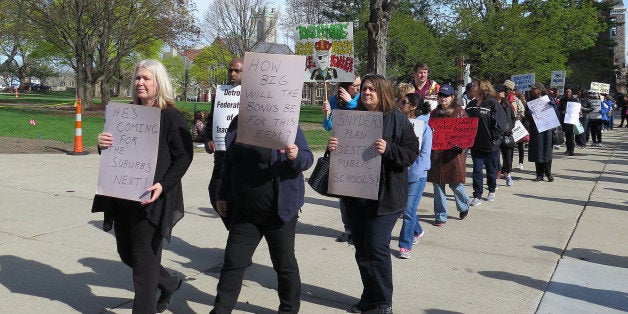 In January, hundreds of Detroit teachers staged a "sick out," closing down more than 80 Detroit schools and launching protests outside courtrooms, at the North American International Auto Show, and on the city's streets. They did so knowing that teacher strikes are illegal in Michiganand that their jobs could be in jeopardy -- but the safety of their students mattered to them more than their paychecks. Detroit's schools aren't just in disrepair: they're intolerable, unacceptable environments with dysfunctional cooling and heating systems, plumbing problems in the restrooms, mold, leaks, and crumbling roofs, floors, windows and doors.
It is easy to recognize the extreme situation in Detroit as something that has to change. But it would be a mistake to think the problem of unsafe schools is confined to that city. Across all 50 states, students are going to schools that are in dire need of repair and are failing to create environments that are healthy and safe for our kids and the teachers and administrators that support them.
The U.S. Green Building Council's 2016 "State of Our Schools" report, an in-depth state-by-state analysis of data on investment in school infrastructure, has found that the way we currently fund our school facilities is inherently and persistently inequitable. Millions of students around the country are learning in dilapidated, obsolete and unhealthy facilities that are obstacles to their success and well-being. The annual shortfall in the funding needed to keep our schools healthy and safe? $46 billion That's how bad the problem is.
K-12 schools represent the nation's second largest category of public infrastructure, with two million acres of land and more than 7.5 billion gross square feet. The reality is that states and school districts don't have sufficient funds to take care of existing facilities, let alone build new ones. We're going to need enough quality school construction to house the additional 3.1 million students who will join American public schools over the next decade.
Where do we get the money? Currently, state support for schools varies widely and frequently leaves local districts solely responsible for their schools' -- and pupils' -- well-being. Right now, 12 states provide no direct funding or reimbursement to school districts for capital investments, and another 32 provide only up to 37 percent of capital funding needs. Only six cover the majority of costs.
That means that there are only six states where each school district has the same opportunity to help its students. In the other 44 states, low-income districts often watch helplessly as their schools become increasingly run-down, contributing to a vicious cycle of downward mobility. How can we teach our kids about fairness and equality when the very buildings that they're sitting in are unequal? It's clear that the current state system isn't working. And the federal system isn't contributing much either.
It's been more than 20 years since the federal government completed the last comprehensive federal assessment of school facilities. Even though K-12 schools are the largest public building sector in the U.S. after highways, there is no current dataset at the federal level to show our track record of investing in our schools. The federal government provides almost no capital spending for school facilities, and across all agencies and departments, does not employ a single person to ensure that school facility conditions are adequate and equitable.
How can we expect students to learn if they can't even breathe?
The state of our nation's schools is a challenge we must address. Communities across the country are doing their best, but they need additional support and funding. We need to make sure that we all understand the implications of continuing to underfund American schools. We need the federal government to step up and give us a clear picture of where we stand. And we need to come together, senators and superintendents, investors and community change-makers, to create new funding solutions that can work in schools across the U.S -- new solutions that will bring us and our children forward.
Here's the truth: if we want to be able to say that we care about our children's health and education, we must address the state of the buildings that they learn and live in for hours every day. The Detroit teachers are right. Our children deserve better. So let's do better. Let's build schools that keep our kids safe and healthy, that help them learn, that let them thrive.
Rick Fedrizzi is C.E.O. of the U.S. Green Building Council.
REAL LIFE. REAL NEWS. REAL VOICES.
Help us tell more of the stories that matter from voices that too often remain unheard.