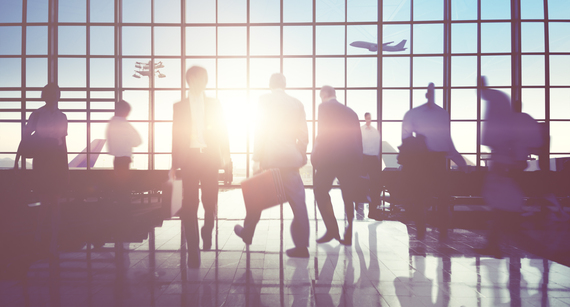 With the busy holiday travel season, my thoughts turned to the large numbers of people who took to the skies to visit friends and family these past weeks. Advancements in green aviation technologies and new international agreements like the ICAO measure to curb carbon dioxide emissions have brought us a long way in making air travel more sustainable. Most of us think about how the planes and engines are becoming more efficient (and they are!), but advancements in ground-based operations can make aviation even more sustainable.
Commercial air travel shows no sign of slowing down - in fact, the number of airplanes in service is expected to nearly double by 2030. With less than 20% of the world's population ever stepping onto an airplane, it's not surprising that aviation growth is upon us. These trends are covered in a white paper I co-authored earlier this year.
Every day, 9.8 million passengers take 104,000 flights carrying18.6 billion worth of goods.
The global air transport industry supports almost 63 million jobs worldwide and contributes2.7 trillion or 3.5% of global GDP.
Civil aerospace spends15 billion per year on sustainability and efficiency-related R&D.
Going Green on the Ground
This week, I released a new white paper with my colleague, Sara Kerr, addressing the efforts being made "on the ground" to meet the aviation industry's aggressive long-term sustainability goals. Three focus areas come to mind:
Aerospace production and technology evolution initiatives from additive manufacturing, which can reduce a part's "buy-to-fly" ratio by 90%, to nanomaterials that allow for weight reduction and better performance, are helping the industry create a more sustainable future.
Green airports are an essential component of long-term success. A focus on becoming "carbon neutral" has ripple effects in greening transport systems and buildings, and improving the quality of life in nearby communities. Creating greener ways to service aircraft and move passengers efficiently are vital to improved sustainability. At San Diego International Airport's Terminal 2, for example, performance enhancements included high-performance glazing, on-site solar power, low-flow fixtures for water conservation, and the diversion of more than 90% of construction waste from landfills. The terminal is the world's first to be certified LEED® Platinum.
Green aerospace factories, which focus on more efficient operations, new production technologies, and green supply chains, will also make a substantial contribution to the industry's long-term sustainability. In my own company, we've reduced greenhouse gasses 34% and water use 57% all while we tripled revenues over the last twenty years. Others in the industry have made great gains too. Aerospace manufacturing and supply chain is where green aviation begins!
Where the Ground and Sky Meet
Commercial air travel accounts for about 2% of human-caused carbon dioxide emissions, a figure that, without action, could rise to 3% by 2050. This presents the industry with an opportunity to make a significant contribution to both economic growth and environmental sustainability. Technologies like the Geared Turbofan™ jet engine, will play a big role by reducing fuel burn by 16%, particulate emissions by 50% and noise footprints by 75%. The advancement of lower carbon alternative fuels - many bio-based - will also make a big difference with the long term potential to reduce fuel carbon emissions by 80%.
The timing is right for the efforts on the ground and in the sky to come together to advance the sustainable future of aviation. To read more about how we can do this, click here.
Calling all HuffPost superfans!
Sign up for membership to become a founding member and help shape HuffPost's next chapter