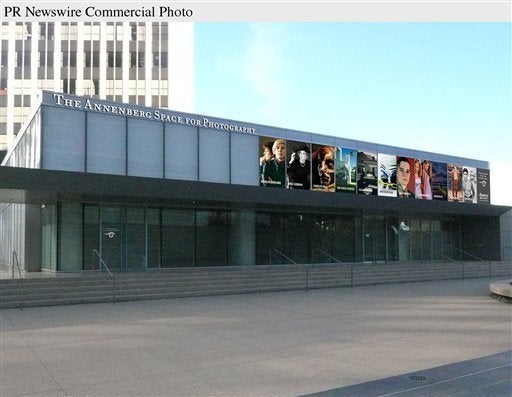 The Annenberg Foundation has bestowed an exquisite visual, digital jewel upon our city and that jewel is The Annenberg Space For Photography, opening this week. Its 10,000 square foot structure, nestled in the spot where the Shubert Theater once stood and which now overlooks a garden of green
favored by Century City's CAA and Comedy Central office lunch crowd, was fashioned after the ergonomics of cameras and lenses.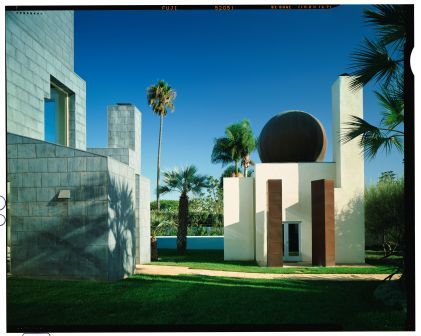 Photo by Tim Street-Porter, on display at The Annenberg Space For Photography
The structure also has a hearth. "This is my temple to photography. A temple would not be complete without a kitchen," said Wallis Annenberg at the opening preview Gala.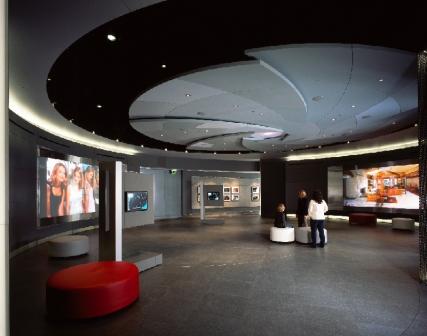 Photo Courtesy Julius Shulman and Juergen Nogai
Wallis Annenberg, Vice President and Trustee of the Annenberg Foundation, stipulated that architects DMJM Design allow for a kitchen to be woven into the working space of the structure, along with a residential-style workshop area that will be used for intimate discussions with photographers. Flooring throughout the digital gallery, the workshop, conference and kitchen areas are made from recycled tractor tires. This matte flooring was not just an environmental consideration but an acoustic one as well in that it controls the sound experience while viewing the Space's images.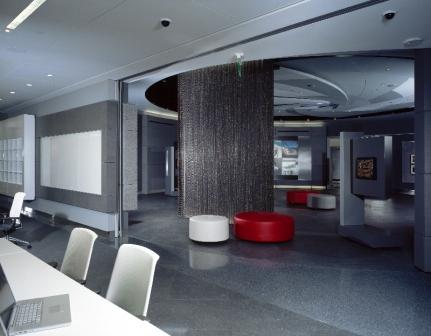 Photo by Julius Shulman and Juergen Nogai
Wallis Annenberg's personal devotion to photography was the original inspiration for the space. Research informed her that many museums face challenges when exhibiting the depth and breadth of their photographic collections. This led her and the Foundation Trustees to create a state-of-the-art digital presentation system which allows thousands of photographs to be accessible to the public in large and high resolution format. "The traditional and non-traditional formats allow us to present more photos to the public. There are more than 1,000 images presented in this inaugural show," said Leonard Aube, Managing Director, Annenberg Foundation.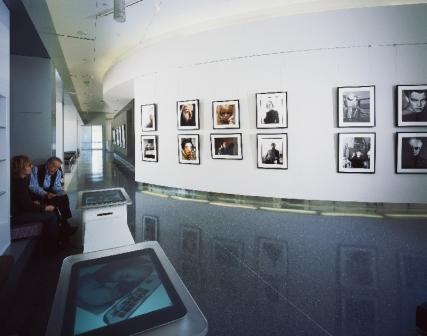 Photo Courtesy of Julius Shulman and Juergen Nogai
The opening exhibit, "L8s Ang3les", features eight photographers and three photo journalists from the Los Angeles Times. The eight photographers whose work are featured in "L8s Ang3les," are Julius
Shulman, Lauren Greenfield, Carolyn Cole, John Baldessari, Catherine Opie, Greg Gorman, Douglas Kirkland and Tim Street-Porter. Genres cover fine art, fashion, celebrity portraits, documentary and architecture. Photojournalism includes works from three L.A. Times staff photographers who depict life in the City of Angels: Kirk McKoy, Lawrence Ho and Genaro Molino. At the Gala opening, Lauren Greenfield commented, "I love digital. It has changed my life."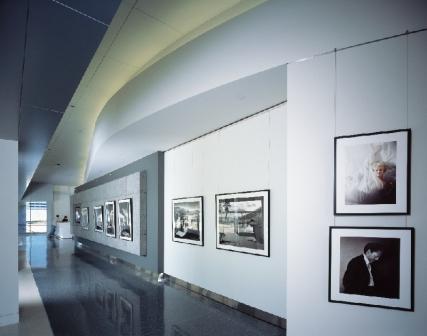 Photo Courtesy of Julius Shulman and Juergen Nogai
"The photographers requested a place where their work could be shown properly but also allowed for the public to hang out and feel comfortable," said Aube who commented that the rapid advancement in
technology allows us to share our lives and connect people. "We at the Annenberg Foundation, for us, connecting people is just part of our DNA," he said. "Here at the Annenberg Space For Photography, we convene people around the presentation of ideas and even human emotion," he added. The Space's tagline is "More humanity per pixel."
"A photograph explores the humanity we share," said Wallis Annenberg, whose vision also included the Space being utilized for the benefit of the community. Workshops are led by exhibiting photographers, the first is Greg Gorman's on April 18th, registration and more information at www.gormanworkshops.com.
"Iris Nights," Lecture Series is held Thursday evenings and is free, but do require reservations. Confirmed lecture series to date:
Douglas Kirkland, "A Fifty Year Love Affair With Photography," April 2, 2009.
Greg Gorman, Celebrity Portraiture, April 16, 2009.
Carolyn Cole, Celebrity Portraiture, April 30, 2009.
Catherine Opie, Celebrity Portraiture, May 7, 2009.
Julius Shulman and Wim de Wit (Head of the Dept. of Architecture and
Design, The Getty Research Institute) May 14, 2009.
"Faces of Sunset Boulevard," will be led by Lauren Greenfield, also
producer of the documentary "Thin," on May 21, 2009 and by Patrick
Ecclesine on June 4, 2009.
Future exhibit schedule includes July 2009 to October 2009; "Pictures of The Year," from the country's premier photojournalism contest and November, '09 to March 2010: Eminent sports photographers Walter Iooss and Neil Leifer.
The Annenberg Foundation's mission is to "improve the well-being of the community through the exchange of ideas and new ways of thinking." The Trustees' intention for the Annenberg Space for Photography is that it will further their vision as philanthropists for a better world.
2000 Avenue of the Stars, Century City, CA 90067
General Admission is free. Wednesday - Sunday 11am-6pm. Closed Monday and Tuesday.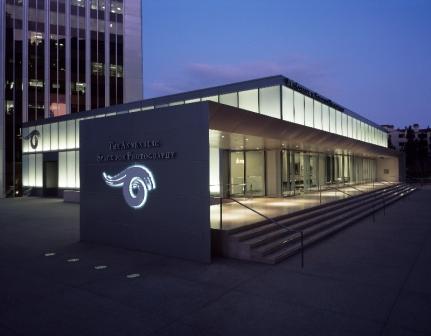 Photo Courtesy Julius Shulman and Juergen Nogai
Related