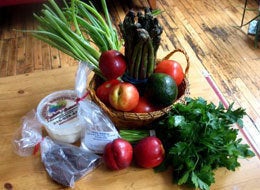 It could be said of chefs Susan Feniger and Mary Sue Milliken that they prefer to lead with the carrot rather than the stick. That said, Ciudad, their downtown L.A. restaurant, is a Los Angeles culinary star that also offers eco-friendly and organic dining.
Organic Peruvian Ceviche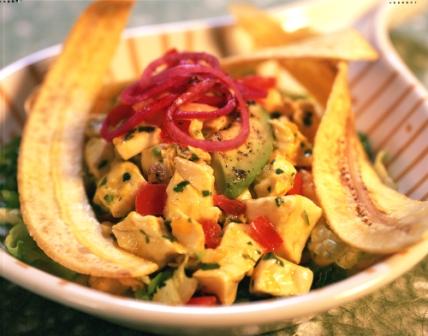 Susan Feniger of the celebrated Feniger/Milliken "Border Girls" culinary team credits a trip to Spain with pushing them towards the creation of their distinctive Ciudad menu, while Mary Sue Milliken recalls, of their many trips to Mexico, visits to the Yucatan Peninsula were especially inspirational.
"The Yucatan also has an incredible Spanish influence. Much more than the Western coast of Mexico or even of other states in Mexico. Even in Merida we had a guy drizzling Spanish olive oil on top of our crab tacos...that was back in 1984, on our first trip. So the Yucatan has always had a special place in our hearts. And then we also discovered that the Seville oranges, originally from Seville Spain, are all over the Yucatan. These are bumpy, bitter oranges which are delicious. The juice from them is amazing," recalls Milliken.
Sustainability and respect for the environment have become key ingredients in their businesses which encompass the famous restaurants, including the Border Grill at Vegas's Mandalay Bay, a line of "Border Girls" food sold at Whole Foods Markets nationwide and their Food Network TV shows. Offering diners exquisite dishes in a delicious dining environment remains their priority, however, and their first love as chefs who have distinctive and superbly educated palettes.
On recent trips to Europe, Milliken noticed a higher infusion of vegetable based protein on the menus than she remembers from her days as a chef's apprentice in Paris many moons ago. "I am developing an 80/20 menu for our diners whereby protein is still offered on the menu but also in the form of vegetable-based protein. If we Americans consumed much less animal-based protein in our regular diets than we currently do, the impact on the environment would be immense, in a positive way," she comments noting the high concentration of consumption (land, water, grain) and production it requires to serve a pound of beef or pork, for example. So her "80/20" menu refers to the notion that we can dine deliciously and yet still only consume approximately 20% animal protein in our diets. Some stats: Commercial restaurants served 11.3 billion beef servings and 9.6 billion chicken servings in 2004, according to the Agricultural Marketing Resource Center.
Ciudad enjoys a beautiful placement in Los Angeles, sitting like a jewel at the center of the city. When dining at night out on the patio the downtown skyline view sparkles in the lights of the majestic buildings that encircle the 5th and Fig locale. To dine at Ciudad at night is to experience downtown L.A.'s renaissance firsthand.
Feniger and Milliken have been business partners since 1981 when they first opened their City Cafe on Melrose. What's the recipe for such successful longevity? "Be open to communication and change," says Milliken. "And constant collaboration," says Feniger who adds that the idea for one of their Border Grill signature appetizers, in fact, came from one of their dishwashers who first prepared the mushroom-filled empanada for a staff meal.
And how many chefs, even celebrity chefs, can include cooking and co-hosting with Julia Childs on their list of lifetime achievements? "Let me tell you about the time when we first met Julia Childs. This was years ago, now...she was moderating a panel up in Monterey and we were on it. Mary Sue was convinced that her microphone was electrocuting her as we were walking onto the stage. But I looked at it and it was battery-powered!" recalls Feniger fondly.
"Until then I had never had an anxiety attack in my life!" admits Milliken with a laugh, who is, now, of course, a veteran of countless Food Network specials along with Feniger, not to mention their own TV shows.
But can the Border Girls tell stories about Julia! They recall, "Julia was one of the most incredible personalities. I learned so much from her. How to treat people. How to really engage. She never met a person she didn't engage with. I saw her once at the Culinary Institute in Pasadena where literally hundreds of students were coming up to her and she didn't miss one. She was a great inspiration in making people around her feel comfortable," comments Milliken, who acknowledges that, after all, it is the hospitality industry.
"We did one of the shows with her. Well, we did a number of shows with her but this particular one we were filming at Mary Sue's house...so for two days we'd get up at 5 a.m. and get there and start filming and we'd film all day and she was there and she'd be on her computer and then we'd break for lunch...and this was probably when she was 75 years old or so...and she'd be throwing the ball to her dog while she typed away on her computer. By 5 in the afternoon we'd have a beer and then we'd end up going to her hotel room where she'd have a piano player where we'd have a cocktail and then we'd go to Border Grill where we'd have dinner and then at about 11:30 at night she'd say, 'Okay, where to next?!' and by then the rest of us would be tired!" recalls Feniger.
"She was one of the easiest people to co-host with because she was so warm, and she knew food!" adds Milliken who admits that on occasions such as those, when businesswoman-celebrity chef/restaurateur necessitates 20 hour days, it is ideal that her architect-husband can be around to look after their elementary school-age kids.
Milliken and Feniger are now inspirations to another wave of chefs. Jeremy Tummel, Executive Chef at Ciudad, says, "This is a very unique experience for me. At the end of the day, I love learning from the veterans. They both have a lot to offer individually. Often, when we all put our heads together we come up with the best end results." Tummel, who originates from Santa Barbara sources from organic local farmer's markets the restaurant's produce and fresh ingredients.
When you get a chance to stop by Ciudad, these are some dishes you absolutely MUST try:
Peruvian Ceviche
mahi mahi (eco variety) marinated with lime, ginger, and aji amarillo chile
Heirloom Tomato Salad
with bermuda onions, basil salad, goat cheese vinaigrette,
crispy iberico ham, and marcona almond and olive crumble
Pan Seared Arctic Char
with five herb creamy pearled barley, fresh summer peas and fava beans,
basil salsa, and charred yellow tomato saffron emulsion
Peruvian Style Lomo Saltado
thinly sliced zorro steak, seared peppers, onions, and scallions with weiser farms baby potatoes,
tossed in a peruvian sauce of aji chile, soy sauce, dijon, and lime
Goat Milk Cajeta Flan
with caramel sauce
Spanish Artisan Cheeses
with membrillo, fruit, nuts, and homemade crackers
cheese provided by the cheese store of beverly hills
Garrotxa, Catalan
mild, delicate, and slightly sweet; pasteurized goat's milk cheese
produced in the catalonia region of northern spain
Patacabra, Aragon
distinctly flavored; lemony, earthy freshness with a
salty sting on the finish; made with pasteurized goat's milk
Queso Romero, La Mancha
cousin to manchego; semi firm with a nutty character
and a rosemary rind; made with pasteurized sheep's milk
Valdeon, Leon
creamy and intense; similar to cabrales blue cheese but with sweeter, grassier tones
made with pasteurized cow's milk, goat's milk, and sheep's milk
Beverages:
Licia, albarino, rias baixas, spain 2007
Babich, sauvignon blanc, marlborough, new zealand 2007
Presidio, organic and biodynamic pinot noir, santa barbara, california 2006
The meal was finished off with sips of Dios Baco, Amontillado, a sherry, recommended by our knowledgeable and gracious server, Lola. Sherry is enjoying a renaissance of such. It was recently written up in Saveur magazine as timeless, artisanally made, and deeply pleasurable to drink.
How easy is it to green a restaurant? And, more importantly, the tastes of your clientele?
"It's an incredible challenge for the chefs to take customers out and away from the regular tuna, salmon and swordfish, for example," admits Feniger.
"Well, we've always been a little rebellious in that way. Take them out of their comfort zone just a little bit. Just get the customer to try something new," says Milliken, who can tell you stories of "tricking" their first diners at City Cafe on Melrose into trying lamb's tongue salad. "They always thought it was marinated mushrooms, sliced marinated mushrooms, when we'd make them guess," recounts Feniger. "And then no one would believe that they'd eaten lamb's tongue!" It was all part of their "tail to head, sustainable, 'waste no part of the animal philosophy,' back then," explains Milliken, with a smile.
Here are some of Ciudad's Eco-friendly practices:
- Sustainable Seafood only as part of the Monterey Bay Aquarium Seafood Watch Program. Their star fish is Arctic char, which tastes a lot like salmon.
- Organic long-grain rice, black beans, eggs, milk, coffee, veen, lamn and uncured port raised without hormones and antibiotics.
- Serves no tuna or swordfish as part of Oceana's Stop Seafood Contamination campaign.
- Serves no Canadian seafood as part of Humane Society's Protect Seals Campaign.
- Uses Natura water purification system. The reusable bottles means no transporting of bottled water around the world. www.naturawater.com
Related
Popular in the Community