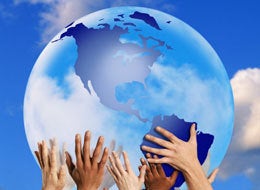 When 5,000 kids ages 12-21 turned out for Saturday's Environmental Youth Conference staged at the Los Angeles Convention Center, they got a sweet surprise as celebrities like Will.i.am, Vanessa Hudgens (High School Musical) and Tyrese (Transformers) took the stage to share a few words with the kids.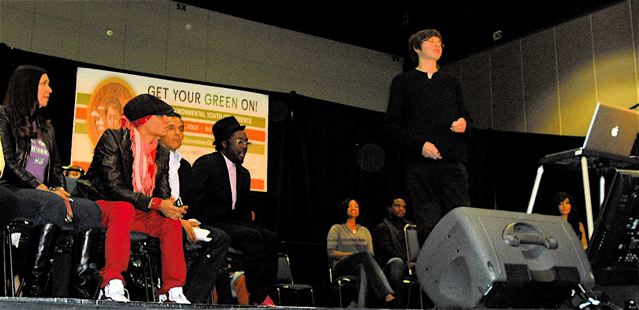 DPW Commissioner Cynthia Ruiz, Taboo, Mayor Villaraigosa, Will.i.am, Alec Loorz (standing)

The Environmental Youth Conference was sponsored by the Mayor's Million Trees L.A. program, Department of Public Works, Department of Water and Power and supported by over a hundred other environmental and business organizations.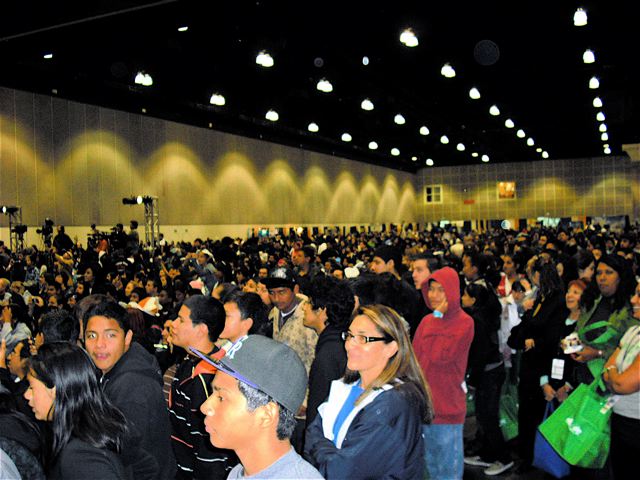 EYC '08 Los Angeles Convention Center/ Photo by Magda
Not only did the kids show up at the newly LEED certified Los Angeles Convention Center at 8 a.m. on a non-school day, but so did 14 year old Alec Loorz who is Al Gore's An Inconvenient Truth protege, Tyler Williams (Everybody Hates Chris), David Henry (Wizards of Waverly Place), and many others, as well as Mayor Villaraigosa and DPW Commissioner Cynthia Ruiz.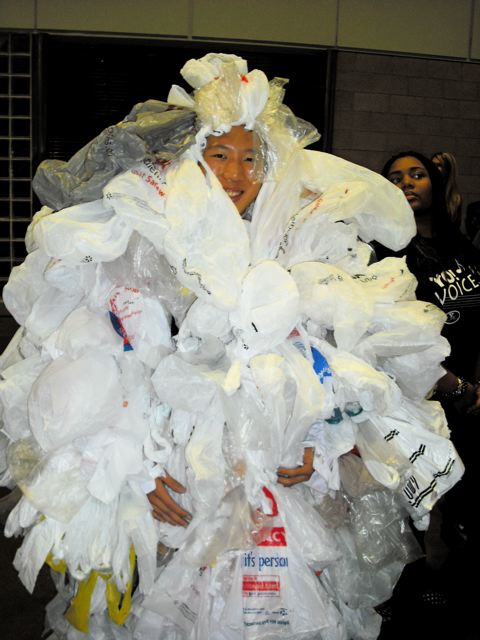 Dec. 18th is No Plastic Bag Day/ Photo by Magda
Tyrese shared with the crowd of kids some advice that Will Smith had given him, "You can tell how far your life and career will go by the five people you spend most of your time with. Surround yourself with a circle of five good people." The conference theme was, Get Your Green On.
At this "by youth, for the youth conference" which is also the world's largest environmental youth conference, Will.i.am said, "The most powerful people in the room today are you guys out there. The promises politicians make are nothing if you guys don't force them to execute those policies. It's important you realize how powerful you are." Black-Eyed Peas band mate Taboo added, "Let's do this!"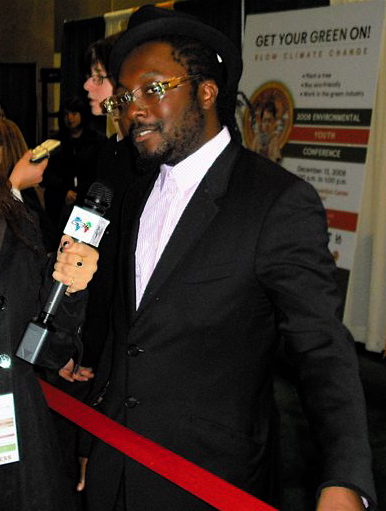 Will.i.am of The Black Eyed Peas
Throughout the morning kids were treated to workshops presented by youth that lead community projects focusing on urban forestry, water, recycling and eco-consumption; an Artist Alley that highlighted the work of local green teen artists that have environmentally-themed creations or that use recycled materials for art media.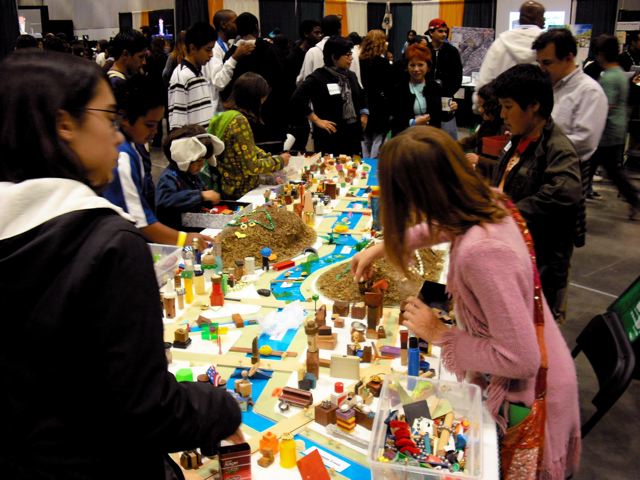 EYC '08 Interactive Environmental Exhibit for Kids/ Photo by Magda
The youthful attendees also had opportunities to meet "green" professionals such as water quality experts, scientists and experts such as tree surgeons who could advise on green industry careers. There were also two bio-diesel converted cars from MTV's Pimp My Ride.
Particularly popular exhibits included the tree giveaway -- each kid went home with a plant-able tree (if they chose), and the interactive exhibit that had kids making a paper crane (as in origami) and placing it in a reconstructed, miniature L.A. River replica which was made out of reclaimed toys and other materials. Other popular pit stops were Recycle Bank's hat with ears giveaway which handed out over 700 Fox Studios donated hats in the first half hour of the conference. Global Inheritance's bicycle-powered cell phone battery rechargers also made for an entertaining, interactive stop.
Alec Loorz addressed the crowd and confessed that when he first applied for Al Gore's presentation training, he was rejected. He went on to say that that didn't stop him and when he finally got to meet Gore, he convinced him to let him do the training and that's how he became the youngest "An Inconvenient Truth" presenter. He said he's given the presentation about 40 times so far and each time he tailors it to his audience.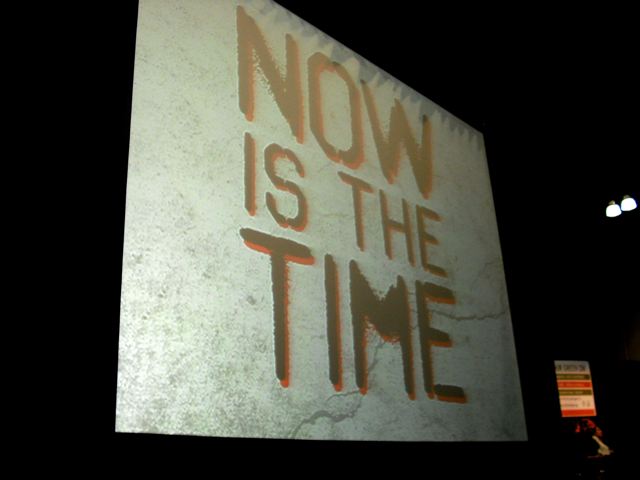 Photo by Magda
"We as youth play an essential role in the change that needs to happen. Who is ready to stand up and do something about global warming?" Loorz asked. "70% of kids voted that global warming is their primary issue. Now is the time for youth to lead the change."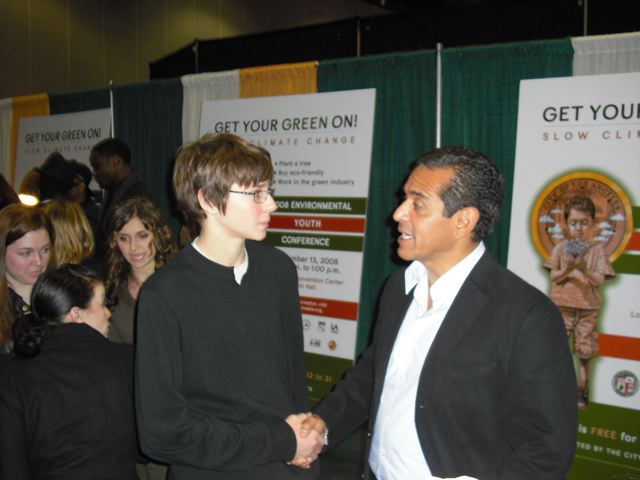 Teen Environmentalist Alec Loorz and Mayor Villaraigosa
Loorz mentioned that kids are directing their own PSA's and movies about environmental issues. The Mayor encouraged him by saying, "We can launch an environmental youth movement. Our city's youth are the future of the green movement," and continued by telling the kids they can always upload their videos and comments to YouTube and MySpace, for example. Loorz added his own tag, "iMatter."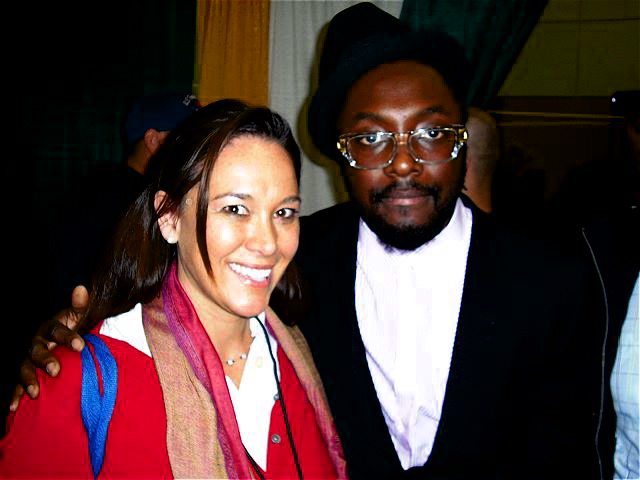 Greening Hollywood's Paige Donner and Black Eyed Peas' Will.i.am at EYC '08
A cultural icon such as Will.i.am enjoys exceedingly strategic placement insofar as influencing youth. What's he doing about that? "I have this new piece of content called 'Take our planet back,' that I'm releasing in the next few weeks. It's video, it's interactive, it's all that...," shared Will.i.am. Stay tuned...
One of the key organizers of the conference, Commissioner Cynthia Ruiz of the Department of Public Works has big plans for the youth conference. "Next year we're going to take this worldwide. We're going to do a global outreach and this same time next year we're going to do this conference simultaneously all over the world."
Ruiz is going to the United Nations in May to speak. She is aligned with an organization called ATHGO (Alliance Toward Harnessing Global Opportunities) and when she went last year she spoke to a group of 400 students from 80 different countries at the U.N. Her plan is to stage the youth conference in at least 10 different countries throughout the world on the same day staggered throughout the globe's time zones. "We'll start it off in Australia and have it go around the world," shared Ruiz, "and we'll stream it on the internet to connect everybody. So what we're really creating is an environmental youth movement worldwide."
Kids were bussed in on 75 buses. Admission to the conference was free and all the exhibitors -- over 100 including TreePeople, LA Harbor, Los Angeles Conservation Corps., Star Eco Station, -- were allowed to exhibit for free. "We want to empower the youth," said Ruiz, and added, "We purposefully didn't announce that the celebrities were going to be here because we didn't want the kids to come for the wrong reasons. So it's just kind of a treat for them to see that there are celebrities who care about the environment as well."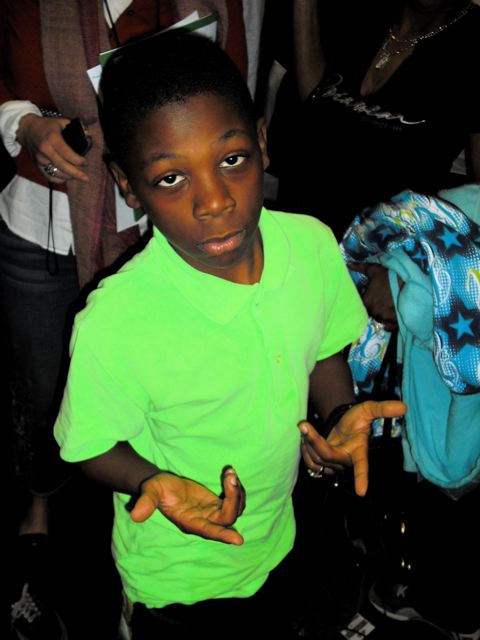 Bobb'e J. Thompson Attends EYC '08
Celebrity Bobb'e J. Thompson (30 Rock) told the kids to "commit to one thing you can do for 30 days, such as recycle or drive less, and get your friends to do it too."
Be sure to check out Alec Loorz's new website: kids-vs-global-warming.com, and click on solutions, "Empowering Youth to Cool the Earth."
Personally Loorz loves hiking up "Two Tree Hill" out where he lives which is what inspires him, being out among the trees and out in nature, to keep doing the good things he's doing for the environment.
David Henry of Wizards of Waverly Place, a green set, is angling to become a writer as well as an actor on the show and is currently pitching story lines. He said the importance of an event such as the Environmental Youth Conference is that, "It educates people and if everyone tells a few people, the message spreads throughout the world and makes it a better place."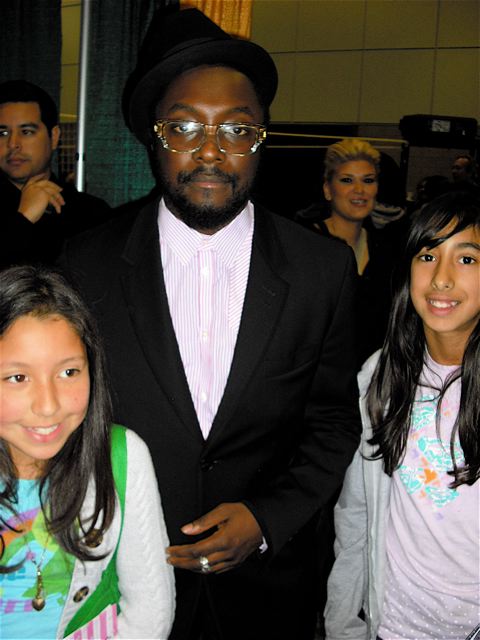 Environmental Youth Conference '08 Attendees with Will.i.am/ Photo by Magda
REAL LIFE. REAL NEWS. REAL VOICES.
Help us tell more of the stories that matter from voices that too often remain unheard.