Baby seals were the super stars of this year's Genesis Awards which honor members of the media and Hollywood community for their activism in drawing attention to the inhumane treatment of animals.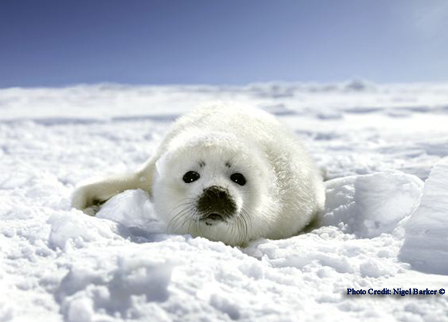 Photo by Nigel Barker LLC, Spokesperson for Baby Seals, HSUS Campaign
The annual awards show, named after a chapter in the Bible, is put on by the Hollywood office of the 11-million-member Humane Society of the United States. It honors people working in the media, both celebrities and journalists. Beverly Kaskey is the Sr. Director of the HSUS Hollywood office.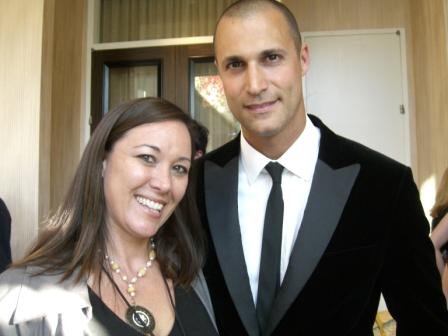 Nigel Barker, Baby Seal Spokesperson for Humane Society International poses on the Red Carpet with Paige Donner of Greening Hollywood at 23rd Annual Genesis Awards, Beverly Hills. Paige is wearing Peace Silk by The Battalion. Peace Silk is silk harvested with respect to the silk worm's lifecycle, i.e.it is allowed to live to become a butterfly. Photo by Katia Louise
Spokesperson for the Baby Seals is Nigel Barker, photographer, who has earned his acclaim through fashion photography and also as a judge onAmerica's Next Top Model. Top honorees this year - the Wyler Award recipients - are Ellen DeGeneres and Portia de Rossi, predominantly for the role they played in spotlighting Proposition 2 in California's last election. The law is an anti-cruelty to animals piece of legislation that won in California by a landslide.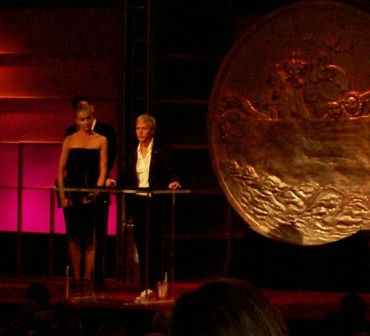 Portia di Rossi and Ellen DeGeneres Receive Wyler Award at 2009 Genesis Awards in Beverly Hills, Photo by Paige Donner
Both the Humane Society's U.S. and International chapters devote themselves to a wide range of animal rights issues - from horse slaughter to factory farming to puppy mills. Nigel Barker was conscripted this past year for HSI's mission to stop the brutal slaughter of Canadian baby seals, killed in horrific ways as young as 12 days old for their fur. Barker's triple threat talents of photography, celebrity notoriety and genuine concern for the seals are put to good use in service to our adorable furry friends. One look at the faces of these white-fuzzy baby seals and the only human response possible is, What monster, let alone human, could hurt that?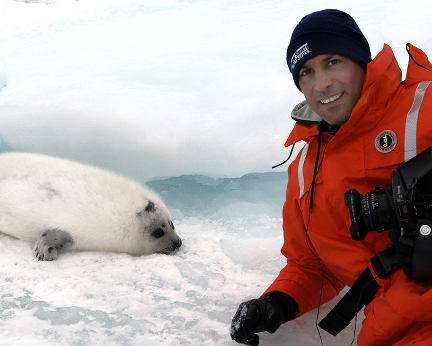 Nigel Barker and Baby Harp Seal, Photo Credit Nigel Barker LLC
Barker has a new show on VH1, "The Shot," and also directs and produces commercials, films and documentaries. When he was a child, he thought he'd grow up to be a marine biologist, so inspired was he by Jacques Cousteau and the creatures he encountered in the ocean. Another of the ocean's creatures who are currently under threat are the majestic whales. Whale Wars is an excellent documentary out now that chronicles SeaShepherd.org's campaign for justice and peaceful living for whales.
Two major ways to help the baby harp seals and the Humane Society's Making History Initiative: boycott Canadian seafood and donate to humanesociety.org/protectseals, End the Seal Hunt!
Popular in the Community