"Think like a child and everything gets easier," chanted the speakers at Pasadena Art Center's Design Conference 2008, Serious Play. Those actual words were stated by John Oliver, Daily Show correspondent, who happened to be the closing speaker for the conference which took place May 7th-9th at the Raymond Avenue campus.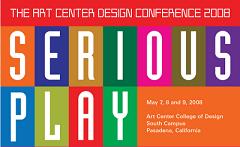 Closing a conference on the notion of "play" with laughter was a stroke of brilliance, as were many of the quips and barbs this Brit poked at the predominantly American attendees. For example, Oliver said, "We destroyed the world in a more gentlemanly manner. You're going on about it like Godzilla in a necktie." Another gem, "Your malls are cathedrals to Bulls**t." And, "The Oreo pizza...it's the biggest FU to terrorists you can think of. It says: there's nothing you can do to us that we haven't already done to ourselves!" Now, what's not to agree with there? All hail the British sense of humor if not their gastronomical intelligence.
For those of you who think he's making that up?! Flickr photos of Oreo pizza can be found here.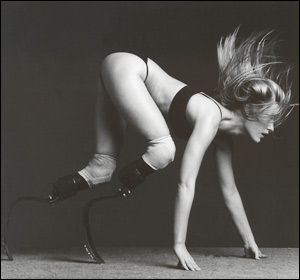 Aimee Mullins, athlete, actress, model, said, "Maintain childlike thinking as much as you can. Children are open to all possibilities. They don't have preconceived notions of what is or isn't possible. " During her talk she recounted a cover photo shoot she had done for I.D., the International Design Magazine, where she was asked what sort of prosthetics (she lost both her legs as a young child) would she most like to have if she could design them? She came up with the notion of Cheetah-like prosthetics because cheetahs are the fastest-running animals on Earth. She ran her notion by a group of kids who all thought that was pretty cool and then one piped up, "But why wouldn't you want to fly, too?"
She said that child's comment reminded her that "You can't be open to the world of possibilities if we stay in a box." What she strives for is to practice her curiosity all the time. She said that practicing our curiosity would help us to understand other people without a sense of judgment - judgment of others, of ourselves. She said that curiosity helps us to maintain a wonderful, childlike, eccentric mind. She was the kid who never took "no" for an answer, she said she learned to become her own cheerleader.
On a recent trip to Amman, Jordan, she met with another female athlete, who, like her, did not set out to become a social pioneer, but lo and behold, it's happening. Nada Zeidan is a rally car driver from Qatar who, also like Aimee, is stunningly beautiful. Aimee recalls really hitting it off with this Muslim woman who dares to compete - and compete professionally - in sports. She said Nada is really conscious of trying to change the face of women athletes in Islam.
Aimee, herself a beautiful woman, who has grown up wearing prosthetics for both legs, says that she wants to make big loud invitations to discussion. "Human stories are good enough. You don't have to put Nutrasweet on it. " She says she never wants to be "flattened into a Hallmark card" but rather wants to be seen as a person, fully engaged with life. "I do not have any special powers of overcoming adversity. I am equipped with the same magic powers as you are. It's called thoughts. Whether you think you can or can't, you're right," she says. "Set wild, improbable goals. Decide you CAN. Reject the practical and the pragmatic. Accept the fantastical."
The conference, its speakers, its attendees was a conference of people who are different by design. On the whole, it was a group of professionals, primarily from a design background but also from technology, architecture, entertainment, magic, virtual reality - who were there to celebrate the beauty in being different. Even speaker Phlip Rosedale, creator of 2nd Life, admitted to having been a "shy geeky" kid when he was growing up.
Thursday afternoon's entertainment featured the youthful stars from Helen Scheer's documentary Jump. Jump is a film about kids who take jumproping to a whole other planet! www.jumpmovie.com. You've got to watch this trailer!
Many attendees agreed that the Serious Play Studios, held on May 8th, were the highlight of the conference. There were 14 "studios" offered which were workshops "designed" and conducted by Art Center faculty members. They offered interaction with fellow attendees and participation in a variety of design disciplines such as: Alphabet City: Letterpress Studio, Design Storm: Improvisational Product Design, Transforming Light: Lighting Design, and my favorite (because I participated in it) Nuts to Butter: A Sustainable Design Exercise conducted by Heidrun Mumper-Drumm who paid exquisite attention to detail down to letter pressing the small canvas bag she passed out our individual peanuts in.

The Sustainable Sandwich

We then broke into groups with whom we were to come up with and design a sustainable product using just the peanut. My group designed a "Sustainable Sandwich" with a village in mind. Fellow participant had spent some time in Kenya and relayed how significant it would be to have a simple product that could both feed (peanut butter) the community and also offer it fuel (peanut oil to for a bio-diesel generator used to pump water into the village).
A quick conversation with Ms. Mumper-Drumm's graduate assistant, Nathan Cooke, revealed that he agreed there was more the Pasadena Art Center of Design and also the conference could have done along the lines of sustainability and offsetting of the overall carbon footprint. He shared that there was a band of committed students BLOG at the Art Center who were doing all they could in this direction but that progress could be a little faster in coming. A positive: in the midst of all the various bottled waters passed out during the conference, at least in the parting gift bag, there was offered a re-usable water bottle in stain, taste and odor-resistant copolyester manufactured by Eastman Tritan.
Irene Au, Director of User Experience at Google, shared that, "Google cares passionately about sustainability." She said that at the company's Mountain View campus, they have recently installed solar panels in their parking lots and that they are phasing out bottled water. To illustrate what a "bottom's up" culture (her phrase) Google is, she said that the impetus to get rid of bottled water came from one of their lunchtime chefs. After using direct observation - a technique she referenced in detail during her talk and which is employed like a science in her department to determine user/Google interface habits - a head chef put cups on the tables at lunch to encourage the diners to fill those with water rather than using multiple water bottles. This simple change resulted in reducing trash and plastic wastage at the company.
Overall the ideas to takeaway from Serious Play were: Listen, Observe, Learn , Engage and Think Like a Child as Much as You Can.

Related