ATHGO International recently gathered 100 students and young professionals together for a 4-day Forum held, this time, at UCLA (past ATHGO International Forums have been held at the U.N., the World Bank and in Geneva), which was sponsored by Boeing, Milbank, UCLA Sustainability and Green Conversion Systems.
ATHGO International is a nonprofit that cooperates with the U.N., using the U.N.'s Millennium Development Goals as guidelines. Its focus is on cultivating leaders within the youth demographic of 18-32 year olds. These youth are culled from an international pool of exceptional individuals.
The goal of the Forum is for students to come up with an actionable business venture that utilizes Clean Technology and drives environmental sustainability and economic development. The teams are evaluated on the final day by representatives from the professional community. As a result, participants this time developed eight innovative social venture designs.

Dr. Armen Orujyan, Founder and Chairman, ATHGO International Photo Courtesy Robert Kuzon
ATHGO's Founder and Chairman, Dr. Armen Orujyan, speaks of the "three i's of ATHGO: Innovation, Incubation and Implementation." He explains that step one is to nurture the students in their innovation in coming up with entrepreneurial business ideas. The next step is incubation of the most commercially viable of those business ideas and the final phase is implementation. For the past 6 years, ATHGO has primarily pursued phase one, innovation, and is now getting set to launch more fully into phases two and three. Coach Bill Walsh of the San Francisco 49ers put it, "More than creating, innovation involves anticipating. It is having a broad base of knowledge on your subject and an ability to see where the end game is headed."
The Keynote Address at the Forum was given by His Excellency Cheick Sidi Diarra, United Nations Under-Secretary-General, Special Adviser on Africa, and High Representative for the Least Developed Countries, Landlocked Developing Countries and Small Island Developing States. H.E. Diarra spoke with Paige Donner for a few minutes at the reception for him hosted by ATHGO and the City Attorney at L.A.'s Tom Bradley Hall.
Video courtesy Katharine Coles
Dr. Armen Orujyan, Founder and Chairman of ATHGO, has a doctorate in Political Science. His doctoral thesis is on U.S. Presidential campaign strategies. He shares here some of his thoughts about ATHGO International, the U.N. and the importance of cultivating youth leaders...
Our demographic is the 18-32 year olds. We have students and young professionals, social entrepreneurs. The average age is about 24, 25 years old. They come from all walks of life. We have students here from Canada, from Europe, from Africa from Latin America - so although we're here at UCLA, we only have one student from UCLA here.

There's a common saying that youth is wasted on young people. I'm not a major believer of that. There's a great energy in young people. There's a great ambition in young people. They're very open to change and they're more conforming and they're more interested in coming together with people from different backgrounds. They're not stuck in a dogma of any nature.

So what we attempt to do here is bring this energy together and give them the skill set on entrepreneurship, with the addition of a social component to it. We have them organize into teams and together come up with great social venture designs for them to launch profitable businesses that would have several impacts. The impacts will be social impact, environmental impact and economic impact.

We saw over the years that if you give them an opportunity, a platform for them to thrive, they will. What's missing is platforms of this nature. You don't find them around. We send them to traditional university systems, they excel, they get to the climax, the peak of it, and then there's a huge drop when it comes to getting into the professional field. So if they reach the maximum in academia, it is definitely not at a maximum on the practical setting. We try to bridge that gap for them to have the business skills along with the educational skills.

We have five current programs. We have programs here at UCLA, we have larger programs that are at the U.N .Headquarters in N.Y., and at the World Bank Headquarters in Washington D.C. We have repeat attendees because our programs are never the same. The thematic area is always different. The umbrella, for example, would still be Climate Change or Information Communication Technologies, but what we're attempting to do with the larger picture is different with every forum.

The U.N.'s interest in ATHGO is that we're not an advocacy group. The only advocacy ATHGO engages in is giving opportunities to young folks for them to thrive in life. But ATHGO itself is not an advocacy group. We focus on skill set development, and skill set development that will affect economic development positively in working with the U.N. on their Millennium Development Goals.

The U.N. is a major supporter of ATHGO because we are working with a particular segment of the population that is not easy to reach. And once you reach them, it is very difficult to know what will get them engaged and really stay with you continuously. Since we exclusively work with the 18-32 year olds, and we work exclusively with them to develop skill sets that will help their overall economic development, it's very interesting for the United Nations.

The fact that we're not an advocacy group helps the other nation-states within the U.N. as well as the World Bank, to embrace our methodology, for them to try to even model some of the things that we're doing within a larger context with their own work. So they've opened the doors to us for the last five or six years and we've been thriving in our relationships. As you saw, we have the Under Secretary of the U.N. here visiting us for the same purpose, the very nature of how we approach these issues with our methodology.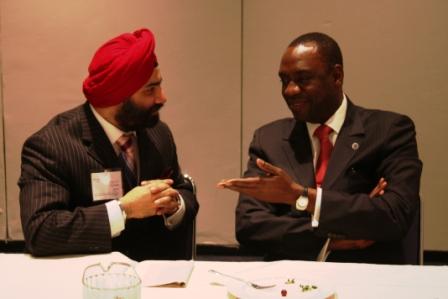 Navneet Singh Narula, of the Points of Light Institute with the U.N.'s H.E. Cheick Sidi Diarra at the ATHGO Forum, Photo Courtesy Robert Kuzon
Other speakers at this Forum included Mr. Tod Arbogast, Director, Sustainable Business at Dell; Mr. Rich Lechner, Vice President, Energy and Environment, IBM; Mr. Navneet Singh Narula, National Director, Points of Light Institute; Dr. Woodrow Clark, Nobel Peace Prize Laureate; and Mr. John Shegerian, President, Electronic Recyclers International, to name only a few.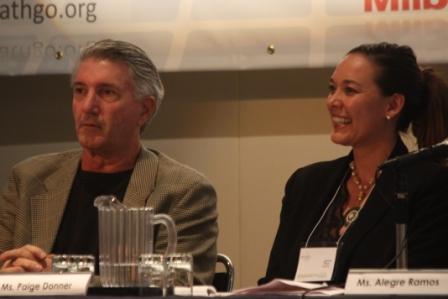 Dr. Woodrow W. Clark, II, MA3, Ph.D. and Paige Donner, CEO of Greening Hollywood spoke on the Role of Media Panel at ATHGO Forum held at UCLA (Ms. Alegre Ramos not pictured)
The Global Environmental Youth Conference
ATHGO is working with Cynthia Ruiz, the President of the Los Angeles City Public Works, on its Global Environmental Youth Conference. Last year, the city brought 5,000 young people, ages 12-21, together to learn about things they can do to lessen their impact on the environment.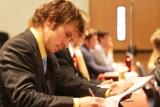 ATHGO Participant, Brad King and others in background, Photo Courtesy Robert Kuzon
ATHGO has been invited by Cynthia Ruiz to lead the initiative globally. What they'll do this year is bring together a large group of young people in five to ten cities worldwide simultaneously to get some knowledge, get some skill sets to come up with some incredible results in their own respective cities. The mission is to come up with a plan that will be actionable on that day. "When you bring in a couple of hundred people, or a couple of thousand people, that energy transforms into some kind of a result. That's what we're planning to do. So it's going to be fun," says Dr. Orujyan.
Related
Popular in the Community