"Let's make democracy real by everybody participating," said Mayor Villaraigosa, recently re-elected by Los Angelenos for a second term. He was addressing a group of students at Ren Arts Charter [Arts] School in Eagle Rock, Northeast L.A., who had just presented him with the book by Alexis de Tocqueville, Democracy in America, one of his favorites.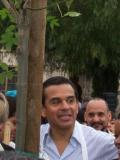 Mayor Villaraigosa planting trees at El Sereno Middle School, where he attended as a youngster. Joining him were Councilmember Wendy Greuel, super star will.i.am, Assemblymember Kevin de Leon and Cynthia Ruiz, President of Public Works. Photo by Paige Donner.
Mayor Villaraigosa planted trees, painted walls and drilled holes for his native Northeast L.A. communities of Lincoln Heights, El Sereno, Highland Park, Mt. Washington, Glassell Park and neighboring areas for Saturday's Day of Service L.A.
Grifols sponsored the Mayor's Day of Service L.A. and provided two trolleys to transport volunteers between the community locations for the day. Grifols has anchored its U.S. headquarters in N.E. Los Angeles where it will provide jobs and training for employees they intend to recruit from the local community.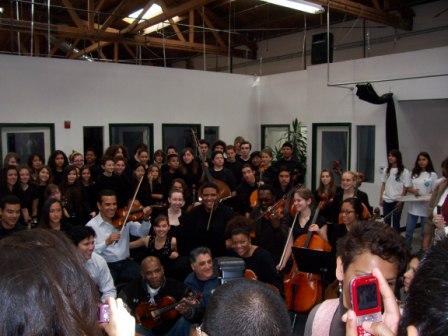 Mayor Villaraigosa with students, will.i.am, Assemblyman Kevin de Leon and Yvette Nicole Brown at Ren Arts Charter School, Photo by Paige Donner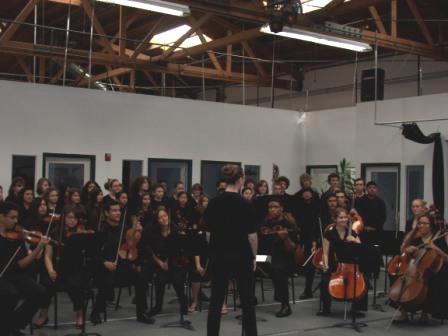 Students from Ren Arts Charter School perform for Mayor Villaraigosa and community members. Photo by Paige Donner
After hearing the students from Ren Arts Charter School play, Mayor Villaraigosa pledged to take them all to the L.A. Philharmonic to listen to a performance. Greening Hollywood can't wait to tag along!
"We're all human beings and we all deserve respect and dignity," said Assemblymember Kevin de Leon addressing the crowd. Projects for the Day of Service accommodated all age groups and schedules. Activities included tree planting, mural painting and community clean-ups.The Northeast L.A. Day of Service featured more than 60 projects in the communities.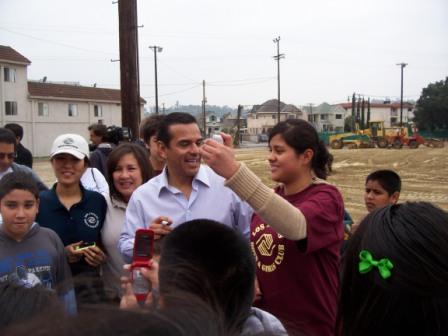 Mayor Villariagosa and Kids at Boys and Girls Club, Photo by Paige Donner
Volunteers helped beautify the Boys and Girls Club by removing graffiti and cleaning up the alley and street surrounding the club. The field in the back, pictured behind the Mayor above, will be covered with synthetic lawn to create a large playing field for the youth.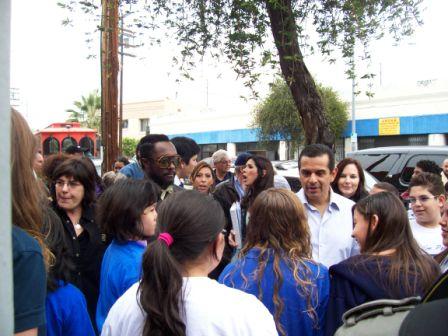 Mayor Villaraigosa, will.i.am and Kids Photo by Paige Donner
Mayor Villaraigosa, along with a few of his friends, met with 100 probation youth at the Optimist Youth Home to help with landscaping, graffiti removal and their community garden.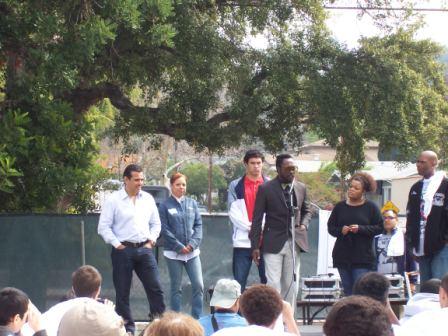 At the Optimist Youth Home, will.i.am, Yvette Nicole Brown from Nickelodeon's Drake & Josh, Mark Sanchez, former USC Quarterback and top NFL pick, Mayor Villaraigosa and Big Boy of Power 106 address the youth; Photo by Paige Donner
Mayor Villaraigosa joined volunteers from the Mexican American Opportunity Foundation (MAOF) at a home makeover for resident María González. They painted the exterior of the home, drilled holes in the ground and installed handrails and a wheelchair ramp.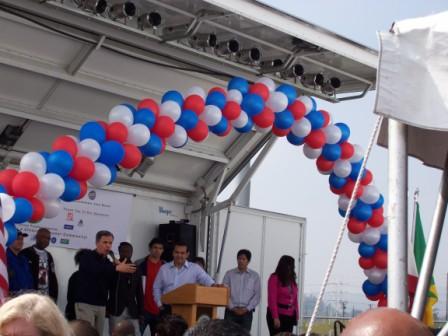 Mayor Villaraigosa, Assemblymember Kevin de Leon; Photo by Paige Donner
Mayor Villaraigosa and friends joined hundreds of volunteers and community members at the Rio de Los Angeles Park, one of L.A.'s first parks to front the L.A. River, in closing ceremonies featuring Plaza de la Raza Mariachi Youth Group. Actor Tony Plana, city officials from the Bureau of Sanitation and LADWP and and more than 5,000 volunteers and community leaders participated.
Governor Schwarzenegger launched the California Green Corps. earlier this week. The California Green Corps places at-risk young adults ages 16-24 into jobs in what is now recognized as California's emerging green economy. The goals are also build up the state's green workforce and our communities.
"President Obama and I share similar priorities right now when it comes to helping the economy rebound and creating a greener California and America," said Governor Schwarzenegger. "In California we will utilize federal economic stimulus funds and public-private partnerships to help stimulate our economy while initiating actions to improve our environment. Green jobs are exactly what our economy and environment need right now - and the California Green Corps targets that need while helping at-risk young adults realize a brighter future."
The U.S. Department of Labor is kicking in $10 million in federal economic stimulus funding. An additional $10 million comes from public-private partnerships. The first phase of the California Green Corps consists of a 20-month pilot program reaching at least 1,000 of California's at-risk young adults.

Earth Hour Reminder!
Saturday, March 28th at 8:30 p.m.
From Fiji to L.A.'s own Figueroa more than 1,000 cities across the globe will have motivated people to turn out all non-essential lights in their houses and businesses. Earth Hour culminates at Nokia Plaza at L.A. Live, downtown L.A. Celebration starts at 6:30 pm.
It's also a good night to dine out by candlelight! Dine By Candlelight :
• Program: a community initiative that asks residents who wish to participate in Earth Hour L.A. to not only turn off the lights for an hour but to spend that evening supporting local business. Participating restaurants, bars and hotels all over the city will dim their electric lights and serve dinner and drinks by candlelight while offering special Earth Hour menu items. Go to OpenTable: www.opentable.com.
Digital Sunlight envisions a platform for collaborative journalism, which connects individual journalists, newsrooms, and citizens, and harnesses the web as a platform for enabling and distributing public service journalism.
Today, with the signing of the largest government stimulus program in history, Publish2 is announcing a new initiative to help newsrooms faced with declining resources continue to play the watchdog role that is so vital in this time of crisis.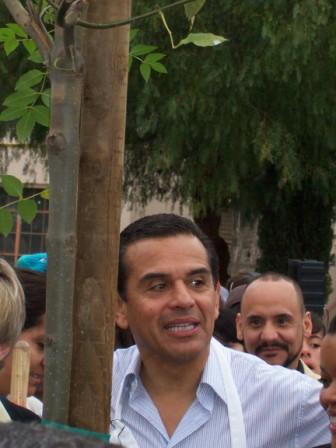 Mayor V. plants trees at El Sereno Middle School; Photo by Paige Donner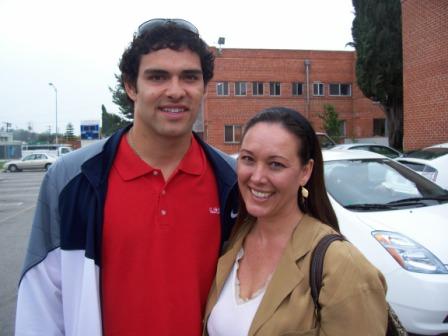 Mark Sanchez, USC quarterback star of '09 Rose Bowl, poses with Paige Donner of Greening Hollywood on Mayor's Day of Service, L.A..
Related
Popular in the Community