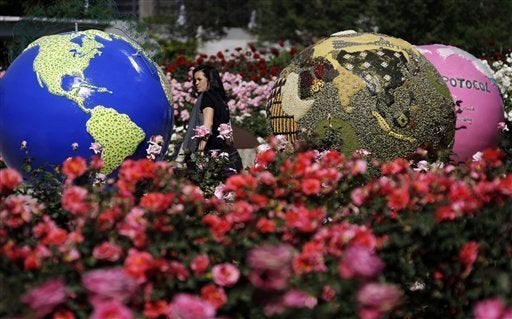 You know that something's changing when Earth Day begins to morph into Earth Week with accompanying celebrations akin to High Holy Week. I'm not, actually, a pagan, but here in L.A. at least, the festivities all week long celebrating Mother Earth could easily have converted me. Earth Day, the culmination of an extended weekend celebrating Earth restoration, was spent with the Interfaith Environmental Council. Their 8th Annual Environmentalists of the Year Awards reception was attended by former Governor Gray Davis, who was honored with the Environmental Stewardship LIfetime Achievement Award. The event was hosted by the Zimans of Beverly Hills and Lee Wallach of Faith2Green. L.A. Business Environmentalists of The Year are: Gay Browne of Greenopia; Ellen Strickland of Livingreen; and Steve Glenn of LivingHomes. As Eric Garcetti noted in his welcoming remarks to the familiar faces of the Coalition on the Environment and Jewish Life of Southern California, each of those recognized have shown true dedication to their innovative endeavors. Senator Maria Cantwell was also honored but not present.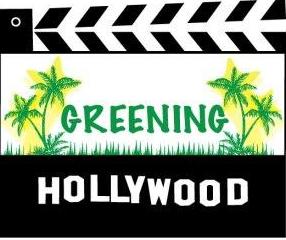 Two startling facts: Earth Day was first established by Republican President Richard Nixon and the entertainment industry is more rooted in environmental awareness than one might at first believe. Universal Studios' theme park ride "Waterworld" welcomes its audience with the greeting, "The Polar ice caps have melted," and then leads us into a world that that future would look like: a world of all water and little dry land. If one lacks the imagination to grasp what this would mean for us all, Disney's Earth movie, in wide release on Earth Day, documents an adult male Polar bear swimming for his life...but unable to reach land mass, as the ice is out-melting his capacity to swim. When he finally does reach landmass, he is too weakened to hunt for food, and thus perishes.
First stop in my Arctic white ride was Senator Fran Pavley's Open House in Santa Monica. Her staff explained that they had just hung the pictures up that very morning in her new offices near Santa Monica College. A who's who in environmental activism paid tribute to the Green Queen who authored AB32, hailed around the globe by leaders as one of the most groundbreaking, progressive, earth-friendly pieces of legislation ever.
In good showing was the water tribe. Conner Everts, of Desal Response Group, had just come from City Hall. He was quick to relate that the water rate hike was, finally, approved. He pointed out that it's not really a rate hike -- it's more a rewards system for people who practice water conservation. [Evert's Op-Ed piece.]
Esther Feldman, President of Community Conservancy International, spoke to me about their Green Solution Projects. These "improve water quality by using soil, plants and natural processes to capture, filter and clean polluted runoff, while creating new parks, natural habitat, recreation and other open space lands."
Switching to California's dedication to Low Carbon Fuel Standards...I asked Senator Pavley what she thought about the L.A. Times Op-Ed piece by Gal Luft claiming that our proposed emissions standards favor petroleum. She noted that she hadn't read the Op-Ed piece but that it's always important to not only consider life-cycle cost analyses for all fuels, but also to research who's invested and in what.
Governor Arnold Schwarzenegger commented on Earth Day:
Did you know that enough sunlight falls on the Earth every hour to power all of humanity's energy needs for a year? Or that there's enough hydrogen in the water discharged by sewage treatment plants to power all of our cars, trucks, trains and aeroplanes?

But why am I so optimistic that we can also make such a massive transformation worldwide? Because we've done it before. Imagine it's 100 years ago. Your business in 1909 would have relied on technologies such as gas lamps, ice boxes, the telegraph and horse-drawn buggies. Within a decade, those were replaced by electric lights, refrigeration, telephones and automobiles. A century of prosperity followed. We can do it again.
Obama chimed in on Earth Day and said, "Now, if California can do it, then the whole country can do it."
El Capitan on Hollywood Boulevard premiered DisneyNature's new Earth movie. For every ticket sold opening week, they'll plant a tree. Earth is a breathtaking family film starring wild animals. There are moments when the tougher "circle of life" segments can make the tender-hearted wince. For the most part, however, Earth is filled with images of baby elephants, fuzzy baby ducks learning to fly and baby whales learning to swim -- all shot by superb cinematographers.
Saturday morning kicked off my Earth Weekend when MillionTreesLA invited me out to plant trees with SouthWest Airlines. The EPA just awarded MillionTreesLA with a 2009 Best Practices Award, said Lisa Sarno, Executive Director. Other large cities are beginning to copy the program template for their urban reforestation. Trees were provided by Crown Disposal Co. Inc., a privately held company invested in waste management and who is now investing in renewables. Mayor Villaraigosa and Commissioner Cynthia Ruiz, along with Southwest Airline crews and California Conservation Corps., came out to lend a hand with the plantings. It's estimated that a tree canopy adds about 20% market value to any land parcel or neighborhood.
Universal Studios sponsored its Eco-Fair on Sunday outside the gates of its theme park. Eliot Sekuler, co-chair with Aimee Kool of NBC-Uni's Green Team, said that it's the little things that add up to big things. "It can't be an 'eat your peas,' sort of approach," he emphasized.
Still, though, a quick tour around the theme park reminded me of how much waste it produces even on a daily basis -- all those snack wrappers and sodapop containers. When I brought this up to Sekuler, he grinned and told me that they're very proudly recycling 80% of their waste.
"We have millions of people who come here annually," commented Sekuler, "and theme parks, by definition, give off a lot of waste. It's something we've always struggled with. Two years ago, we were at about 40% of our waste that was recycled. At that time, we were given the challenge to make it 50%. It all goes in one place; we sort our waste. This year, we finally reached 80% of our waste that is being recycled now. We've eliminated all Styrofoam these past twelve months. And our kitchen is totally responsive in terms of composting all their waste as well. We're talking about mountains and mountains of stuff that we've diverted away from the landfill."
Their new Simpson's Ride was built as a LEED friendly building. By using LED lights, smart motors/generators and other environmentally-friendly building practices, they reduced the ride's carbon footprint by 60% as compared to other theme park rides built just two and three years earlier.
Warner Bros. new 21,600-square-foot Stage 23, was just unveiled and is pending LEED certification. It incorporates the latest knowledge of sustainable design and construction practices such as local and environmentally preferred construction materials -- including Forest Stewardship Council-certified lumber, which is harvested from responsibly managed forests; recycled steel and metals; non-toxic paint and adhesives; and concrete foundations with 35 percent recycled fly ash. Rain water around the stage is allowed to percolate into the ground instead of running off into the Los Angeles River thanks to the perimeter of pervious asphalt.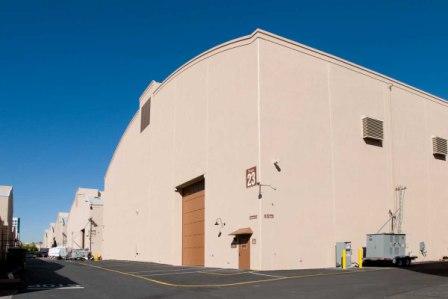 Warner Bros. Sustainable Stage 23
According to Warner Bros.' Stacey Hoppe, the recycled materials were directed appropriately such as the metal to metal recyclers, lumber was sent to refinishers of reclaimed wood as well as some materials that were used in-house.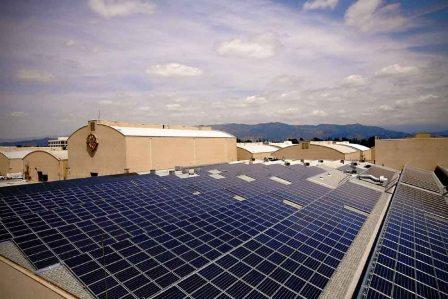 Warner Bros. New Solar Array Installation
The Studio also expanded its solar electrical system, which will now generate more than 500 kilowatts of clean energy. "Through projects such as Stage 23 and the solar array expansion, we not only improve our environmental performance but provide innovative ways in which we can better service the production community," said Jon Gilbert, President, Warner Bros. Studio Facilities.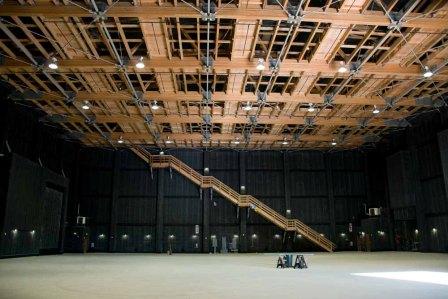 Stage 23, Warner Bros. Lot, Burbank
On Earth Day Eve, friends hosted their launch party at Kitson for LIV GRN, their new t-shirt brand. Ellen wore one of the t-shirts for the taping of her Earth Day show. Wow! You go green girls! That's some product placement!
Green Drinks downtown rounded up my paganistic celebrations of Earth Week. Lots of green people showed up and pledged to practice one eco-friendly habit. But if Earth Day is here to remind us that we need to care for the planet that cares for us, then, certainly, every day must have an element of Earth to it.
Related
Popular in the Community