Those lucky enough to get to this year's Santa Barbara International Film Festival, nestled in the California Riviera's jewel of a city, Santa Barbara, can count themselves privileged. Privileged, not only because, if you are one of the lucky, you will be rubbing shoulders with this year's Festival Honorees, Kate Winslet, Clint Eastwood and Penelope Cruz, but also because you will be spending regenerative time in this eco-haven by the sea.
Santa Barbara, just a bit over an hour's drive from Los Angeles, was recently named by the National Trust for Historic Preservation as one of America's 12 most distinctive destinations. This honor was established to encourage the preservation of local culture and the environment. Santa Barbara offers its residents, and its lucky visitors, a "superb quality of life," according to a recent article in the Santa Barbara News-Press.
Santa Barbara is also an eco-tourist's heaven. The National Trust for Historic Preservation cited the city's fleet of electric vehicle transportation as the largest in the nation as well as an abundance of bike-friendly riding areas. There are also many organic food restaurants and a few outstanding organic spas for the travel and film-screening-weary.
The Santa Barbara International Film Festival kicks off on January 22nd. Festival Director and Programmer, Roger Durling, is something of a local notable, as Santa Barbara residents frequently comment that he really "knows how to pick 'em," when it comes to Festival Honorees, spotlight films and the many panels and workshops scheduled throughout the festival. Kate Winslet, who just swept the Golden Globes, is this year's SBIFF Honoree along with Clint Eastwood, director of Gran Torino and Penelope Cruz, co-star with Javier Bardem and Scarlett Johansson of Vicky, Cristina, Barcelona.
Santa Barbara has so much good to offer, and film festivals can sometimes start to feel like work, that it's important to note that there are two Organic Spas located right off State Street in the main downtown area and where the SBIFF screenings are taking place.
Cielo, which means "heaven," in Spanish, is run by owner-esthetician Roxanne Zbinden who has indeed created a purely heavenly, relaxing space on upper State Street. "I'm all about the fluff and the feel good," she says.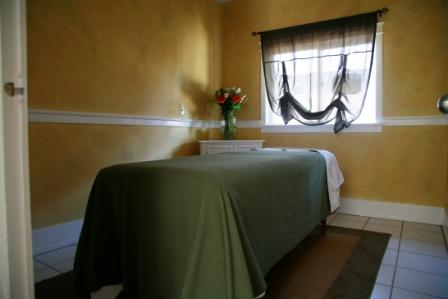 Cielo Spa, A "Heavenly" Organic Spa in downtown Santa Barbara
She offers skin and body treatments such as the Champagne Facial, an exhilarating treatment which features rare essentials of the same pinot noir grape used in the production of Veuve Clicquot champagne. Another signature facial is the All Natural where the ingredients used in this eco- and body-friendly facial come straight from the Earth, meaning no toxins, synthetics or parabens.
Roxanne uses Talulah skin and body care products on her spa clients which are handmade in small batches by its sole proprietor up in Oregon. Ingredients for Talulah serums, elixirs and body care products such as Vervain Flower Healing Complex, Blood Orange Clove Body Serum and Primrose Calming Face Serum are all 100% vegetarian and are based on naturopathic and aromatherapy principles.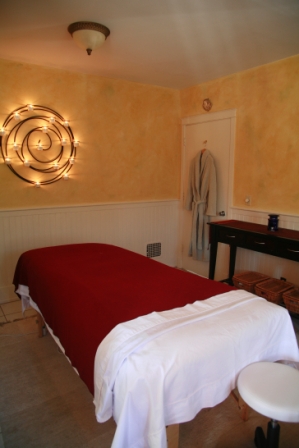 Cielo Spa, Organic Spa in Santa Barbara
Roxanne at Cielo also offers an Organic Massage; A Champagne Body Treatment is also on her spa menu. "I wanted a place where you can feel comfortable arriving in your sweats and have a cup of tea," she says, commenting on her relaxed, cozy spa atmosphere.
Her off-street entrance and parking are also big bonuses for clients who prize privacy. "We don't do nails or hair because that's a very chatty service -- I like my clients to have a sense of peace and serenity while they're here. We do skin and body treatments." Her couple's massage is very popular and is Cielo's signature treatment.
"Roxie," as her numerous loyal clients know her, was born and raised in Santa Barbara. She believes that taking care of oneself is a physical and mental balance. Be sure to grab another of her exclusives as you head out the door - Bazil soy candles with an all-cotton wick. Divine! They are made by another local, a Montecito resident, who has created the loveliest of scented candles, such as Mint Eucalyptus, that not only smell heavenly but also burn clean.
www.CieloSpaSB.com
(805) 687-8979
Le Reve is another choice in day spas that is fully accessible by foot from all the SBIFF screening venues. It is located in a pretty little courtyard just off Gutierrez Street. Look for the Flower of Life symbol that Le Reve's owner, Shannon Neels, has adopted as her logo. "The Flower of Life is one's own place of spirit and streams forth through the Earth."
For ten years, Le Reve was one of the only organic spas in Santa Barbara. Neels takes her "organic" claim seriously and is quick to point out the many green practices her spa employs, "We offer pamper point rewards for people who bring in their own water bottles and recycled bags." She says that the core of Le Reve's business philosophy is "recycled, re-usable, compostable," and even the clothing they offer in their onsite boutique are made out of organic beechwood or other natural product lines such as She and Me out of Malibu.
"If I'm going to own a business, I want to feel really good about the products I use," says Neels. Products used on all spa clients are Jurlique or Eminence, both top lines in the burgeoning all-natural products market. Le Reve is a day spa that on Wednesday nights offers a Girls' Night Out from 6-8pm. Treatments on the spa's regular menu include: the Blueberry Body Slimming Wrap, Total Body Bliss, and "Le Reve" the Dream Facial. The spa is decorated in a tropical theme and its Pedi-Hut, a little hut where you can sit and have a pedicure and manicure, is reminiscent of something you might see on a beach in Tahiti or Bali.
A signature treatment of Le Reve is its Barefoot Massage where the client lies on a thickly padded futon on the floor, housed in its own hut, and receives a massage administered by the therapist's bare feet.
Le Reve boasts a healthy amount of male clients, so a friend agreed to undergo their Le Reve "The Dream" Facial and offer his comments. He took with him from his spa treatment experience the surprise and insight of how intimate a facial can feel as well as how relaxing and rejuvenating. He related that it made him much more conscious of how important taking care of oneself is, even if it's only to apply a layer of moisturizing sunscreen before facing the California day. The facial offers a paraffin hand and foot treatment which he found novel. He enjoyed the esthetician's lighter, therapeutic, calming touch as opposed to the more aggressive sports massages he's had in the past. Afterward he agreed that spa treatments are as much a part of a well-groomed man's, as well as woman's, essential ritual.
www.le-reve.com
(805) 564-2977
Mentionables: Shannon Neels, owner of Le Reve, started the Angels List some years ago: The mission of Angels List is to bring an individual or family battling illness their own personal angel here on Earth.
Angelslist.org
Backyard Bowls: Just around the corner from Le Reve is a little shop that offers Acai Bowls which are bowls of a very thick Acai Smoothie, so thick they're served in a bowl. This is then topped with granola and fresh fruit of your choice. Healthy, super anti-oxidant and delicious. Owner Dan Goddard is likely to serve you himself!
www.eatbackyardbowls.com
(805) 845-5379
Fake Bake: This is an all natural tanning solution that has no chemical ingredients or harsh toxins. Because in California we have summer all year long, it seems it's always natural to have a tan. To get a tan au natural but without laying out in the sun, Fake Bake offers the solution, paraben-free and organically based.
Fake Bake

Related