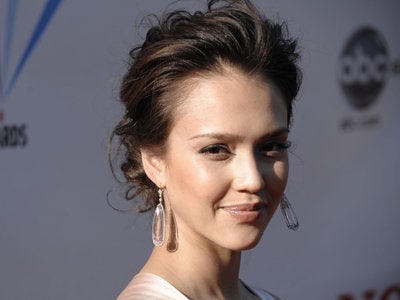 The key words to this year's L.A. Fashion Week were "City of L.A., Vintage and (yeah!)...Eco." CoLA FW, City of L.A. Fashion Week, set the bar with their Friday and Saturday night closing weekend shows at downtown's Lady Liberty Building.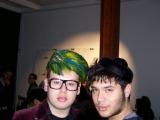 Fashionista Scenesters at CoLA FW, Photo by Paige Donner
"CoLA is about encouraging and supporting this city's talent. Our desire is to set a standard of sophistication that will invite fashion moguls and originals back to the West Coast," said Dani Michelle, CoLA FW Founding Principle. Team CoLA, including Executive Producer Shannon Leggett, staged two nights of back to back runway shows - flawlessly. Their Brian Lichtenberg theatrics was, by fashionista decree, the epicenter of our city's Fashion Week this year. Other labels that walked the runway were Fremont, Eksempel, B. Son, Joyrich and COA (a secret show).
What set CoLA FW apart was that it was so seamlessly organized. We're talkin' "flow." The building's second floor was devoted to party space sponsored, in part by TyKu Asian Liquor. Runway shows were held exclusively on the 5th Floor of this loft space. The drama and theatre of the runway show collections were heightened by having their own devoted space. It was also clear that these were "industry events, not consumer events." Read more from Whatswear's N.Y. Editor, Joseph Ungoco, also in attendance. Some images from the collections:

Fremont collection, Photo by Paige Donner
Fremont designer Brittany Pham noted that her collection was "Depression Era - inspired." She went for basic classics that hold to them the nostalgia of Hollywood Glam.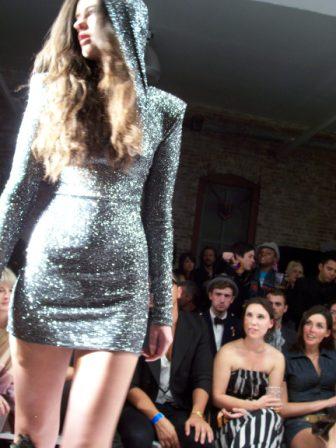 CoLA FW featured Designer, Brian Lichtenberg Collection, Photo by Paige Donner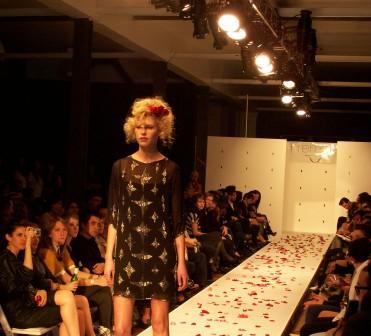 Fremont collection by Brittany Pham, shown at CoLA FW, Photo by Paige Donner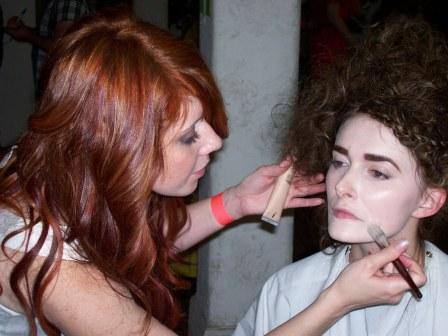 CoLA FW, backstage with models, Photo by Paige Donner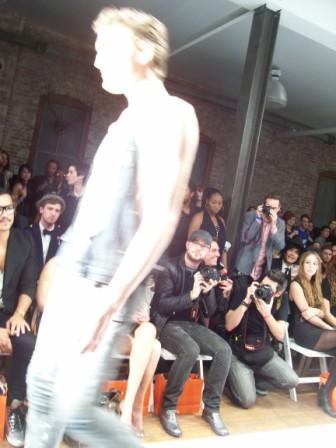 Model and CoLA FW attendees, Photo by Paige Donner
Downtown L.A. Fashion Week's Vintage: Classy, Timeless and Eco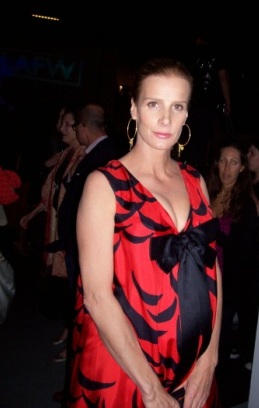 Rachel Griffiths, co-host of DLAFW, wearing Ferdinando Sarmi Vintage; according to Cameron Silver, co-host, it was the only vintage maternity dress in his Decades boutique. Photo by Paige Donner
"I'm enthusiastic about fashion week taking place at the epicenter of the city's garment district," said Cameron Silver, owner of Decades Inc., L.A.'s starring vintage fashion boutique, who was curator of Downtown Los Angeles Fashion Week's show staged at the MOCA in downtown L.A.'s Little Tokyo.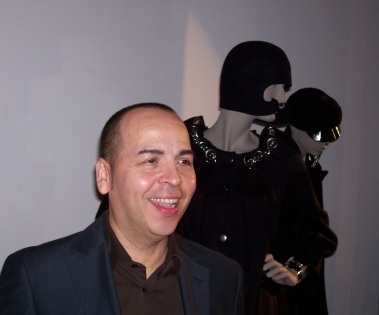 Designer Louis Verdad, at MOCA Geffen Contemporary, showing his Louver Collection, Photo by Paige Donner

Panoramic view of DLAFW held at MOCA Contemporary Museum, Little Tokyo L.A., Photo by Paige Donner
Thursday's "Evening of 20th Century Glamour" happened by the graces and sheer creative innovation of museum's Vanessa Gonzales and her team of "crazy fun" accomplices, including forward thinking DLAFW Executive Producer Leanna Lewis of Leanna Lewis Events. Silver, co-host of the evening along with actress Rachel Griffiths, said that the Geffen Center at MOCA was an exciting venue to stage a runway show and sees L.A. as being the attractive fashion debut destination for both N.Y. and Pan-Asian designers.
"L.A. Fashion Week can really position itself well because everyone I want to dress is already here," added Silver, referencing some of the actors and celebs who showed up for the MOCA DLAFW event including Nicole Richie, Marisa Tomei, Rose McGowan and Nicki Hilton. "We need to import designers to L.A. rather than export our talent to N.Y.," said Silver.
Vintage designers shown on the runway included the show hit, "Iconic Mermaid Coctail Dress - Red," by Norell. This number "stopped the show" and garnered the model, Monique, applause from the crowd. Other dresses included: YSL, Valentino, Azzaro, Dior, Givenchy, Mugler and De La Renta.
DLAFW Founder, Lewis, feels that one of the most effective ways to be environmentally conscious is to re-use old(er) things. She also incorporated EcoNouveau into the DLAFW line up of event sponsors. She's a believer in putting L.A. on the fashion world's map. "I think there is a tremendous amount of talent in this city and it's my mission to expose it the right way, L.A. style. Fashion, art and music fused together. The success of the event last week is the beginning of the future of fashion here in LA and will initiate the credibility Los Angeles deserves."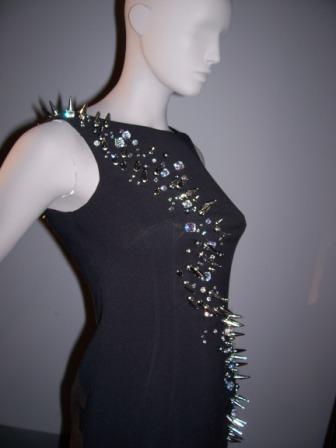 Louver Collection '09, Featured at DFWLA at the MOCA Contemporary Museum, Photo by Paige Donner
Speculation by the crowd was that this year was "fashion freer." Freer in the sense that the corporate underwriting was no longer there [by Mercedes Benz, anyway] and that this therefore allowed the designers to "go a little crazy creatively" said some. Comparison of Louver's new collection with last year's reveals that he certainly showed a different side to his design spectrum. Co-host of DLAFW Cameron Silver commented that he has always been a huge fan of Louis Verdad and that "he was really the first designer to explore the 40's in a modern way. I was excited to see his collection on display at MOCA for the evening. He's a really, really talented designer."
Battalion showed at the Los Angeles Theater the first weekend of Fashion Week as part of BoxEight's Fashion Weekend. Its Native American themed collection had the crowd raving. This is an eco line that says Lights, Camera, Eco-Action...with Style! Battalion Collection PHOTOS of collection.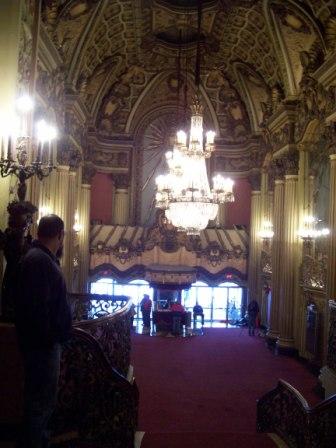 Lobby of Los Angeles Theater, National Historical Building, in Downtown L.A. where Eco-Line Battalion showed and also Society For Rational Dress along with Sahaaj, Photo by Paige Donner
L.A. Fashion Week attendees were enthusiastic about the downtown venues where the shows were held. A particular hit was the Los Angeles Theater where GenArt and BoxEight staged their shows. Theater's rich history includes that its grand opening was attended by Charlie Chaplin and Albert Einstein. Women loved the roomy bathrooms which feature marble floors and an ornate, gilded makeup room.
See LA Pretty for more Fashion Week L.A. coverage.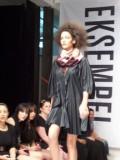 CoLA FW's Eksempel show, Photo by Paige Donner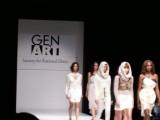 GenArt's Society for Rational Dress, Photo by Paige Donner
Related