New York City has long been a mecca for media, entertainment, culture, and, yes, sports. With two teams for each major sport -- football, baseball, hockey, basketball -- based in New York for close to half a century, there have been plenty of great sports memories tied to their iconic venues. But as those static arenas and grey stadiums get replaced by greener and more efficient facilities, there is an alliance that few sports fans know about, including this author, that is changing the way large sports complexes are designed, built, and maintained.
The Green Sports Alliance is one of America's best-kept secrets. The program centers round environmental stewardship, but with a long investment horizon and cost-benefit analysis with ROI achieved through waste reduction, conservation, and efficiency.
What binds the four venues that responded to my request for this article -- MetLife Stadium, CitiField, Barclays Center, and the U.S. Open Tennis complex -- have been their collective focus on leveraging mass transit to lower motor vehicle pollution going to and from their facilities.
This year, the U.S. Tennis Association through the U.S. Open Green Initiative Program, made the point to offset the carbon of international travel to the U.S. Open Tennis Championship that will begin on Monday, Aug. 26. "The Natural Resources Defense Council (NRDC) supply 605 metric tons of carbon offsets to offset the carbon emissions generated from player travel to the event as well as from the fuel consumed onsite." That fact and others came from the U.S. Open's green report, which was supplied by Lauren Kittelstad Tracy, Senior Manager, Strategic Initiatives for the U.S. Tennis Association.
Mass transit also serves the tennis complex in Flushing, Queens. The Barclays Center, which achieved a LEED-Silver rating, built its complex right on top of nine subway routes and a block away from Long Island Rail Road.
From a July 22 press release: "From site selection to materials used, we were focused on building one of the most sustainable arenas in the country," said Bruce Ratner, Executive Chairman of Forest City Ratner Companies, the developer of Barclays Center and Atlantic Yards. "With mass transit as our foundation, we've built an arena that speaks to innovation and design as the corner stone of sustainability. I applaud our staff and our green partners for this tremendous accomplishment."
Design, Retrofit, Green (Repeat)
Not to be outdone, MetLife Stadium, which opened in 2010, had a light-rail train station built to go with the fleet of buses that ferry fans to the stadium. But mass transit to these venues is only the start for their green roadmap.
The Green Sports Alliance was created to build greener, leaner sporting complexes with 170 member facilities around the world in 15 sports leagues.
"Like many venues across the country, the NYC sports venues are doing great work when it comes to reducing their environmental impact and improving the ways their facilities run," Martin Mull, Executive Director of Green Sports Alliance, wrote in an email. "In addition to being good stewards of the environment through their conservation and green building programs they can also significantly reduce costs at the same time. We look forward to showcasing their innovative conservation projects at the upcoming Green Sports Alliance Summit in Brooklyn."
The Green Sports Alliance Summit will be held next week, from Aug. 26 - 28.
At CitiField, they began planning the new stadium's green initiatives for this year's MLB All Star Game back in 2012. Building and waste management reports showed CitiField achieves 10 percent renewable energy for its overall energy consumption. From the report: "Through efficient operation of our Building Management and Lighting Control systems, an overall electrical usage of 286,545 kWh's during the jewel events is anticipated... Low flow / hands free faucets, low flow toilets and waterless urinals save 4.5M gallons of water annually."
From the top of the stadium, with a 11,000 SF green roof, down to the ground with 65,000 SF of porous pavement, which mitigates storm water runoff, CitiField continues to look for ways to save on water usage, recycle waste, and compost other waste byproducts.
CitiField, like the other sports venues, continually look for ways to install green retrofit systems. As new technology solutions come on the market, the teams at MetLife, Barclays Center and the U.S. Open Tennis complex evaluate them. CitiField has been examining the cost-benefit analysis of installing, "Ceramic high mast fixtures, which would reduce parking lot energy consumption by more than 50 percent; Solar Carports; In-House bulb recycling," as stated in the report.
In reaching out to one of the Summit's sponsors in Tam Phung, CEO of GreenStar Hub, a green supply chain marketplace in the cloud, he wrote in an email, "GreenStar Hub is proud to be a sponsor of the 2013 Green Sports Alliance Summit. In addition to being huge sports fans, we look forward to contributing in the Green Sports Alliance's mission to help sports teams, venues, and leagues enhance their environmental performance through collaborative procurement and outreach support,"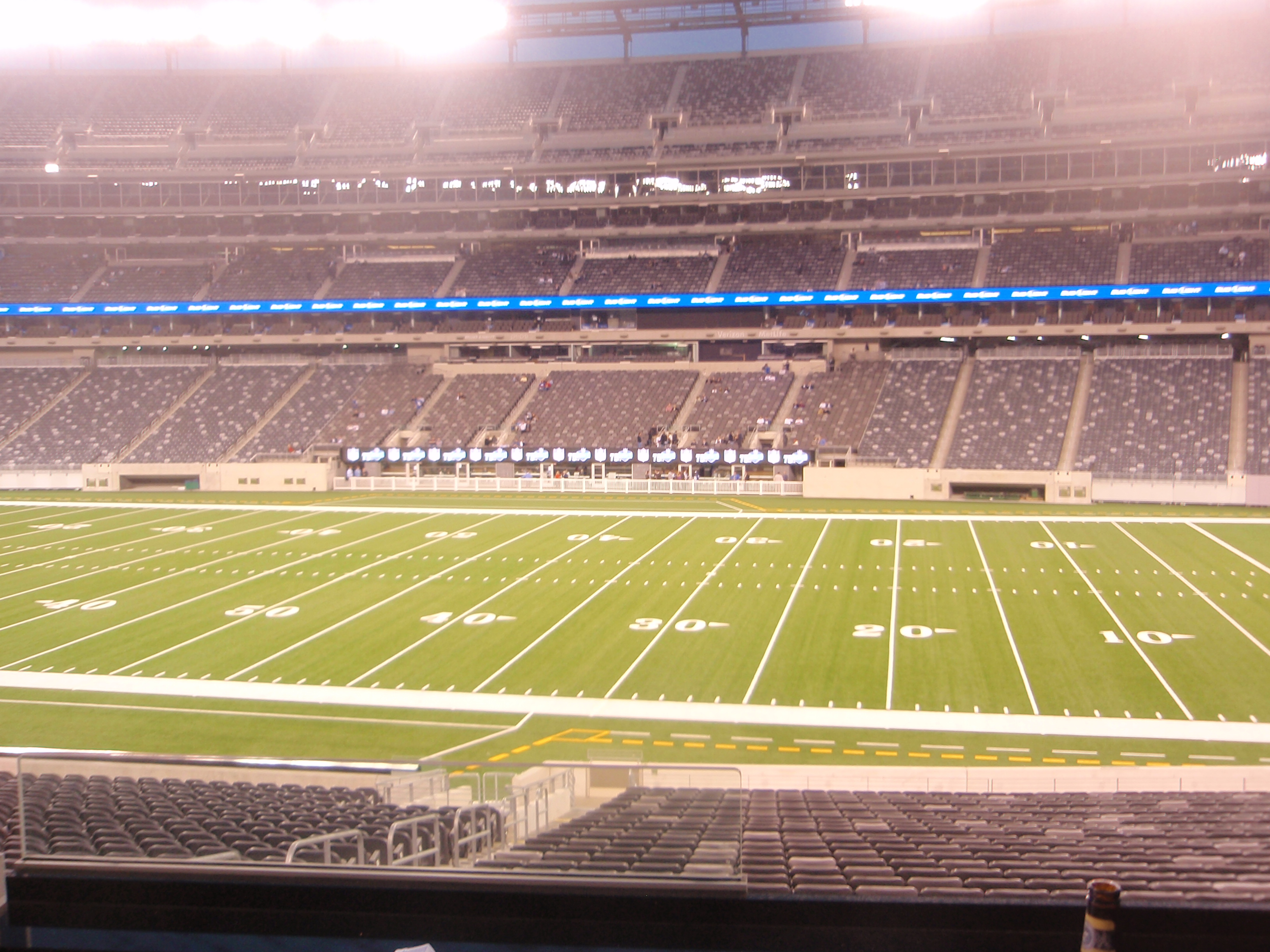 (Photo: MetLife Stadium 2010, Credit: James Grundvig)
Interview with MetLife Stadium
Equally impressive was the phone interview with Dave Duernberger, VP of Facility Operations at MetLife Stadium. When the stadium was in the design-build phase in 2008, and eventually opened in 2010, many new green building products, materials, and systems weren't even in the commercial market.
Mr. Durenberger pointed out the stadium ownership invests, "$5 million in capital improvement projects and upgrades, in construction waste recycling and reducing general waste," among other items.
MetLife like other Green Sports Alliance members are constantly evaluating new energy and environmental solutions that weren't available on the market a few years ago. That kind of laser focus and attention to detail will leave positive footprints. It also contributes to an online database of green knowledge for a movement that started 20 years ago.
"Recycling at the stadium has two cardboard compactors, so concessionaires can recycle 80-90 percent of their waste," Durenberger explained. "On game day, we send out six workers with blue, parking lot recycling bags. So far a large percentage of them don't do the right thing."
That's one reason for getting the word out to sports fans about Green Sports Alliance, while informing them on the green initiatives and programs that are in motion at the sports venues they attend.
"MetLife recycled 72 tons of waste in 2012. We have an aggressive comingling and compost system," Dave Durenberger said. "Each year we have an Earth Day Program, where we do plantings, waste recycling, awareness programs, in addition to fully change our compostable service."
He added, "We control post-event shutdown of non-essential equipment. We are training security that when occupied areas are vacated to shutdown HVAC systems, escalators, and other systems. Overhead doors -- and there are too many to count -- when open, will close as soon as possible to prevent heating loss in the colder months."
Mr. Durenberger went on to explain that evaluating improving energy efficiency and culling waste and loss, they refer back to the stadium's 2010 peak shaving strategies. The mechanical ventilation company eCubed retrofitted the mechanical systems on all refrigerators, combined with Siemen's chilled reset program cut electrical demand flow significantly. "Other savings have been found in lighting, with Sylvania and Encelium lighting control systems that allowed us to reduce energy consumption by switching out the emergency lights of 250-400 watt bulb systems and to LEDs, which knocked the lighting power down to 27 watts."
With MetLife's "Daylight harvesting program sweeps, lots of training of multiple staffs, combined with security system shutdowns, and solar-automated overhead doors," he said, "we will no longer heat the outdoors in winter."
That will be a big, cost saving improvement. Just in time for the Super Bowl in 2014 that will be played at MetLife Stadium.
The next time sports fans go to a game or event, they should inquire and learn what green initiatives and programs the venues have in place to reduce their carbon footprint. It will be a greener and more responsible world for all to enjoy.
Related
Popular in the Community