The Chicago Sun-Times reports Wednesday morning that activists who had climbed the smokestack of the Fisk Generating Station have come down and are now in police custody. The climbers faced thunderstorms and heavy rains starting around 8 a.m. Police have not yet detailed the charges they will face.
According to Greenpeace, those arrested had rappelled down from the Pulaski Bridge, near the Crawford coal plant in Chicago's Little Village neighborhood, to stop a coal barge from passing. They dangled themselves in the boat's path, holding signs that read "We can stop coal" and "Nosotros podemos parar el carbόn," according to a Greenpeace blog post. The barge was unable to pass.
Police arrested the group shortly before 5 p.m., and charged them with misdemeanor reckless conduct, as well as the more creative charge of performing an aerial exhibition without a net.
The detained protesters were all from out of state, according to the Chicago Sun-Times: Jeanne Kirshon, 23, of Rockville, Md.; Kaitlin Finneran, 24, of Norwalk, Conn.; Daniel Strandquist, 28, of New York City; Shea Schachameyer, 27, of Milwaukee; and Harmony Lambert, 22, of Shasta, Calif; Carolyn Auwaerter, 25, of Melbourn, Penn.; Laila Williams, 24, of Rockville, Mass.; and Michael Alilionis, 21, of Floral Park, NY.
Meanwhile, at Chicago's other coal-fired plant, the Fisk Generating Station in the Pilsen neighborhood, eight other activists were still 450 feet up on the plant's smokestack Wednesday morning, as storms came rolling in to the Chicago area.
On Tuesday morning, the eight scaled the giant smokestack, bearing signs reading "QUIT COAL." They also began painting the phrase in large yellow letters on the edifice, a process they had planned to finish Wednesday.
"We're going to stay up here until Edison International hears our message," said Kelly Mitchell, one of the activists who climbed Fisk, referring to the company that owns both of the city's coal plants. But if the impending weather threatens their safety, they may come down, Mitchell said in the morning.
The city's two aging coal plants are known producers of massive amounts of particulate matter and pollution, and have been reported to cause increased rates of lung cancer, heart attacks and asthma in the communities that live nearby.
Their fate was a major issue in this year's city election, with one alderman on Chicago's City Council forced by pressure from his challenger to end his years-long support of the plants and sign on to a measure to regulate them. That measure, the Clean Power Ordinance, did not pass the last City Council, but is expected to come before the new one early in its tenure.
See photos from activists at the top of the smokestack: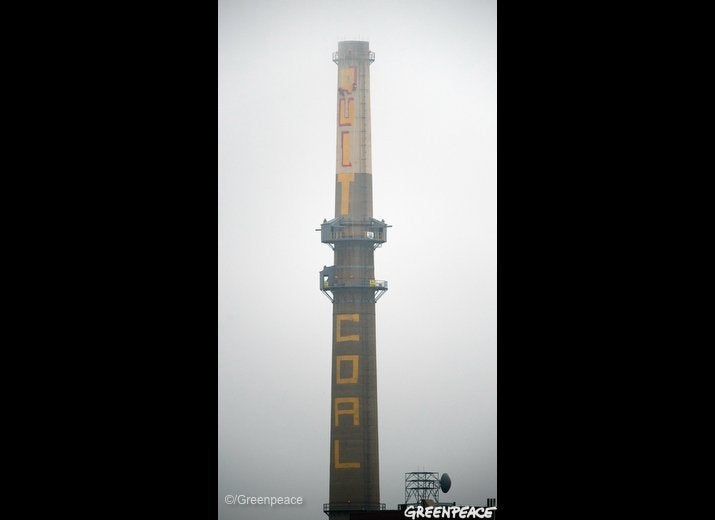 Quit Coal: occupying a 450 ft. smoke stack in Chicago
Popular in the Community