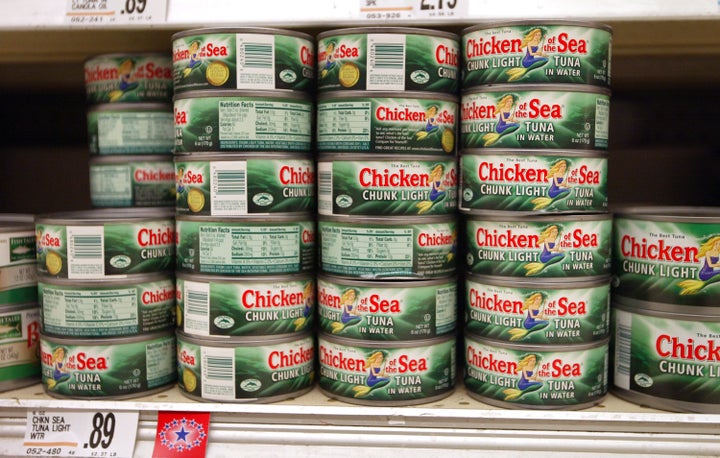 Tuna can be a dirty business. But activists are trying to clean up the trade, and they're demanding that popular grocery stores and food companies lead the charge.
In a letter published last week, environmental group Greenpeace urged 40 major U.S. food retailers and distributers to push popular tuna brand Chicken of the Sea to remove unsustainably sourced tuna from its supply chain. Chicken of the Sea is owned by Thai Union, the world's biggest tuna supplier. The Thailand-based firm has come under fire in the past for alleged links to forced labor and fishing practices that destroy marine habitats.
"Thai Union's US brand, Chicken of the Sea, continues to supply destructive tuna," John Hocevar, Greenpeace's oceans director, wrote in the letter. "It is time for US retailers and foodservice companies to ... demand Chicken of the Sea improve or start canceling contracts."
Walmart ― both the largest retail chain and the largest grocery chain in the U.S. ― declined to comment for this story. A spokeswoman told The Huffington Post that she could not discuss specific suppliers. Walmart's Great Value brand of tuna sources from Thai Union, and Walmart stores carry Chicken of the Sea. 
"We're absolutely looking for leadership from Walmart," David Pinsky, a Greenpeace campaigner, told The Huffington Post.
Kroger did not respond to a request for comment. Costco and Target declined to comment.
Pinsky said he's confident U.S. retailers will eventually start to drop unsustainably caught tuna from their product lines.
"These companies know what should happen," Pinsky said. "I have no doubt things are going to shift. It's just a question of which companies are going to take that action."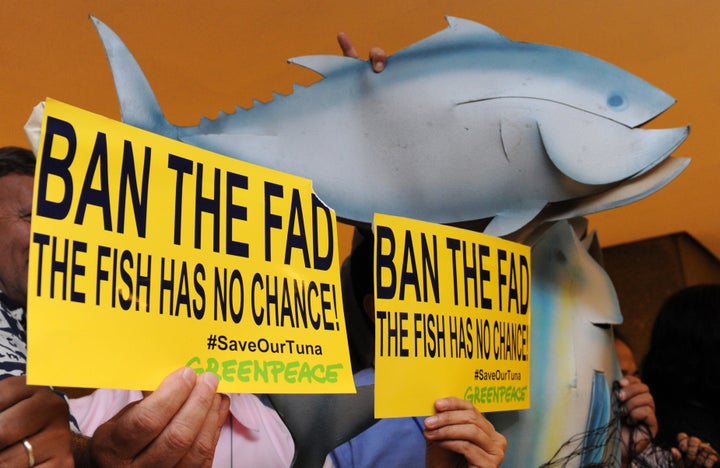 Thai Union is notorious for using extra-long fishing lines and fish aggregating devices (FADs), which lure fish into a small area before netting them. Though effective, FADs often scoop up sharks, turtles and juvenile fish as bycatch. Each year, 100 million sharks, including endangered white and blue sharks, die as a result of these fishing practices, according to the World Wildlife Fund.
A spokesperson for Chicken of the Sea told HuffPost that the brand has worked to make its supply chain more sustainable. "Unlike Greenpeace," the spokesperson added, "we do not believe tuna sustainability is about limiting specific types of fishing gear."
Investigations have also tied Thai Union to labor abuses, including slavery. And a lawsuit filed in May alleges that three major tuna brands ― Chicken of the Sea, Bumble Bee and Starkist ― secretly agreed not to remove unsustainably caught tuna from their supply chains. 
Environmental groups have been hounding retailers to drop tuna caught using FADs for years. Slowly but surely, supermarkets, especially in the U.K., have started to listen, offering FAD-free tuna and taking unsustainable seafood off shelves. In May, British supermarket Waitrose announced that it would seek to remove unsustainably caught seafood from its stores by 2017.
In addition, Britain's largest supermarket chain, Tesco, announced last week that it would purge its shelves of some tuna sourced from Thai Union. Tesco's decision earned it praise from environmental groups, including Greenpeace, which cited the chain's move in its letter to food companies.
Environmentalists have had less success in the U.S., however. In April, Greenpeace launched a campaign to push Walmart to stop selling tuna caught using destructive fishing methods. The campaign has so far proven unsuccessful, according to Pinsky. 
The retailer told HuffPost in May that all the seafood it sells will meet the company's sustainability guidelines by the end of the fiscal year. Greenpeace claims the guidelines are "riddled with loopholes."
"To date [Walmart] has not done anything of measurable action," Pinsky said. 
I have no doubt things are going to shift. It's just a question of which companies are going to take that action.

David Pinsky, Greenpeace
Other American supermarkets are taking initial steps to clean up their tuna supply chains, however. For instance, Target's Simply Balanced brand tuna is sourced exclusively from FAD-free suppliers. The company has also enlisted FishWise, a sustainable seafood consulting firm, to help conduct a sustainability audit of all tuna on its shelves.
"We are working with FishWise to evaluate our entire owned brand and national brand shelf-stable tuna assortment," Erika Winkels, a Target spokeswoman, told HuffPost. 
In addition, Whole Foods, which has topped Greenpeace's sustainable seafood rankings three years in a row, sells no tuna sourced from Thai Union. It's Pole & Line canned tuna is sourced from fisheries that catch tuna one at a time, eliminating bycatch, according to Carrie Brownstein, Whole Foods' global quality standards coordinator for seafood.
Though Whole Foods does not stock Chicken of the Sea, the chain received a copy of Greenpeace's letter last week. This is because, according to Pinsky, Whole Foods lacks a public-facing sustainable canned tuna policy. Whole Foods is planning to publicly release such a policy soon, according to Brownstein.
U.S. retailers that continue to sell Thai Union's Chicken of the Sea brand are running out of excuses, according to Pinsky.
"For U.S. companies, whether it's Walmart or Kroger, to say they can't do it, it's not acceptable, because we're seeing it actually happen," Pinsky told HuffPost.
This story has been updated with a statement from Chicken of the Sea.
REAL LIFE. REAL NEWS. REAL VOICES.
Help us tell more of the stories that matter from voices that too often remain unheard.