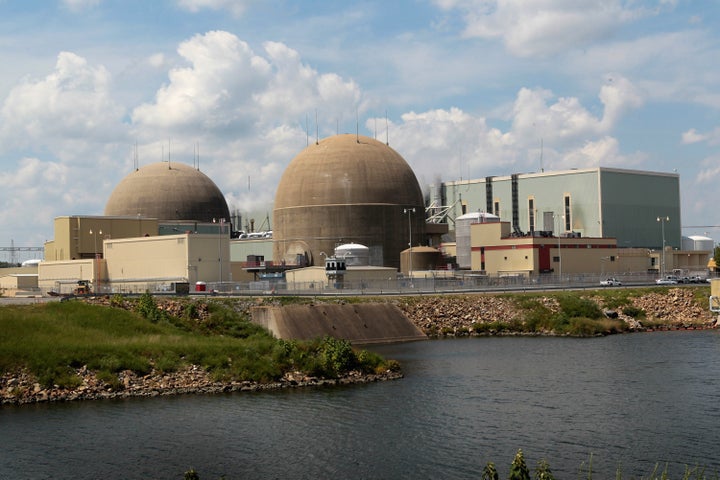 On Monday South Korea deported three senior Greenpeace staff, known for their role in our campaign against that country's nuclear expansion plans. This is just the latest proof that nuclear power and democracy do not mix. It's the latest attack on freedom of speech from an industry forged in the furnace of military secrecy, which has over the last 60 years left in it's a wake a legacy of lies, cover-ups and broken promises.
What is it the industry and its government sponsors fear? What do they hope to achieve by excluding peaceful people from Greenpeace? What do they have to hide? What is it that they do not wish the people of Korea to hear?
Surprisingly, as the International Executive Director of Greenpeace, while I was stopped and questioned, I was not denied entry at the airport. Yet, I have been to Chernobyl. I have been to Fukushima. I can tell you firsthand of the devastation, of the ruined lives, and of the ongoing lies and cover-ups surrounding these nuclear power disasters.
Greenpeace scientists have highlighted that the devastation wrought on those communities, the painful legacy of radioactive contamination that I witnessed, was unnecessary. We do not have to run the risk of nuclear accidents. The world and Korea have bountiful renewable energy sources and the ability to use energy in a much smarter way. Even the respected Economist magazine in its March 14 issue ran a cover story calling nuclear power "The Dream that Failed," showing why nuclear is not a viable energy solution for the future.
I will now continue alone with my planned meetings and I will seek more. I wish to speak to the Minster for Justice, to hear why my colleagues and friends represent in his view such a threat. I will try to cover the work of my friends and colleagues. When I met with the mayor of Seoul, Park Won Soon, I expressed my admiration and hopes for Korea's leadership in championing sustainable development in the run-up to this year's Rio+20 Summit on Sustainable Development. I shall tell him that nuclear power has no role to play. The mayor said the deportation of my Greenpeace colleagues was unreasonable.
No doubt we will talk of the fact that Korea will host a ministerial meeting in the run up to the next round of global talks on climate change later this year. Known as COP18, these talks in which progress is desperately needed in tackling climate change do not include discussion of nuclear power, as any keen follower of climate talks knows nuclear energy is not considered a safe, clean or sustainable energy source by the UN's Intergovernmental Panel on Climate Change. It is, therefore, not included in the UN's Clean Development Mechanism.
I hope to meet with many key leaders of political parties and anti-nuclear NGOs about Korea's expanding reliance on risky nuclear technology, despite the abundance of renewable energy alternatives it can turn to. But also about the role Korea can play in promoting a just, equitable and sustainable future.
This latest example of the government's crackdown on our anti-nuclear power campaign makes it harder to believe that South Korea's government will play such a positive role: that its action will match its rhetoric.
Last June, the Greenpeace ship the Rainbow Warrior carried out a "Nuclear-Free Korea" tour and travelled to Yongduk, a planned site for a nuclear power plant. Local groups were harassed by the local government, as they prepared for the ship's visit. Their anti-nuclear campaign posters were torn down, every person participating in a forum against nuclear energy was photographed, and a planned protest march was cancelled. People felt and were intimidated.
In August, following the announcement that Greenpeace would launch an office in Seoul, the government declared it would spend an additional 10 billion won to promote nuclear energy.
Greenpeace seeks to promote a clean, safe, and sustainable future for all Koreans. It is extremely disappointing to find that peaceful non-government organizations that are working to this end are unwelcome.
When I was fighting against apartheid in South Africa, I was inspired by the struggle and sacrifices of the Gwangju Democratization Movement and the popular uprising in Gwangju in 1980. This movement still stands out in my understanding of South Korean people. But, I fear that the spirit of that movement is now being forgotten by the Government.
Greenpeace will continue to reach out to the people of Korea, despite the fovernment's attempt to quash public debate and discontent over its nuclear plans. Later this month our largest campaigning and research vessel the Esperanza (Spanish for 'hope') will tour Korea. Called the "Energy Hope Tour," its voyage will see the full launch of our Energy [R]evolution scenario for Korea showing that nuclear energy is not needed, that it is a deadly and unnecessary risk, and outlining the potential for clean, safe and sustainable energy solutions. These solutions will also boost the economy and ensure energy security.
I urge the Korean government to return to form, to remember the Gwangju Democratization Movement, to embrace the open and honest debate Korea needs to have over its energy future.
I hope for the people of Korea that sanity prevails, that democracy and civil liberties win through, and that of course my colleagues can soon visit and be heard despite the overbearing influence of the nuclear industry and its friends.

Related
Popular in the Community