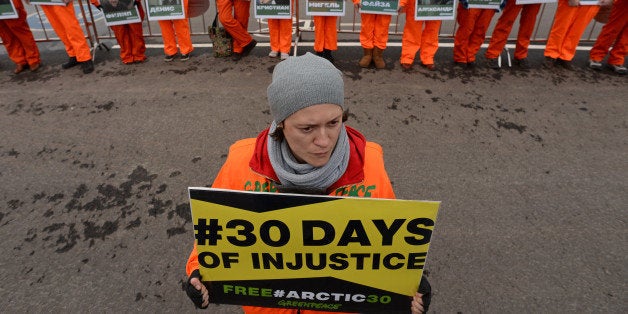 WASHINGTON -- On the eve of demonstrations against the detention of 30 Greenpeace protesters arrested 30 days ago by Russian authorities, the activist group is claiming that masked thieves broke into its office in Murmansk, Russia, Thursday night.
Supporters of the group, known as the "Arctic 30," have been planning 100 events in 36 countries to call for the Russian government's release of the activists. The group said Friday that six men in balaclavas climbed a fence, broke into the Greenpeace office in Murmansk, where the protesters are being held, and stole a mock cage that was intended for the protest.
Greenpeace released footage of the theft on Friday morning:
"The Arctic 30 were standing up for all of us, defending a fragile environment and a climate in crisis and now we must stand with them," said Greenpeace International Executive Director Kumi Naidoo in a statement. "Their detention is an attack against every single person who has ever been willing to raise their voice to demand a better future for themselves and their children. Now these 30 people are prisoners of conscience and we are all responsible for their fate."
BEFORE YOU GO