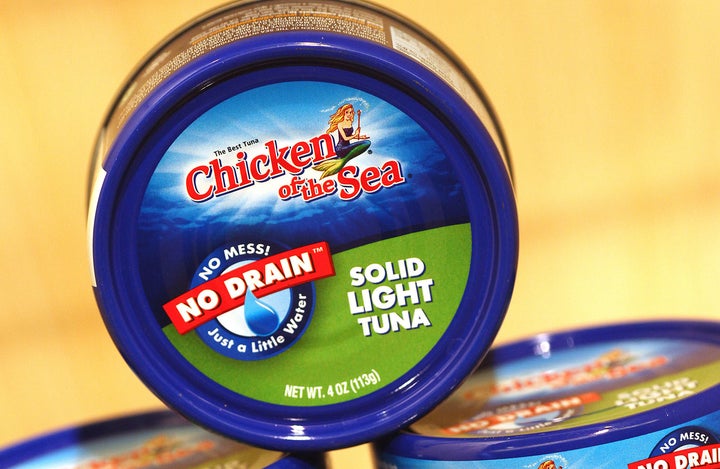 Walmart has a tuna problem. 
Thanks to unscrupulous tuna suppliers and a retail system that does little to hold them to account, getting the popular fish from the sea to Walmart's shelves can damage marine ecosystems and violate workers' rights, according to Greenpeace USA, an environmental activist group. 
In April, Greenpeace launched a campaign to pressure Walmart, the country's largest retailer, to purge its supply chain of tuna caught using destructive fishing techniques and forced labor. The campaign is one front in a larger effort to urge retailers in the United States and United Kingdom to clean up their tuna supply chains. 
For now, the campaign is only targeting a major supplier of the abundant Skipjack tuna, which accounts for most of the tuna found in cans, not the endangered Bluefin tuna, often found in expensive sushi.
The Greenpeace has already pushed one company to change the way it sources tuna. Under pressure from environmental group, British grocery chain Waitrose announced this week that it would seek to remove unsustainably caught tuna from its shelves by the end of 2017. 
Like Waitrose, Walmart sources much of its tuna from Thai Union, the world's largest canned tuna supplier. Thai Union owns the packaged seafood brand Chicken of the Sea and supplies to Walmart's Great Value brand, both of which are sold in Walmart stores. Despite its popularity among retailers, Thai Union is notorious for using fish aggregating devices (FADs), which draw lots of fish to a small area, making them easy to scoop up. The company also relies on so-called "long lines," which can stretch up to 80 miles and bear thousands of hooks.
Though FADs and long lines can be effective fishing tools, they often snag sharks, turtles and juvenile fish as bycatch. Every year, bycatch from industrial fishing contributes to the death of 100 million sharks, including endangered white and blue sharks, as well as over 250,000 endangered loggerhead and leatherback turtles, according to the World Wildlife Fund.
In a video (below), Greenpeace explains how FADs work and why they're bad for marine animals: 
Thai Union has also been linked to labor abuses. Most recently, in 2015, one of Thai Union's suppliers was found to have forced Burmese migrants, some of them children, to work without pay in inhumane conditions, according to an Associated Press investigation. 
Greenpeace hopes that by urging Walmart to stock more sustainably and ethically sourced tuna, the group can pressure Thai Union to clean up its act. While Wal-Mart isn't the worst offender when it comes to destructive fishing, the company has enough suction in the industry to demand that Thai Union improve its practices, according to Greenpeace. 
"[Walmart] really has the buying power to call on Thai Union to demand better products and ensure its consumers and the public it's not connected to destroying the ocean," David Pinsky, senior oceans campaigner for Greenpeace, told The Huffington Post.
Environmentalists have pilloried the tuna industry for decades. But the time is right to once again ramp up pressure on tuna suppliers and retailers, Pinsky said in an email. "We're starting to see [a] shift in public awareness as more and more scandals have emerged," he added.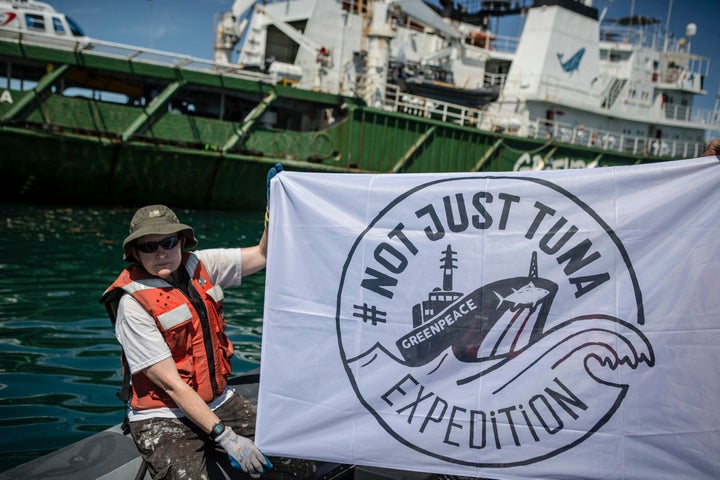 Walmart says the controversy over its canned tuna is overblown.
In 2015, the company adopted new sustainability guidelines for the product with input from Greenpeace. While the guidelines aren't overflowing with specifics, they require all Walmart and Sam's Club stores, which are also owned by Walmart, to buy tuna from suppliers that comply with the International Sustainable Seafood Foundation's sustainability rules or whose methods have been certified as sustainable by a third-party organization, like the Marine Stewardship Council.
The company expects that all of its seafood will meet these new standards by the end of the fiscal year.
"We are committed to finding safe, affordable and sustainable seafood for our customers that does not negatively affect global communities or the environment," Walmart spokeswoman Marilee McInnis told HuffPost. "Our goal is to build transparency and continuous improvement with the seafood supply chain."
Walmart has made no indication that it's demanding suppliers like Thai Union offer more sustainable and ethical products.

David Pinsky, Greenpeace
But the company's commitment to buying sustainable seafood hasn't translated into action on the part of its suppliers. That's because third-party certifications aren't perfect, and the company has neglected to do more to ensure that its tuna is sustainably sourced, according to Pinsky.
"Walmart's canned tuna policy is weak, riddled with loopholes, and will not significantly help our oceans or protect seafood workers," Pinsky said. The policy amounts to little more than "greenwashing," he added.  
Pinsky said that Walmart's efforts to crack down on forced labor, which include its support for the anti-slavery group "Project Issara," don't necessarily translate into a slavery-free supply chain.
"Walmart has made no indication that it's demanding suppliers like Thai Union offer more sustainable and ethical products," Pinsky said. "If Walmart were serious about the sustainability and social responsibility of its seafood, it would have no problem sharing with its customers its timeline and goals for eliminating any destructive and potentially unethical seafood from its supply chain."
While Walmart has not denied that parts of its supply chain rely on forced labor, McInnis told HuffPost that it's working with other retailers to address the issue.
"Some time ago, Walmart recognized forced labor as issues that needed to be addressed through combined, concerted action," she said via email. "Both the company and the Walmart Foundation have engaged non-profits and other companies to find solutions."
Despite Walmart's efforts, Greenpeace means to press on with its campaign until the retailer ensures that its suppliers aren't abusing their workers or killing endangered animals. Rooting out unsustainable and unethical tuna ranks among the organization's top priorities.
"Here in the U.S. we're going to continue in very public way to focus on some of the biggest buyers," Pinsky said. "We're trying to really ensure we're maintaining the health of our oceans."
CORRECTION: An earlier version of this story incorrectly said Thai Union owns Walmart's Great Value brand. In fact, Thai Union is merely a supplier for this brand.
Calling all HuffPost superfans!
Sign up for membership to become a founding member and help shape HuffPost's next chapter