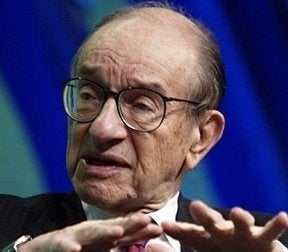 Former Federal Reserve Chairman Alan Greenspan offered a woeful outlook of America's economic situation on Sunday, saying the crisis with the country's financial institutions was as dire as he had ever seen in his long career, and predicting that one or more of those institutions would likely collapse in the near future.
"Oh, by far," Greenspan said, when asked if the situation was the worst he had seen in his career. "There's no question that this is in the process of outstripping anything I've seen and it still is not resolved and still has a way to go and, indeed, it will continue to be a corrosive force until the price of homes in the United States stabilizes. That will induce a series of events around the globe which will stabilize the system."
Appearing on ABC's This Week, Greenspan would not definitively say whether the government should come to the rescue of Lehman Brothers, which has been forced to consider a possible sale after its stock shares plunged drastically this past week. Instead he called the situation surrounding the investment bank -- and the bailout that occurred this past spring of Bear Stearns -- as a "once in a half century, probably once in a century type of event."
The circumstances for Lehman may, as Greenspan noted, be different. Bloomberg News reported on Friday: "Rising speculation that Lehman Brothers Holdings Inc. may fail is generating less concern among investors than when Bear Stearns Cos. imploded in March."
Much of the issue, Greenspan added, was the trouble in the housing market, which he predicted would become stabilized by next year. Pressed by host George Stephanopoulos as to whether another major financial institution -- such as the struggling Washington Mutual, American International Group, or Merrill Lynch -- would fail in the interim, the former Fed chair responded in the affirmative.
"I suspect we will [see one fail]," he said, "but in and of itself that does not need to be a problem. It depends on how it's handled and how the liquidations take place. And, indeed, we shouldn't try to protect every single institution. the ordinary cost of financial change has winners and losers."
In light of these dynamics, Greenspan noted that the government was left with tough decisions: which institutions are "so fundamental to the functioning" of society that they demanded a federal safety net? Earlier in the week, the former fed chairman noted that such choses extended to tax policy as well. In an interview with Bloomberg Television, Greenspan argued that the country couldn't afford the tax cuts being proposed by John McCain without an equally massive reduction in spending.
"I'm not in favor of financing tax cuts with borrowed money," he said. "I always have tied tax cuts to spending."
Popular in the Community