Although the title character in Tim Burton's Alice in Wonderland doesn't get to be a queen, Mia Wasikowski's wild, abundant tresses provided the crowning glory for a natural beauty. Such hair may be attainable for the rest of us, but not by tumbling down a rabbit hole. We know from women's magazines that a natural look isn't born, it is made. And, thanks to the green marketing gods, Disney has licensed the Alice in Wonderland brand to a tie-in product packaged in a pretty pink bottle: Organix Rejuvenating Cherry Blossom Ginseng Shampoo.
The tagline: Indulge your hair in nature's wonderland.
The problem: Despite the implicit promise of the brand name and the company website, Beauty PureandSimple.com, Organix shampoos are not organic. And, they contain some hair-raising, man-made ingredients.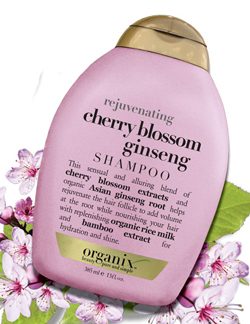 Why it matters: There are two good reasons.
1. Consumers can be duped by misleading , greenwashing names and claims.
There is a demonstrated willingness to pay a premium for greener, healthier personal care products: Despite the recession, the market for organic personal care grew by 19% in 2008, according to the Organic Trade Association And the "natural" cosmetics marketplace has been expanding at an annual 13% rate, compared with a 3% average annual increase for the conventional cosmetic sector
USDA Certified Organic, a meaningful seal on food products, is also permitted for cosmetics made from agricultural products meeting those standards. Products bearing the USDA label have been vetted by an independent third party as meeting the National Organic Program's standards. In order to be certified USDA organic, a shampoo or cream must contain 95 percent USDA certified organic ingredients.
The company website says that Organix Rejuvenating Cherry Blossom Ginseng Shampoo contains organic rice milk, but does not authenticate this ingredient as certified organic. And in any case, it's only one ingredient among 18.

Nor should consumers be taken in by pitches such as "natural," which is meaningless, according to Consumers Union's eco-labels project. .
2. Organix shampoos and many other "natural" personal care products contain synthetic ingredients that can expose a very vulnerable target audience--preteen girls--to chemicals that have been linked to early onset of puberty, obesity, and some cancers, and can provoke allergic reactions and asthma attacks.
Aside from rice milk and bamboo extract, the contents of the "Alice" shampoo are not disclosed, and the product is so new I couldn't find it in stores. But a sister product, Organix Nourishing Coco Milk Shampoo, contains several ingredients deemed hazardous by the Environmental Working Group's Skin Deep Database
including the following:
•DMDM Hydantoin, an allergen and irritant that can be contaminated with formaldehyde, classified as a known human carcinogen by the International Agency for Research on Cancer.
•Fragrance, a catch-all term that allows manufacturers to conceal perfuming components, which are protected as "trade secrets." These commonly include phthalates, chemicals that have been linked to genital deformities in human infants, asthma in children and obesity in adults.
•Cocamide DEA and Cocamidopropyl Betaine, sudsing agents linked to allergies and immunotoxicity
Organix Nourishing Coco Milk Shampoo also contains Disodium Laureth Sulfosuccinate, one of the class of ethoxylated compounds that have recently given rise to concern because they can be contaminated with 1, 4 dioxane, a carcinogen. In 2007, Environmental Working Group (EWG) found 1,4 dioxane in 28% of the 27,000 personal care products they tested.. In 2008, tests by the Organic Consumers Association (OCA) found 1, 4 dioxane in 40% of products labeled "natural."
In conclusion, let me emphasize that Organix is only one among many companies using greenwashing in their brand names, terminology and/or claims; see the Campaign for Safe Cosmetics and OCA's "Coming Clean" reports for many more examples. But Organix "Alice" shampoo and other products aimed at young teens should be vetted with especial care, as discussed in EWG's recent study of adolescent girls' exposures to hormone-disrupting chemicals in cosmetics.
Greenwashing is not only a rip-off if you pay more for a product based on green claims, but it can be dangerous by lulling us into using products carrying precisely the kinds of ingredients we are seeking to avoid.
To learn which green cosmetic labels are authentic and which are not, see my blog and website, GreenerPenny.com.

Related
Popular in the Community