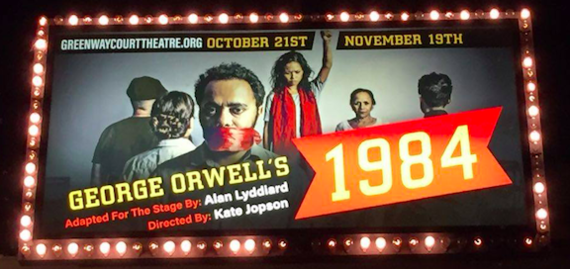 Greenway's 1984 Marquee - Photo by Kristen Addix
"...the past is unchangeable."
"Wrong!"
"...the force of gravity works."
"Wrong!"
"...two plus two equals four."
"Wrong!"
In a clash of art meets today's social-political life, the Greenway Court Theater's new, visually and aurally stunning adaptation of George Orwell's 1984 novel brings a modern day reality to a work written in 1948. Greenway's very versatile theater space has been taken over by director Kate Jopson's dynamic, young production team to create an immersive performance that starts before the first act in the venue's outer courtyard, continues during the play and includes a "Two Minute Hate" audience session that felt eerily like a Trump rally -- let the jeers fly!
This member of the audience among many others, including English and Theater Arts students from Fairfax High School, left the performance both exhilarated and in somber conversation and thought.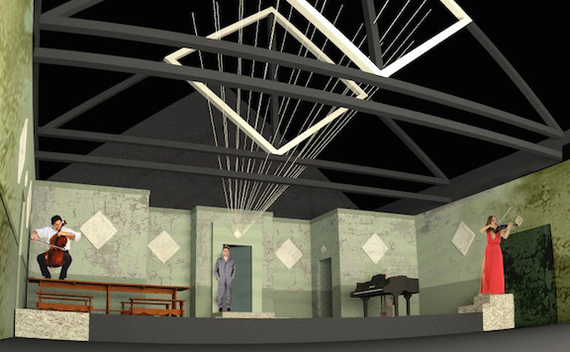 The Jopson directed play was like interactive performance theater, including: vibrant visuals -- a TV news-like scrawl swoops across the whole backdrop, while shadowy images of the main characters and intimations of Big Brother peer down, along with a stark lighting sequence interrupted by occasional warm moments; two live string musicians, glide about the stage reflecting the characters' emotions with original compositions and other pieces like Csárdás by Vittorio Monti on violin; and, a passionate, tight-knit cast highlighted by three non-Caucasians as the three leads -- Randolph Thompson (Winston), Amielynn Abellera (Julia), Peggy A. Blow (O'Brien) -- who powerfully engage in the age-old battle of the individual versus an over-bearing authority.
It's a primal battle that goes back thousands of years. In ancient Greece, Socrates imparted ideas to impressionable youth that fell outside the boundaries of what was sanctioned by Athenian society. Now, this inspired production of 1984 takes on even more impetus as we routinely hear "hate" speeches in the political arena, view distasteful cyber bullying in the teenage and school arena, and see routine violence that inspires the cause that black lives do matter!
Given the heated temperature of these arenas, Greenway Arts Alliance and Fairfax's English teachers selected 1984 as the first assignment in "Greenway Reads" -- an innovative novel-to-stage program which launched in September, and which will see over 300 Fairfax students study the book and/or script before they see the Greenway Court production, which is located right on the Fairfax campus and which will run from October 21 to November 19.
And what a fascinating production they will see. Angela Barrett, a new theater arts teacher at Fairfax is thrilled about Greenway Reads' goals:

I have all 140 theater students involved. We're finishing up the reading of the book/script and students will be looking at characters and putting together short scenes from the play as their class assignment -- culminating with the Greenway performance. Any time students can read a play and then see a professional performance - that's the ultimate. Also, as we study the 1984 book and/or script, we're comparing today's political, social, governmental, and technological society with 'Big Brother's' totalitarian control and deciding if this type of power is or is not possible in today's high-tech society. It's a fascinating discussion.
Director Jopson is excited about making the audience, for both adults and students, an active, fun participant within the play:
We're not making it a scary tale about communism as Orwell did. There are rituals in our play that reflect the real world today, like at political rallies, or when you're allowed to use hate speech, like in cyber bullying. The elements of the play and its themes are all around us in the real world, so we're emphasizing that and as soon as you arrive at the theater's outer courtyard, audience members are under surveillance, and are then given simple instructions to carry out. We create an immersive experience, and there's not anywhere you're not in the set of 1984, even in the courtyard, lobby and bathrooms where there are Party and Prole-only signs.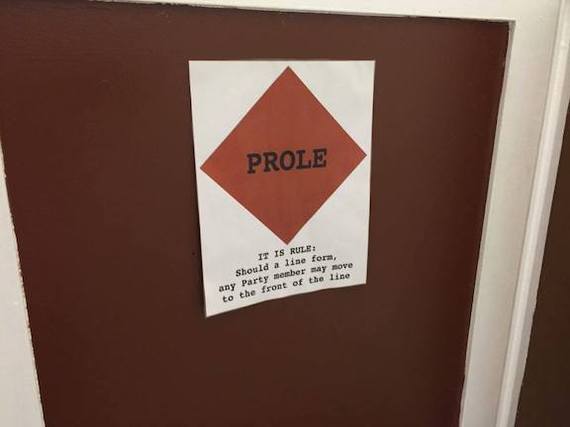 Prole rules - Photo by Kristen Addix
This twenty-first century makeover of 1984 with its thrilling concoction of visual theater, music and projection, makes for a fun experience. And there are interactive elements that will appeal to the students at their "matinee" performances.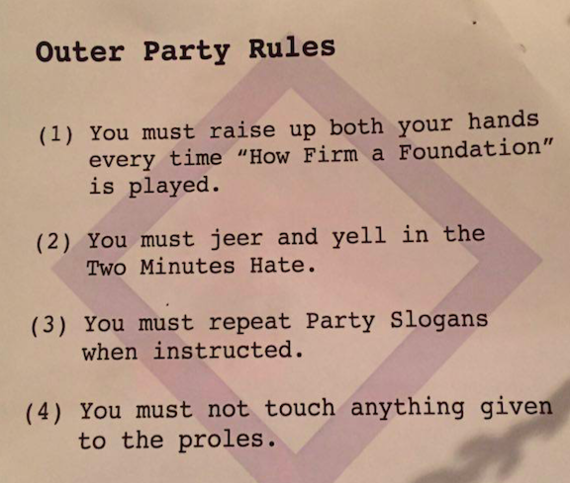 Kristen Addix, a musician, artist and savvy "medical" app developer, who had previously seen The Actors' Gang production of Orwell's 1984, enthusiastically noted about this Greenway production:
The separation of the audience into groups (Inner, Outer Party, and Prole) was a great way to include and share the experience of the characters. The use of the two musicians onstage and their relationship is brilliant -- it speaks more than words at times. There's also an unsung hero in this production's use of an amazing sound editor. The art direction was similarly brilliant and set the stage for the actors to shine. Overall, the production team created the ambiance for all the emotional and visceral reactions in this awesome production of 1984.
That production team included among others: Jesse Mandapat (sound design), Hana S. Kim (projection design), Halei Parker (costume design), Bo Tindell (lighting designer), J.R. Bruce (set and prop design), and Susan Coulter (production stage manager).
In this political season of people shouting out "wrong" to facts, hope and reasoned optimism, here's a solid -- if you want to be part of an entertaining and thought-provoking, immersive theater night out, check out Greenway Court Theater's brilliant production of George Orwell's 1984, playing now till November 19.
Calling all HuffPost superfans!
Sign up for membership to become a founding member and help shape HuffPost's next chapter