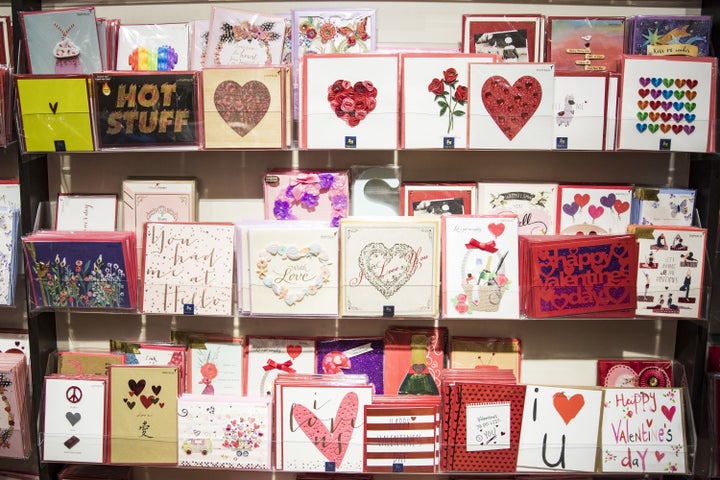 "Writing greeting cards ― it's a marathon, not a sprint."
So says Greg Vovos, senior writer at American Greetings, who's spent 10 years at the Cleveland-based company coming up with the words that you probably wish you had strung together in the first place.
He and Anne McEvoy, a senior writer who's spent 30 years at the company, write the copy for cards for holidays including Valentine's Day, Christmas, and Easter, along with Jewish holidays and other occasions like birthdays and weddings. When I spoke to them the day before Valentine's Day, they (unsurprisingly) explained that they had moved on from cards for the love-filled celebration. They did share, however, how they prepare for one of the busiest card-giving times of the year, and it requires much more than coming up with a few words.
"As writers and editors, we do a lot of research," McEvoy told HuffPost. "We try to stay on top, kind of like keeping our fingers on the pulse of society. There are a lot of TV shows and media [that show] blended families, people who are living together and getting married, divorce trends, people getting married later in life. All of those things are going to affect the personal relationships we're writing for."
But what is it really like to create universal messages about these personal relationships and still make them feel personal and original?
"That's the fun part of our job," McEvoy said.
When coming up with the cards, she and Vovos take personal tastes and personality into account. A design team handles the art and visuals for the cards, but writers like Vovos and McEvoy decide whether the message includes a touch of humor, a rhyming verse, or a sincere declaration of love, among many other options. Vovos stressed the importance of having "a card for everyone," whether it's a couple who's been together for two months or two decades.
"And new love doesn't just mean for people in their 20s," Vovos said.
As McEvoy pointed out, love isn't always romantic. The card writers have to express love in its many forms, whether it's for a card a grandparent will send to a grandchild or a kid will send to a parent.
For the more romantic ones, McEvoy sometimes turns to photographs of couples for motivation. From there, she imagines what the couple would be like in real life.
"I'll throw one of those pictures up on my page before I start writing and try to imagine what they would want to say to each other, what would make them laugh, how long they've been together, creating a little scenario for them," she said.
Vovos finds inspiration from other writers, as well as the everyday moments some might take for granted.
"As writers we're always keeping our eyes open, taking mental notes of what people do and how they behave," he said. "Everyone has their own quirks in their relationship, but people can remember their first kiss or the first time their partner held them in their arms ― those universal details that all couples, all people go through that transcend time."
McEvoy said she and Vovos are "very lucky that we get to work in one of the best creative studios in the country. We are encouraged to [find] inspiration and creativity in any number of ways, like going to a bookstore or watching movies."
She's even been struck with a spark of an idea while watching commercials.
It's hard for the writers not to turn to their own personal relationships when coming up with messages of love and affection. And if you're wondering: Yes, they're OK giving cards that they've written to their loved ones.
"After this conversation, I'm going to go buy a Valentine's Day card for my wife, and I'm going to be sure that I buy one I wrote," Vovos said, laughing. (He admitted that every so often ― about one out of 10 times ― he'll find a card he didn't write that he really enjoys and fits his message.)
Vovos has also received a Valentine's Day card that he wrote. His wife brought home a card for him and had no idea he was its author.
"I said, 'Oh, my God. I wrote this card for you,'" he told HuffPost. "It was just a piece of romantic copy that talked about our relationship and what I loved about her. I wrote it to my wife, and the editors had taken it and turned it into a 'husband card.' I couldn't even believe it. Now it's out as a 'wife card,' and it does really well."
He added, "That card really spoke to what I value in our relationship, so the fact that she picked it made me feel closer to her."
McEvoy gives cards she's written to her friends and family, too (co-workers typically get something handmade). Particularly around Mother's Day or her birthday, she gets questions from her kids like, "Did you write this one?"
"After 30 years, to be honest, it's hard to remember which ones you actually authored," she said.
She may have forgotten some of the exact words, but it's clear that her messages ― and Vovos' ― live on, far beyond the inside of a card.
Related
Popular in the Community