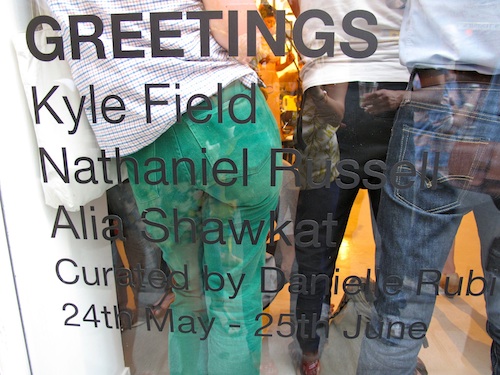 I recently rediscovered Paris, one of my hometowns. I explored the city's contemporary art scene and delved into its galleries, non-profits and museums. What I found was an open and welcoming community enthused to have a dialogue with people from diverse creative fields. Paris' contemporary arts community is surprisingly small considering the city's rich history as a creative capital. But perhaps it is for this very reason that the contemporary scene is not as prolific as in other major European cities such as Berlin, London and New York: so many Parisian institutions dedicate their time and efforts to art history and France's past crowning cultural achievements from Charles Le Brun to Marcel Duchamp. That said, there is a strong community of artists and art professionals interested in looking forward and creating new work, some inspired by the past and others breaking from it. I also noticed a very real interest among the people I met in what was happening in contemporary art in Southern California, including one gallery that opened an exhibition of California artists shortly after my arrival. So, on a hot day in late May, I visited a curator and her artists as they installed their show in the Marais in Paris. Here's my visit to Brachfeld Gallery on the opening day of the "Greetings" exhibition.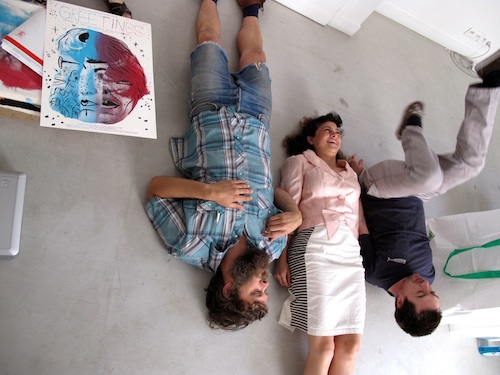 Who Says Art Can't Be Fun? Artists Kyle Field, Alia Shawkat and Nathaniel Russell
Ed Brachfeld is an American in Paris who, in addition to having an art and fashion production company, opened a gallery in 2008. For his current show, he turned to curator-food blogger-photographer and woman-about-town Danielle Rubi to select a group of artists. Danielle invited three California-based artists, Kyle Field, Nathaniel Russell and Alia Shawkat to an artist's residence in Burgundy to create work for the show, which explores the literal and abstracted meanings of a greeting. And the plot thickens -- Fine artist is merely one of the job descriptions adopted by these three multi-talented individuals. Kyle has been performing and recording for years under the name Little Wings and Nat plays and records music under the name Birds Of America. Alia is a singer and actress, best known for her portrayal of Maeby in Arrested Development, one of the best television shows ever to air. The result is an eclectic and fun exhibition, which was kicked off by an equally fun and very well-attended opening featuring music, drinks and, of course, art. And let's not forget there was an after party. Where? Paris' only good Mexican restaurant Candelaria, of course. What else would you expect from a group of self-respecting Californians?!
Yasmine Mohseni: You're an artist but, for this exhibition, you've taken on the role of curator. Was this a difficult transition?
Danielle Rubi: I've organized shows in the past. I pulled together a group of San Francisco artists to participate in Andrea Zittel's "High Desert Test Sites" and I've also organized music- and art-based events at galleries. However, this is the first show where I've taken on the role as curator in a broader sense. The most challenging part was being able to open up discussions about the meaning of the artists' work. I am so used to processing my own emotions when executing my own work, which can be a very private experience. To be on the other side of that was very intense for me. It's also very difficult to edit other people's work when you don't want to cause any hurt feelings. It's important to choose your language carefully and also allow for the freedom to work without a constrictive vibe. At the end of the curatorial experience, I realized that the best part of being a curator is being able to discover things about how artists work on a very intimate level.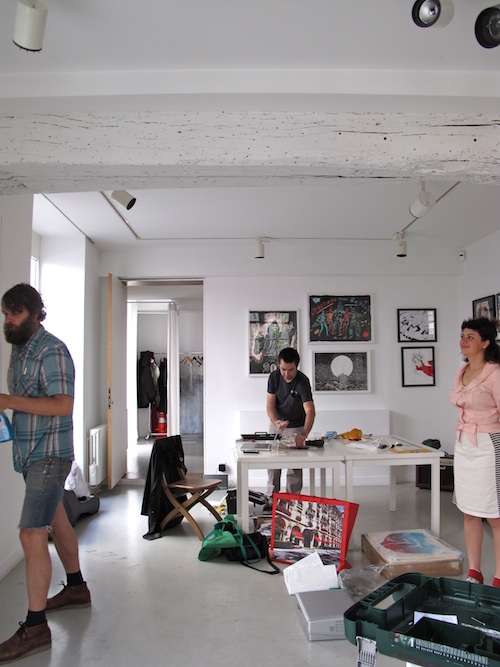 Which artists (living or dead) do you find most inspiring?

Sally Mann, Henri Cartier-Bresson, David Hockney, Kyle Field, Alphonse Mucha, Ellsworth Kelly, Andy Warhol, Alia Shawkat, James Turrell, Keegan McHargue, Cassandra C. Jones, Camp Bosworth, Lillian Smith.
If you could have dinner with one deceased artist who would it be and why?
My great-grandmother, Lillian Smith. She is the reason why I chose to go to the Art Institute of Chicago, she was in one of the very first classes there. I've admired her miniature paintings and mystically beautiful portraits of my grandmother and mother for years. She seemed to be a bold woman for her time, and I admire that.
You're also a foodie and food blogger, to which restaurant in the world would you take the above artist?
I would take a long walk with her through the Piedmontese vineyards in Northern Italy, and have a long lunch at Boccondivino; a very authentic, low-key and delicious slow-food restaurant in the Piedmont region of Italy.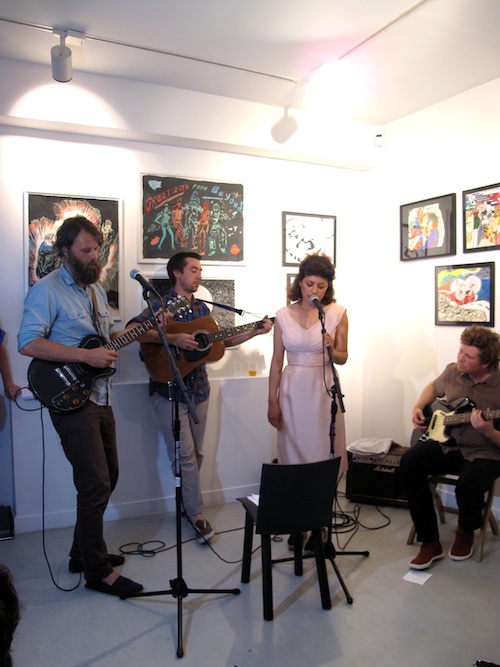 Yasmine Mohseni: Describe your style
Alia Shawkat: Radical confused thought out protected tongue-in-cheek self critically open.
What was the first work of art you ever created?
A portrait of Ariel from the puffy cover of the Little Mermaid VHS.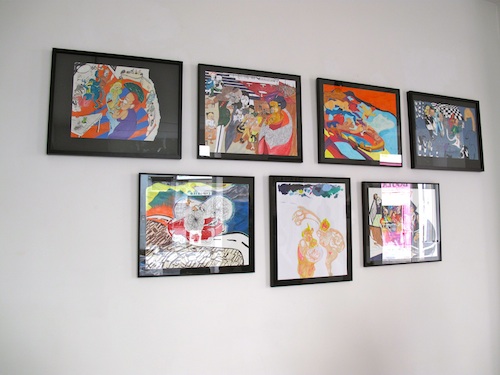 Alia Shawkat
Which artists (living or dead) do you find most inspiring?
Georg Grosz , Ralph Steadman, Daniel Clowes, Francesco Clemente, Norman Pettingill, Robert Williams, Nick Thorburn, Nat Russell and Kyle Field.
If you could have dinner with one deceased artist who would it be and why?
Egon Shiele, because he looked cute.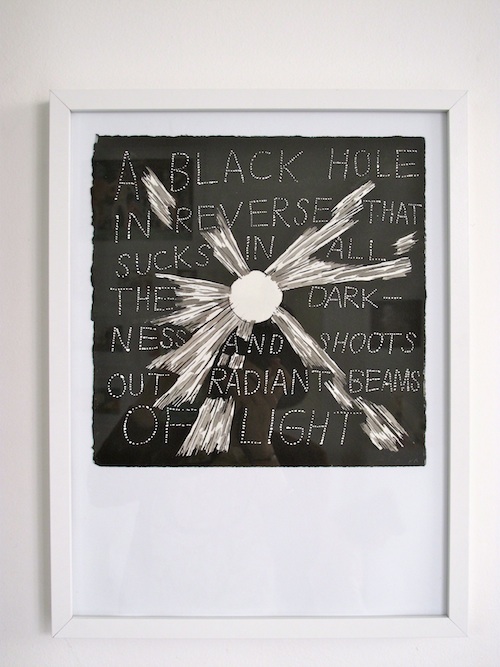 Nathaniel Russell
Yasmine Mohseni: What was the first work of art you ever created?
Nathaniel Russell: Something as a child, sitting at the kitchen table, drawn with crayons and long ago lost or thrown away.
Which artists (living or dead) do you find most inspiring?
Antonio Frasconi, Mike Watt, Chris Johanson, Raymond Pettibon, Kyle Field, Chris Vorhees, Ben Shahn, Ray Johnson, Katie Coles, William Blake, Alia Shawkat, Wallace Berman, David Shrigley, Jean Dubuffet, Howard Finster & Petit Pierre. Any person or friend who makes things that they believe in regardless of popular opinion or current trend.
If you could have dinner with one deceased artist who would it be and why?
My uncle. He did a lot of great cartoons, paintings, and pen and ink drawings. I would like to have dinner with him because he died too young and I'd like to talk to him about things and get to know him better.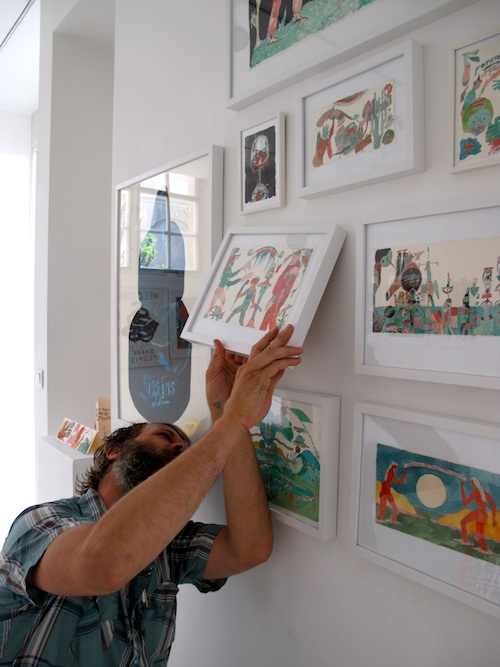 Kyle Field
Yasmine Mohseni: Describe your style.
What was the first work of art you ever created?
The oldest one I can remember is a drawing of Humpty Dumpty in crayon on construction paper in the mid seventies.
Which artists (living or dead) do you find most inspiring?
It's a tie between Nat and Alia at the moment. We just got to spend two weeks together and being separated from them is inspiring loneliness, longing and nostalgia. We are planning our reunion and still absorbing stimuli from our trip. Too soon.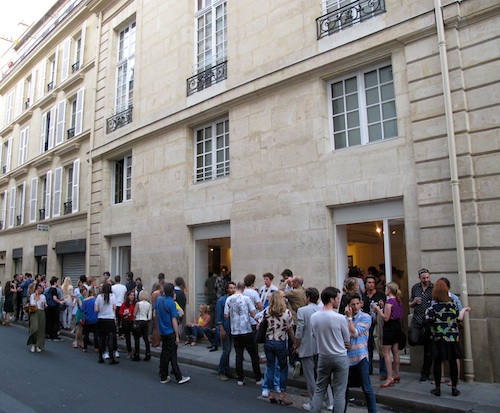 The crowd and the opening of "Greetings"
"Greetings" is on view at Brachfeld Gallery through June 25, 2012.
Click here for more pictures.
Calling all HuffPost superfans!
Sign up for membership to become a founding member and help shape HuffPost's next chapter