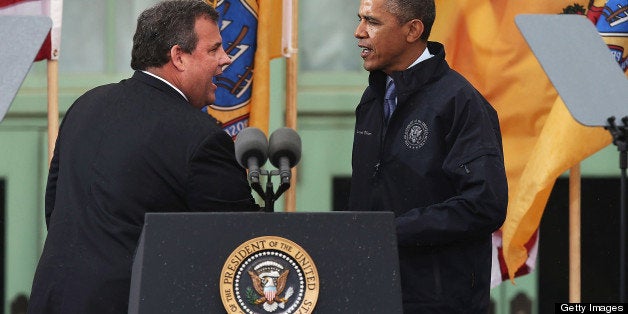 Standing on the beach in Asbury Park with "Born To Run" and "Who Says You Can't Go Home?" playing in the background, the smell of the ocean and cheesesteaks in the air, surrounded by miniature golf, salt water taffy, and a few feet away from The Stone Pony (where Bruce Springsteen and Jon Bon Jovi got their starts) I watched Governor Chris Christie introduce President Barack Obama to a crowd of about 4,000 today.
Christie said that everyone is ready to welcome everyone back to the Jersey shore this summer and "so am I"; that we have a lot more work to do but that he is not going to let anything come between him and the mission of restoring this great state.
Obama commended Christie for the work he's done. He said his advisers said that he had a choice between spending today in Washington or at the Jersey shore. He said, "I've got to say I've got to make some tough decisions as president, but this wasn't one of them."
He said that a friend of his said that "down the shore, everything's alright." He said that is the only person that he calls the boss besides the First Lady.
He said that "the Jersey shore is back and it is open for business" and that this past weekend, businesses, restaurants and arcades reopened, shows were sold out at the Stone Pony, kids were eating ice cream, and guys were trying to win giant stuffed animals to impress their girlfriends.
He said that we are going to keep doing what it takes to make the Jersey shore even better than it was before and that when he makes a commitment, he keeps it.
As someone who has gone to the Jersey shore every summer since I was a baby and as someone who has been volunteering at the Jersey shore with victims of Hurricane Sandy for the past seven months sorting donations and carrying them to people's cars, doing beach clean-ups, muck-outs, volunteer coordination, construction, emotional and spiritual care, whatever is necessary, it was extremely gratifying to see two of my Hurricane Sandy heroes in person today together at the beautiful Jersey shore.
But the president and the governor are only two of my Hurricane Sandy heroes. Over the past seven months, I have met so many amazing people and heroes of Hurricane Sandy such as but not limited to: Lisa Ewart and Sally Gellert who do case management and volunteer in the trailer parks in Moonachie and Little Ferry; Alyssa Durnien of Keansburg, who was profiled in this Huffington Post piece and who built a community garden in her town; Dawn DeLuca, who lives in the Bronx and volunteers in Point Pleasant and Manasquan; Mike Keenan, a Vietnam vet who collected tools for Sandy survivors and whose story I wrote up here; Joan DeLucia of Sandy Weekday Warriors in Ortley, who was profiled here; Chip Meyer, who works five to six days a week at the People's Pantry in Toms River; Lisa Brocco-Collia in Wildwood, who was profiled both in the LA Times and on Fox Philly; and Iwanka Kultschyckyj, who ran a warehouse in Philadelphia and sent toys to children who lost everything in Hurricane Sandy to make sure that they would still get presents for Christmas.
I had to stand outside for hours in the cold today to hear two of my heroes speak but it was worth it. We were not permitted to bring umbrellas to the president's speech and it rained steadily the entire time I was there. My sneakers, socks, jeans, jacket, and baseball cap were all drenched but it was a beautiful day and the perfect way to kick off the summer season at the Jersey shore.
Related
Popular in the Community