Abbott said Friday that lawmakers needed to "do more than just pray for victims and their families" after authorities reported that a 17-year-old student had killed 10 people and wounded 13 others at Santa Fe High School.
"It's time in Texas that we take action to step up and make sure this tragedy is never repeated ever again," Abbott said at a press conference, where he noted that the suspected shooter used a shotgun and .38-caliber revolver he had obtained from his father.
But Abbott's promised "action" didn't appear to include dropping his campaign's shotgun giveaway contest, outraged Twitter users noted over the weekend.
"Win a Texas-made shotgun!" Abbott's official campaign website had boasted. To enter the contest those interested were instructed to submit their contact information online.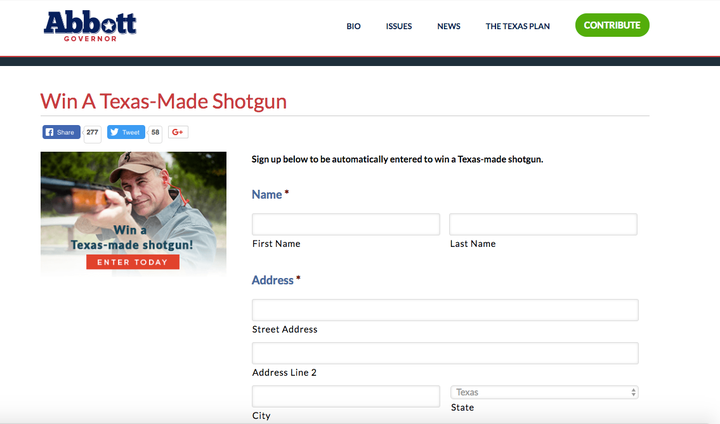 Participants were required to be Texas residents at least 18 years of age, according to the fine print, and had to be legally able to purchase a pump-action shotgun. The winner was to receive a $250 gift certificate redeemable at a Central Texas licensed gun dealer, the website stated.
As of Monday, contest participants can simply enter to win a $250 gift card, John Wittman, Abbott's press secretary, told HuffPost in an email.
Abbott's campaign had also printed promotional material featuring the shotgun giveaway to hang on doorknobs. It's unclear when and where the printed ads for the contest where circulated.
Wittman did not immediately respond to HuffPost's request for comment about the door hangers.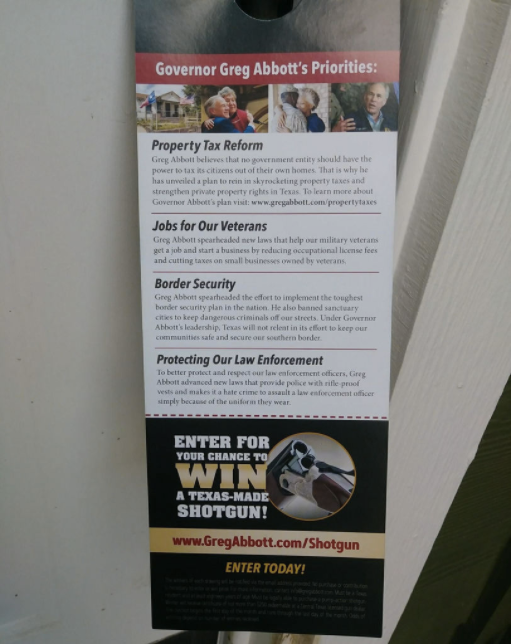 This story has been updated to note Abbott's campaign has canceled the contest.
Popular in the Community