Texas state Sen. Wendy Davis (D) has been called many unflattering names since she stood for 11 hours straight last year to filibuster an anti-abortion bill, including "Abortion Barbie." But opponents of legal abortion gave careful, measured responses this weekend to the revelation that Davis had made the difficult decision to terminate two pregnancies for health reasons in the past.
Davis, the Democratic nominee for Texas governor, revealed in her new memoir that she had an abortion 17 years ago after learning late into her pregnancy that the fetus had developed a severe brain abnormality. Davis and her husband already had two children and wanted a third, but the doctor told them the fetus was suffering in the womb and would not survive long after birth.
Davis wrote that she had to terminate an earlier pregnancy as well when doctors discovered that the egg had implanted into her fallopian tube, making the pregnancy a severe danger to her health. She wrote that ending this type of pregnancy, known as an ectopic pregnancy, "is technically considered an abortion."
Texas Attorney General Greg Abbott (R), Davis' gubernatorial opponent, opposes legal abortion, even in cases of rape and incest. Davis' personal story put him in a tough spot, because he supports the ban on abortion after 20 weeks of pregnancy that Davis filibustered and Texas legislators passed last year -- a law that could have prevented Davis from being able to make the decision she made. The 20-week ban makes an exception for lethal fetal anomalies, but in Davis' case, it may have been difficult for the doctor to prove that the fetus with the brain abnormality wouldn't survive birth.
"The unspeakable pain of losing a child is beyond tragic for any parent," Abbott said. "As a father, I grieve for the Davis family and for the loss of life."
Joe Pojman, an anti-abortion activist with Texas Alliance for Life, also sympathized with Davis in a statement to the San Antonio Express-News, but said he still disagrees with her choice to have an abortion.
"She definitely experienced a loss of two children, and we are sympathetic to her for that," Pojman said. "The position of our organization is that we do not favor, and we don't recommend, aborting a child who has a severe disability, the same as we can't recommend destroying a newborn child who has a severe disability. Both of them are children."
"Texas Right to Life encourages women facing difficult or unexpected diagnoses to carry their children to term, celebrate the precious baby's life, and, if needed, provide life-sustaining care to the child until he or she reaches the point of natural death," said Melissa Conway.
Davis' personal abortion story lends more weight to the filibuster she staged in the Texas state legislature in 2013, when lawmakers were trying to pass a package of abortion restrictions that would ban the procedure at 20 weeks and severely regulate abortion providers to the point that many of them would have to shut down. The bill passed weeks later, despite a strong show of opposition from Davis and abortion rights advocates, and has since shut down more than a dozen abortion clinics in Texas.
Cecile Richards, president of Planned Parenthood Votes and daughter of former Texas Gov. Ann Richards (D), said Davis' heartbreaking abortion story helps to explain why the procedure should be legal for all women.

"While no woman should have to justify her decision, abortion later in pregnancy is rare, and is often due to the same sort of tragic and heartbreaking circumstance that Wendy experienced — the kind of situation where a woman and her doctor need every medical option available," Richards said. "We are grateful to her for sharing her story and shining a light on a subject that is too often hidden in the shadows of shame and stigma by people like Greg Abbott and his allies."
Before You Go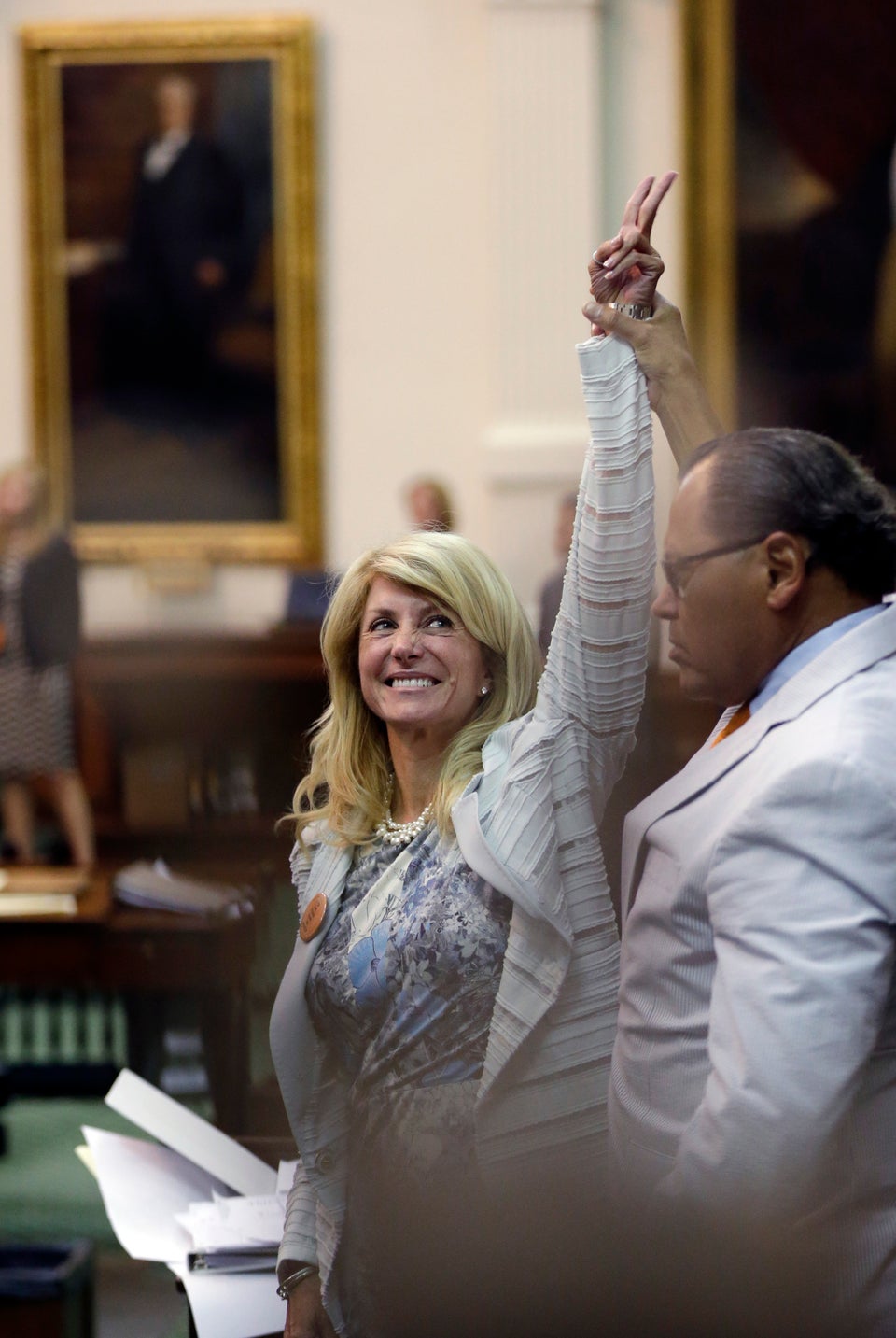 Wendy Davis Speaks For 11 hours On The Abortion Bill
Popular in the Community