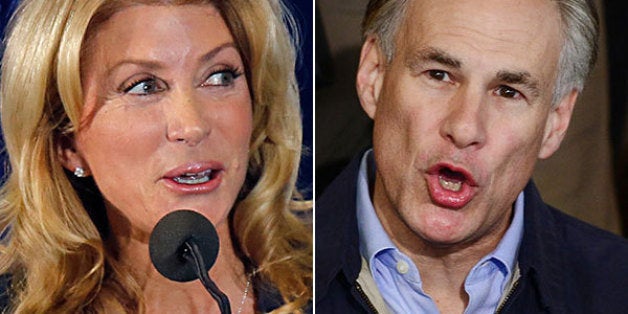 Less than a week after learning he has a female challenger, Texas Attorney General and gubernatorial candidate Greg Abbott (R) is pushing his record of helping women.
The El Paso Times reports that Abbott held an informal house gathering on Tuesday, speaking to around 50 supporters about his history of fighting for female voters.
"Women are going to be a powerful voice in this election," Abbott said. "I'm proud to say there is nobody in the state of Texas who has done more to fight to help women than I have in the past decade."
Abbott has served as Texas' attorney general since 2003, and one of the main points in his bio is the $27 billion he has recovered in child support for families. According to the Times, Abbott reiterated that work on Tuesday, while adding that he has fought hard against domestic violence and human trafficking.
Last Thursday, Abbott learned that Texas state Sen. Wendy Davis (D) is running against him in 2014, propelling women to the forefront of topics discussed. The Associated Press reported Sunday that hours before Davis announced her candidacy, Abbott and Davis traded "extremist" barbs.
On women's issues, some have viewed Abbott as the extremist, headed by his opposition to Planned Parenthood. Back in May 2012, he compared the health care provider to a terrorist organization.
"Planned Parenthood does not provide any assurance that the tax subsidies it receives from the Women's Health Program have not been used directly or indirectly to subsidize its advocacy of elective abortion," Abbott wrote in his motion to stay the injunction for a Texas law that would have eliminated Planned Parenthood from the state's Women's Health Program. "Nor is it possible for Planned Parenthood to provide this assurance," Abbott added.
"Money is fungible, and taxpayer subsidies -- even if 'earmarked' for nonabortion activities -- free up other resources for Planned Parenthood to spend on its mission to promote elective abortions ... (because '[m]oney is fungible,' First Amendment does not prohibit application of federal material-support statute to individuals who give money to 'humanitarian' activities performed by terrorist organizations)."
Abbott also supported the Texas abortion bill that Davis filibustered during the summer of 2013. Appearing at a July anti-abortion rally, Abbott – who has been wheelchair-bound since age 26 – said he would "stand for life" with demonstrators in spirit.
"You don't have to stand to fight for life," Abbott said, according to the AP.
UPDATE (6:00 p.m. ET): Texas Democratic Party Communications Director Tanene Allison released a statement Wednesday in response to Abbott's comments:
"Greg Abbott is public enemy number one for women in Texas. He has used his position as Attorney General to help defund women's health clinics across Texas – clinics that provide essential health services to Texas Families. Abbott's positions are so extreme that if a woman is raped and becomes pregnant as a result, he does not believe in her own ability to choose what is best for her and her family after that tragedy.

In addition to his policies, Abbott and his campaign have already earned a reputation for being anti-women in their language. Whether it's Abbott tweeting out a "thanks" to a supporter who called Senator Davis a "retard Barbie," or Abbott's top advisor tweeting that the Senator is "too stupid to be governor" – it's clear that Abbott lacks basic respect for women in Texas.

Texas women are smart. We know the difference between a candidate who tells us he's the best - and the candidate who has actually worked on our behalf. Wendy Davis has spent her career defending equal pay for women, supporting that rape kits to be tested, and fighting for children to receive quality education. The women of Texas know this. And we will turn out in strong numbers to support Wendy, because she's spent her career fighting for women, and for all Texans."