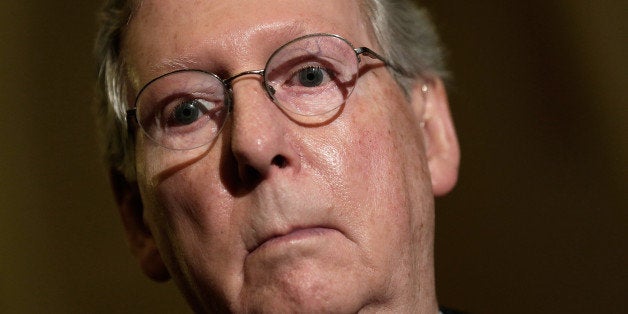 WASHINGTON -- The United Kentucky Tea Party has parted ways with controversial activist Greg Fettig. The Louisville-based Courier-Journal first reported the news Thursday when a tea party spokesman said the group was "cutting ties" with Fettig, who had been working on its grassroots campaign against Senate Minority Leader Mitch McConnell (R-Ky.).
Fettig was a prominent organizer in the campaign dubbed Unbridled Liberty, which is backing McConnell's tea party challenger Matt Bevin. But he came under scrutiny following a Huffington Post report on Monday that highlighted conspiratorial views he expressed on social media and a podcast concerning President Barack Obama and the Department of Homeland Security. Fettig claimed that Obama is an "illegal president" who "is intent on collapsing and destroying the United States of America" and that Homeland Security is stockpiling hollow-point bullets to potentially use against Americans.
"The article you all published was not too complimentary, and there were things in there that we weren't happy about," United Kentucky Tea Party spokesman Scott Hofstra told HuffPost. "As a general rule, what he discussed were not issues we are centering our work around. Those things are not what are important in our lives. They are not Tea Party platform items, if you will."
Fettig had come up with the name "Unbridled Liberty" and launched an Unbridled Liberty super PAC. U.S. News & World Report profiled him this month, noting his successful efforts to help Indiana state Treasurer Richard Mourdock beat then-Sen. Richard Lugar (R-Ind.) in the 2012 GOP primary. (Mourdock lost the general election.)
Even if he is no longer a public voice in the campaign, Fettig told the Courier-Journal, the tea party push to oust McConnell will continue. "They can come after me and smear me and figuratively kill me off, but that doesn't mean it's going to kill the initiative. It's going to go on," he said.
He told HuffPost that the critical story brought him around 25,000 visitors to his podcast. The experience hasn't turned him off conservative activism. "I'm tea party, always will have been, always will be," he said. "I'm never going to stop fighting."
Fettig also suggested that his activism in Kentucky on Bevin's behalf is not over and that he'll just have to work outside the public eye for now. He said, "I'll be happy to tell you what I was up to," come primary election day.
REAL LIFE. REAL NEWS. REAL VOICES.
Help us tell more of the stories that matter from voices that too often remain unheard.
BEFORE YOU GO
PHOTO GALLERY
U.S. State Capitol Buildings