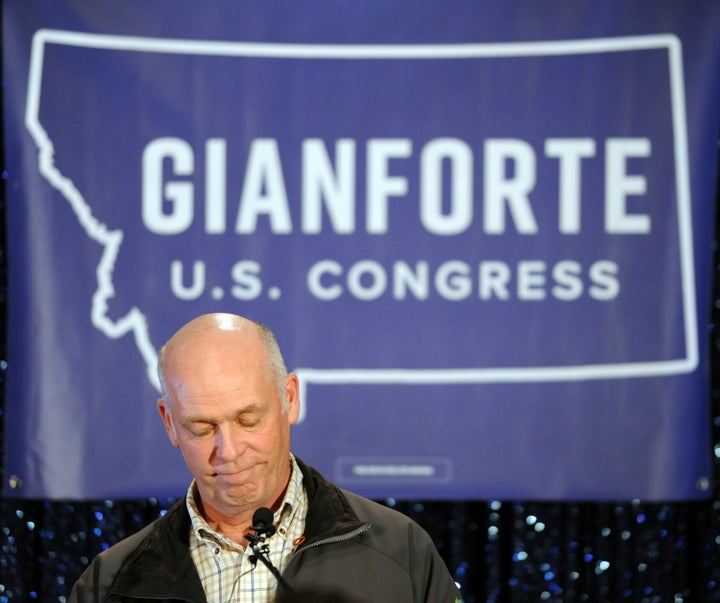 Montana Republican Greg Gianforte, who was elected to Congress last month, issued a letter of apology on Wednesday for an incident in which he physically attacked Guardian journalist Ben Jacobs.
"I had no right to respond the way I did to your legitimate question about health care policy. You were doing your job," he wrote.
Gianforte is accused of body-slamming Jacobs after the reporter asked a question about health care policy. It was reported that Gianforte grabbed Jacobs by the neck and broke his glasses. Gianforte was charged for misdemeanor assault that evening and won Montana's lone congressional seat the next morning.
Jacobs accepted the congressman-elect's apology shortly after it was released. Gianforte is expected to appear in court on or before June 20. He faces a maximum punishment of six months in jail and a $500 fine for his behavior.
Experts agree that apologies, private and public alike, should contain several elements to be considered effective, according to Roy Lewicki, an apology expert and a professor emeritus of management and human resources at the Ohio State University's Fisher College of Business.
"The tone of the letter conveys a certain amount of sincerity and genuineness," Lewicki said. "There's multiple expressions of regret."
What makes an apology effective
Research by Lewicki suggests that there are six elements to an effective apology. They are, in order of importance, an acknowledgement of responsibility; an offer of repair; an expression of regret; an explanation of what went wrong; a declaration of repentance and a request for forgiveness. The more elements an apology includes, the more likely the apology is to be accepted, Lewicki said.
Gianforte's letter is well-rounded based on these standards. Lewicki, who has analyzed prior public apologies, reviewed what makes Gianforte's note stand out. Below is the letter to Jacobs, re-typed, with annotations of where these apology elements come into play:
Dear Mr. Jacobs:

I write to express my sincere apology for my conduct on the evening of May 24. My physical response to your legitimate question was unprofessional, unacceptable, and unlawful [acknowledgement of responsibility]. As both a candidate for office and a public official, I should be held to a high standard in my interactions with the press and the public [acknowledgement of responsibility]. My treatment of you did not meet that standard [expression of regret].

Notwithstanding anyone's statements to the contrary, you did not initiate any physical contact with me, and I had no right to assault you. I am sorry for what I did and the unwanted notoriety this has created for you [expression of regret]. I take full responsibility [acknowledgement of responsibility]

I understand the critical role that journalists and the media play in our society. Protections afforded to the press through the Constitution are fundamental to who we are as a nation and the way government is accountable to the people. I acknowledge that the media have an obligation to seek information. I also know that civility in our public discourse is central to a productive dialogue on issues. I had no right to respond the way I did to your legitimate question about healthcare policy [declaration of repentance]. You were doing your job.

In the hope that perhaps some good news can come of these events, I am making a $50,000 contribution to the Committee To Protect Journalists, an independent non-profit organization that promotes press freedom and that protects the rights of journalists worldwide [offer of repair].

I made a mistake and humbly ask for your forgiveness [request for forgiveness].

Sincerely,

Greg Gianforte
Gianforte's apology repeatedly accepts responsibility and shows remorse over his actions. That matters, according to Lewicki.
"One of the things we found in our research was that acknowledgements of responsibility were probably one of the most important components of an apology and he comes back to that several times," Lewicki said.
Lewicki said Gianforte's request to repair ― aka, the $50,000 donation to the Committee to Protect Journalists ― is somewhat remarkable and does a good job of expressing genuine concern.
"That's not chump change," he said.
How the apology is being received
Gianforte's expression has received mixed results, from praise to criticism. Some believe the apology is genuine:
Others denounce the apology for glossing over the initial statement released by Shane Scanlon, a spokesperson for the Gianforte team. Immediately after the body-slamming incident, Scanlon blamed Jacobs for initiating the altercation.
The apology letter says, "you did not initiate any physical contact with me," but does not go into detail about the original effort to cover up what happened.
But Lewicki says what's more critical now is the apology Gianforte is making directly to Jacobs. However, one letter cannot determine if Gianforte is truly sorry. For that, Lewicki says time is the ultimate decider on whether the contrition sticks.
"You'll have to look now at how Gianforte handles himself in the future," he explained.
A solid apology is a good first step.
Related