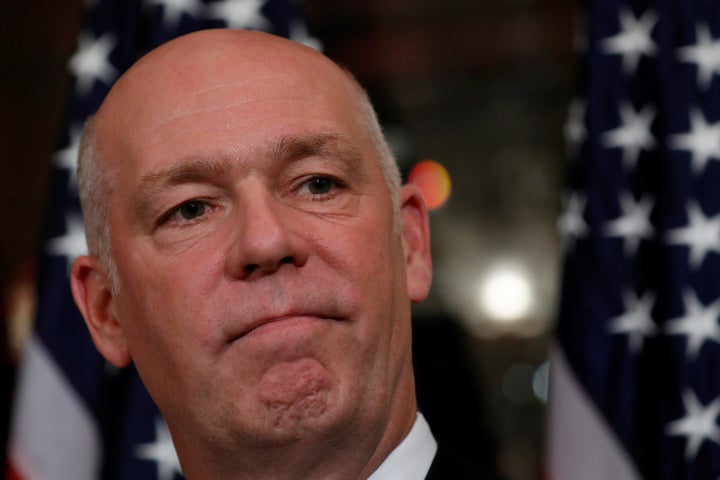 Gianforte entered his guilty plea on June 12 and was fined $300 and ordered to pay $85 in court costs. He also was given a 6-month deferred sentence and ordered to perform community service, attend anger management counseling and appear at the Gallatin County Detention Center to be photographed and fingerprinted.
But Gianforte demurred from the latter part of his punishment. Just a few days later, his legal team filed a motion arguing that the county's Justice Court does not have the authority to force him to be fingerprinted or photographed because, among other things, he was neither arrested nor charged with a felony.
In a response filed Thursday, Gallatin County Attorney Marty Lambert said "the legal arguments offered in support of defendant's motion lack merit and the motion should be denied."
The court, Lambert said in his filing, "apparently found that fingerprinting and photographing [the] defendant was a reasonable condition needed for rehabilitation or for the protection of the victim or society." As a result, Gianforte "should obey this court's order."
Gianforte, 56, was silent at the U.S. Capitol on Tuesday when HuffPost asked why he was fighting the court order. When asked whether he believed other Montanans cited for misdemeanor assault also shouldn't be fingerprinted and photographed, he walked into his office without comment.
Gianforte's spokesman declined to comment, and his attorneys did not respond to requests for comment. Jacobs also declined to comment.
The motion filed by Gianforte's lawyers appears to hinge on a "really narrow section of the law," said Andrew King-Ries, a professor who teaches criminal law at the University of Montana. Whether the court has the authority to order Gianforte submit to fingerprinting and photographs is an "open question," King-Ries said, but requiring such actions for convicted defendants is "probably fairly standard operating procedure."
The debate over the scope of the government's power to collect personal information raises "really interesting public policy questions," King-Ries added. But "that debate is not part of the motion," and Gianforte doesn't appear to be making a broad philosophical argument, the professor said.
The fact that Gianforte wasn't detained or arrested after Jacobs immediately reported the assault isn't necessarily unusual. There was "no existing circumstance that required immediate arrest," Gallatin County Sheriff Brian Gootkin said at the time, and Gianforte was not a threat to public safety or flight risk. (Gootkin donated $250 to Gianforte's campaign, but denied his contribution had any impact on the investigation.)
Gallatin County Justice Court Judge Rick West said in June that he thought "some jail time here would be appropriate" for Gianforte, according to the Missoulian newspaper. The judge wanted to sentence him to four days in jail, which would be converted to two days in a work program that could include tasks like picking up trash on highways. But after West realized that the work program was not available to people who commit violent crimes, he settled on community service and anger management counseling, instead.
His critics, though, find his effort to avoid being fingerprinted and photographed at odds with that comment.
"Greg Gianforte claims he has 'taken responsibility' for assaulting a reporter who asked him about health care, but he continues to do everything in his power to fight a routine criminal procedure resulting from his conviction," Nancy Keenan, executive director of the Montana Democratic Party, told HuffPost in an email. "No matter what he says, it's clear to Montanans that Congressman Gianforte has not taken responsibility at all. He's hidden from it."
This article has been updated with the response in a legal filing from Gallatin County Attorney Marty Lambert. Igor Bobic contributed reporting.
Popular in the Community