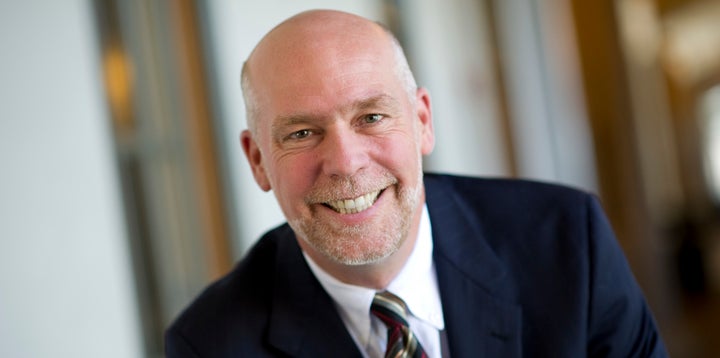 WASHINGTON -- Greg Gianforte, a tech entrepreneur whose foundation donated to a creationist dinosaur museum, filed paperwork this week for an exploratory campaign to run for governor of Montana.
Gianforte, who could be among the Republicans seeking to unseat Gov. Steve Bullock (D) next year, sold his software company RightNow Technologies to Oracle for about $1.5 billion in 2012. Since then, he has pushed his Better Montana Jobs initiative, which aims to promote high-wage employment.
In 2006, he established the Gianforte Family Foundation with his wife "in response to God's great goodness to them." The foundation focuses on "improving education, lifting people out of poverty, protecting the unborn, and Christian outreach." According to its website, last year's grantees included groups against gay marriage, such as the Family Research Council and Focus on the Family, as well as the Fellowship of Christian Cowboys, which aims to show "the adventure of receiving [Jesus Christ] as Savior and Lord."
The foundation donated the T. rex and Acrocanthosaurus exhibit to the $1.5 million Glendive Dinosaur and Fossil Museum, which opened in 2009. The Billings Gazette noted at the time that it was "the largest donation for a specific exhibit."
Otis Kline Jr., president of the Foundation Advancing Creation Truth, which runs the museum, declined to tell The Huffington Post how much the exhibit cost. "That's between them and us," he said.
The museum promises to present "the truth of God's Word using the latest in dinosaur and fossil exhibits." The museum does not support Darwin's theory of evolution and promotes the idea, contrary to scientific consensus, that the Earth is about 6,000 years old and dinosaurs and people walked around at the same time. The group also hosts fossil digs where excavation is performed in the context of Noah and the biblical flood.
"Whenever dinosaurs and humans were forced to share an environment, the natural course was for humans to kill the dinosaurs," notes the museum's Facebook page.
Gianforte and his foundation did not respond to requests for comment. Kline told HuffPost that Gianforte does not have an ongoing relationship with the museum.
Gianforte has indicated in the past that he doesn't see the need to separate his faith from his professional life. According to National Journal, last year he personally lobbied against a local lesbian, gay, bisexual and transgender nondiscrimination ordinance. In a February talk at the Montana Bible College, he said, "there's nothing in the Bible that talks about retirement."
Popular in the Community