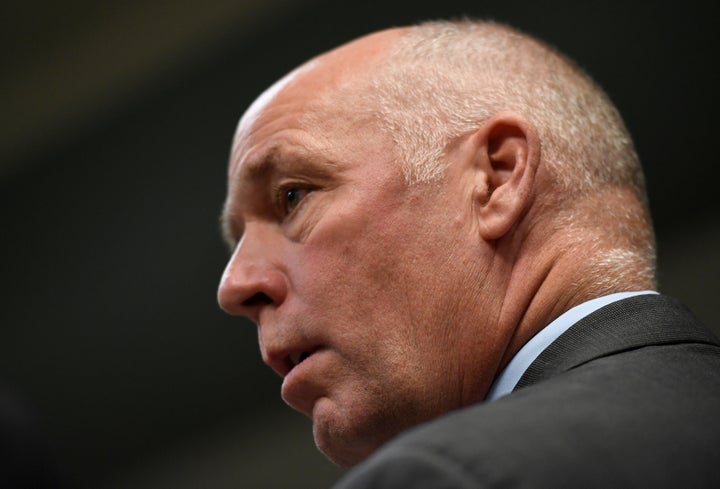 WASHINGTON ― Rep. Greg Gianforte (R-Mont.) went to jail on Friday so authorities could take his fingerprints and mug shot following his June conviction for assaulting a reporter. 
Gianforte was booked into the Gallatin County Detention Center in Bozeman, Montana, at 6:37 a.m. local time and released less than 30 minutes later. 
Earlier this week a county judge denied the congressman's request to not be fingerprinted and photographed. In an Aug. 17 ruling, Judge Rick West ordered that Gianforte report to the jail no later than Sept. 15.
"Greg has fulfilled the terms," Travis Hall, a spokesman for Gianforte, told the Bozeman Chronicle on Friday. "The matter is resolved. He remains 100 percent focused on serving the people of Montana."
Gianforte, 56, was charged May 24 with misdemeanor assault for body-slamming The Guardian's Ben Jacobs. The Republican politician was not fingerprinted or photographed at the time, nor was he arrested and booked. He was simply given a citation.
The incident occurred the day before Montanans elected Gianforte, a wealthy tech entrepreneur, to the U.S. House.
Gianforte entered his guilty plea June 12, and Judge West of the Gallatin County Justice Court gave him a six-month deferred sentence and ordered him to perform community service and attend anger management counseling.
Gianforte was also ordered to appear at a local jail to be photographed and fingerprinted. But his legal team filed a motion later in June arguing that the court did not have the authority to require this, as Gianforte was not arrested or charged with a felony, among other things.
One legal expert told HuffPost that he found the congressman's argument credible. Gianforte "argues correctly that courts do not have carte blanche to order defendants to do something that the court personally thinks is reasonable," Jeffrey Renz, a retired law professor at the University of Montana, wrote in an email to HuffPost last month. "This applies to the accused pre-trial and to the defendant after conviction."
But Gallatin County Attorney Marty Lambert, in a response filed in July, noted that the court "apparently found that fingerprinting and photographing [the] defendant was a reasonable condition needed for rehabilitation or for the protection of the victim or society." As a result, he added, Gianforte "should obey this court's order."
Lambert told the Bozeman Daily Chronicle that, in his time working at the Gallatin County Attorney's Office since 1983, he "can't recall anyone raising this particular argument before." (He declined to comment to HuffPost on Monday.) 
By denying Gianforte's motion, the court sided with Lambert. Renz, the retired professor, had predicted that outcome last month, because he thought the judge wouldn't "want to give [Gianforte] what might be perceived as special treatment."
Gianforte's spokesman and attorneys did not respond to HuffPost's request for comments on the ruling.
This story has been updated to note that Gianforte was booked into jail Friday for fingerprints and a photograph.
REAL LIFE. REAL NEWS. REAL VOICES.
Help us tell more of the stories that matter from voices that too often remain unheard.