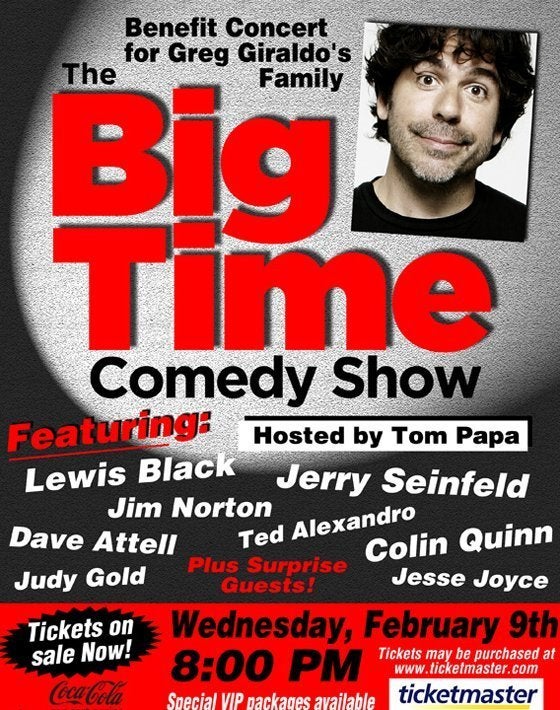 When tragedy strikes the comedy world, the grieving process contains a few extra stages.
After beloved comedian and king of the roast Greg Giraldo tragically died last Fall due to a drug overdose, it was no question that his fellow comics would commemorate him with humor.
Next month, longtime friend of Giraldo's and host of "The Marriage Ref" Tom Papa is facilitating just that by hosting a huge benefit show in his honor, aptly called "The Big Time Comedy Show." All proceeds of the show will be donated to the wife and four young children Giraldo unfortunately left behind.
"Greg was a a good friend of a lot of comedians and so it just happened naturally," Papa told The Huffington Post. "As soon as he passed away everyone was like 'Well, what are we going to do?' It wasn't even a question of whether or not we should do something."
Papa and Giraldo go way back. In fact, Giraldo was the first comedian Papa ever met.
"The first time I ever went on stage I walked in to the New York Comedy Club and there was a young Greg Giraldo sweating in the corner," Papa said.
And "The Big Time Comedy Show" will feature performances from plenty more of Giraldo's longtime friends. Jerry Seinfeld, Lewis Black, Colin Quinn, Dave Attell and Jim Norton are just a few of the top billings, with other surprise special guests scheduled to appear and a video complication to be presented of Greg's best work.
"Greg loved all these guys, these were his favorites," Papa said. "The hardest part was trying to figure out who wasn't going to be on the show. Everyone wanted to do something."
Along with the show's proceeds going to Giraldo's wife Maryann Giraldo and their children, Maryann will also be launching a new charity in Greg's name to support children of addiction. Papa hopes to make the show a yearly event to support that charity.
"It's sad, but comedians can only do one thing about it and that's make people laugh," Papa said. "I think it'll be a fitting tribute."
Tickets are selling fast but you can still get them on Ticketmaster for the show, happening Feb. 9 at the Beacon Theater in New York City.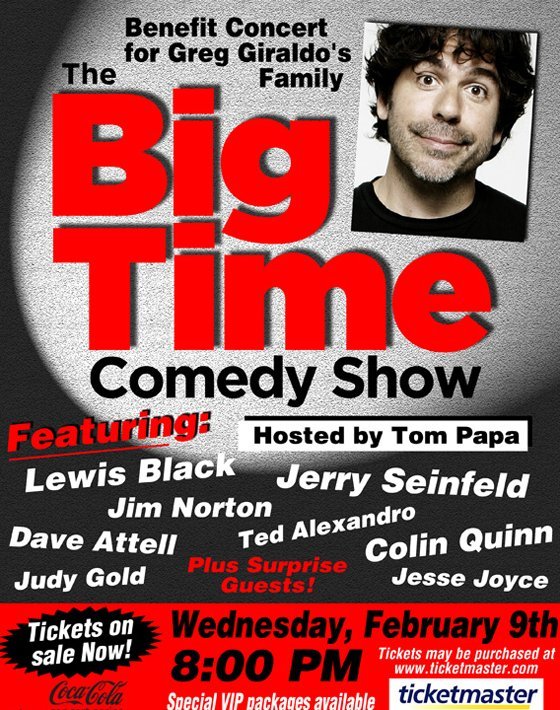 Support HuffPost
The Stakes Have Never Been Higher
Related
Popular in the Community