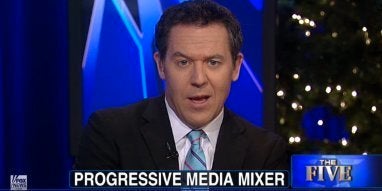 "The Five's" Greg Gutfeld and Eric Bolling had some harsh words for Ed Schultz and other members of the media for meeting with President Obama on Monday. "The Five's" hosts discussed the meeting on their Fox News show Tuesday.
Gutfeld referred to the meeting as "Occupy the White House without the drum circle and a vandalized port-o-potty." He also described the group that met with the President as a "lump of lefties." If a fly was in the room observing the meeting, Gutfeld said it would probably get caught in Ed Schultz's hair because "it's like the BP spill in there."
Gutfeld later added, "These folks are to left of the left, so progressive than even their Che shirts wear Che shirts."
Bolling said he took issue with the fact that, according to ABC's Jake Tapper, the group discussed "various campaign arguments against different GOP candidates." Bolling said, "Imagine if the shoe were on the other foot."
Bolling later added that he once unexpectedly met Schultz at Del Frisco's, a steakhouse in Manhattan near both News Corp. and NBC's office buildings. "I bought him a scotch. You think being a successful TV guy, you would think he'd buy a drink back. Never once offered to buy me a drink," Bolling said.
Popular in the Community