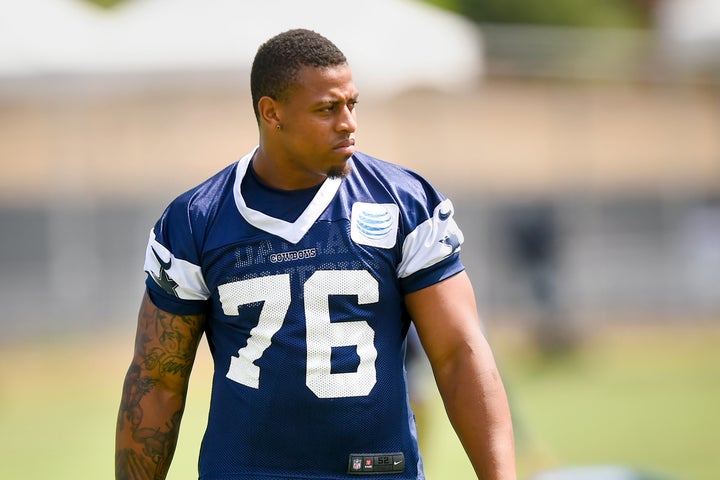 Fresh off a four-game suspension for his domestic violence offense, Dallas Cowboys defensive end Greg Hardy is set to play in an NFL game this Sunday -- his first since Week 1 of the 2014 season.
To this day, Hardy has not spent a single moment publicly apologizing for committing such a heinous act of violence against a woman. (After sentencing, Hardy appealed his case to get a jury trial, but ended up trading his victim's silence for a settlement. Charges were later dismissed.) There's been no mea culpa, or even the slightest acknowledgement of what happened on May 13, 2014.  
Instead, speaking to reporters on Tuesday for the first time since the Cowboys signed him in March after the Carolina Panthers cut him, Hardy said he was ready to "come out guns blazin'," completely unaware of how his past indiscretions shape how he's viewed now. Hardy is obviously ready to move forward with his life, but how can he possibly be deemed fit to progress when he's never even hinted at remorse?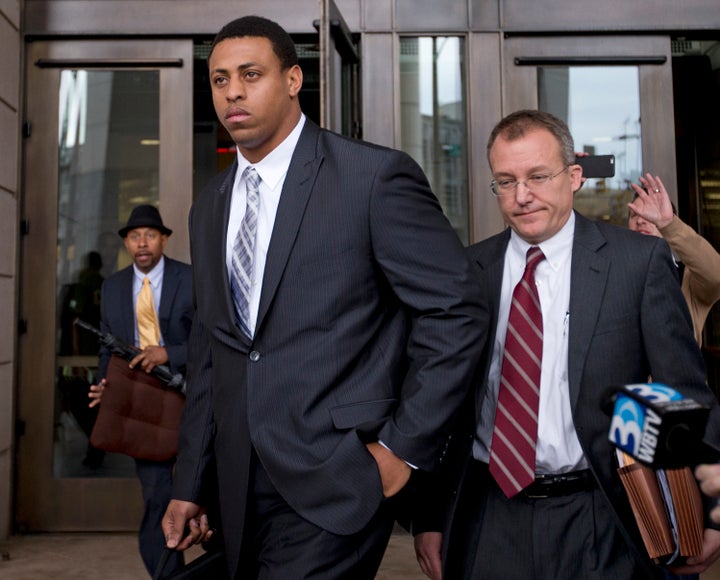 "I don't look back, other than to know that I need to get forward, I need to get to progress and I need to get to sacks," he told reporters with troubling singularity. In Hardy's mind, the best way to make his past instantly forgettable is by making big plays. And in a way, he's not wrong either. If he sacks Tom Brady on Sunday and Jerry Jones claps from his suite in the sky and Cowboys fans cheer him on, that support is the only elixir he needs to block out his crimes. Such is the state of the NFL. 
 It's now evident that Jones was totally wrong. Given his recent comments, it seems as if Hardy has little to no understanding of domestic violence issues and hasn't learned anything from his experience. In their Tuesday questions, reporters gave Hardy multiple chances to seize the moment, own his evils and deliver a genuine apology. 
When asked what he's learned about himself recently, he said, "I'm a really good pass-rusher when I put my mind to it. I had a good offseason and a good camp." 
When asked if he had any regrets, he said, "I'm sorry I couldn't be here for my teammates." 
When asked if he had a message for people who don't believe he should have a second chance in the NFL, he said, "God bless you. That's the message."
Here, we have a coward hiding behind football and faith who hasn't been shamed or educated into showing a real behavior change. Although the threat of a lifetime ban from the NFL now hangs over his head, both Cowboys head coach Jason Garrett and Jones refuse to condemn their star pass rusher for his inaction.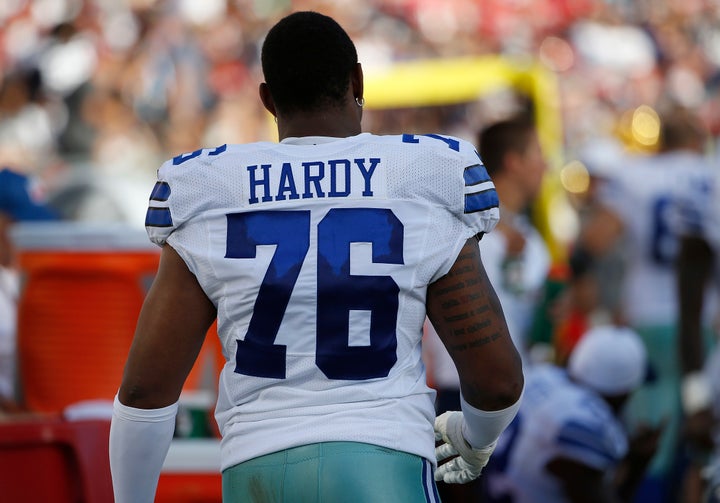 Garrett, in particular, continues to be toothless on the topic. On Wednesday, he gave a shocking non-response to Hardy's comments, saying, "Probably like everybody, we're all a work in progress, so we're trying to be the right kind of guy each and every day of our lives."
These men and their light-hearted musings related to a violent attack against a woman are actually running the Cowboys. And that, is very, very dangerous.
Hardy is lucky to have received and taken a second chance at life in the NFL. If he finds a second chance to apologize, he should, but given his inability to talk about what he did on May 13, 2014 nearly a year and a half later, it'll take choice behavior -- not words -- to convince anyone that he's understanding of domestic violence. 
PHOTO GALLERY
Domestic Violence Under Roger Goodell
REAL LIFE. REAL NEWS. REAL VOICES.
Help us tell more of the stories that matter from voices that too often remain unheard.