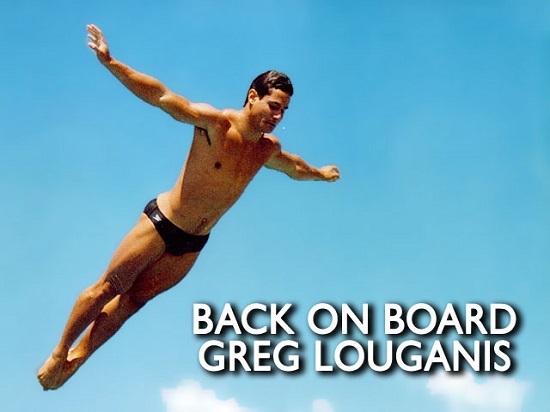 An official Back on Board publicity image
Back on Board: Greg Louganis is an intimate portrait of the public triumphs and private struggles of trailblazing openly gay athlete Greg Louganis. In this episode, I am honored to present my coverage of Greg at the 2015 Palm Springs International Film Festival, and to present an encore presentation of a previous red carpet interview with the Olympian.
Check Out Movies Podcasts at Blog Talk Radio with
NicholasSnowLive
on BlogTalkRadio
A refreshingly candid documentary film about this four-time Olympic champion, "Back on Board" follows Greg Louganis over the past three years as he struggles with financial security and reunites with the sport he once dominated but not welcomed in. The threat of losing his house during the recent financial crisis forces Louganis to re-evaluate the choices, relationships, and missed opportunities of his career.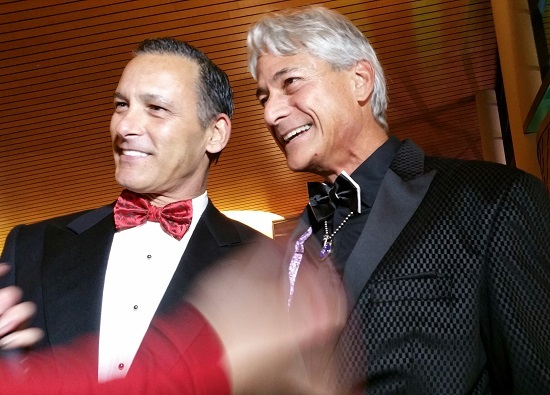 Listen to this episode to learn on which famous dating website Greg met his now-husband Johnny Chaillot-Louganis, as photographed above by Nicholas Snow at the 2015 Palm Springs International Film Festival.
With unprecedented access, the film reveals the complicated life of an athlete whose grace, beauty, and courage sparked a worldwide fascination with diving. It chronicles Louganis' rise from a difficult upbringing to nearly universal acclaim as the greatest diver ever, and from pioneering openly gay athlete with HIV to an overlooked sports icon. "Back on Board" is the engrossing story of an American legend as he re-emerges on the world stage to combat prejudice, promote tolerance, and return to the diving world after a long period of absence to act as a mentor to the next generation.
Enjoy this Q&A from DOC NYC: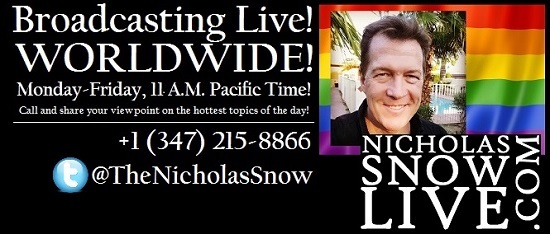 The new focus of Nicholas Snow Live is the callers themselves! Monday through Friday at 11:00 a.m. Pacific Time, call (347) 215-8866 a few minutes before showtime (or during the broadcast) to comment on the hot topics of the day.
Over 1.7 million downloads in less than three years. The show's motto: "Connecting the Circuitry of Humanity."
Download Nicholas Snow Live podcasts for free from iTunes.
Like the official Nicholas Snow Live Facebook page here.
REAL LIFE. REAL NEWS. REAL VOICES.
Help us tell more of the stories that matter from voices that too often remain unheard.