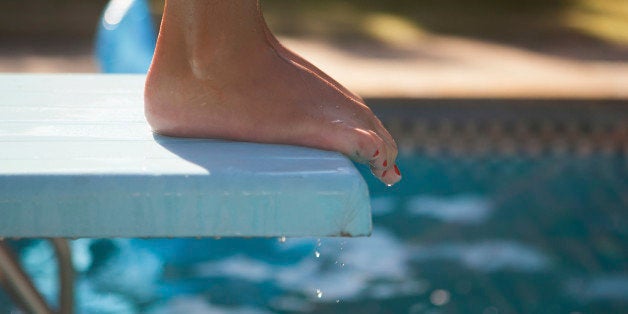 Inspiration, when it happens, can be life-altering. A song. A movie. A poem. A dance. A painting. A hug. A smile. An act of kindness witnessed from afar. No matter where the inspiration comes from, its power can shift our perception and alter the way we see ourselves, forever.
I first met Greg Louganis backstage at The Jerry Lewis Telethon in Las Vegas. We were both (practically kids) in the '80s. He was at the height of his incredible Olympic career, and I was at the height of mine (performing with my brother Jimmy Demers at just about every charitable event known to man!)
I can still recall the kindness that Greg had extended to me backstage at Caesar's Palace. He was a fan of music, and I had instantly become a great fan of his. Over the years, we corresponded (long before texts and emails) and Greg would keep me up to date on where he was via his various postcards, Christmas cards and letters from around the world -- places Greg's enormous talent had taken him. To me, Greg Louganis lived a glorious life and I always appreciated the fact that he was kind enough to share glimpses of his journey with me.
It wasn't until I read his book, Breaking The Surface, on a flight to Europe in 1996, that I realized at that time, Greg Louganis would have probably traded his life for mine... even with my wheelchair. It seemed almost impossible to me, that he could carry that tremendous weight of burden and despair on his shoulders, and yet still have the power to thrust his body with perfection, into an awaiting pool filled with #OlympicGold.
Greg Louganis became my hero as I turned that last page of his autobiography. It is my belief that it was Greg's fighting Olympic spirit that gave him the courage to step out of his nightmare and into the possibility of finding his miracle -- hope. Had it not been for that kind of extraordinary strength, the story of Greg Louganis would have most certainly ended tragically, as it has for so many others who have fought so hard to stay alive while suffering unimaginable sadness.
Ironically, it wasn't until the advent of Facebook several years later, that Greg and I would be in touch again. I'm so delighted to see all of the happiness in Greg's life now, and it's especially meaningful because this time I know it's not a facade it's FER-RIZZLE!!!!
I hope you will take the time to watch HBO's Aug 4th premier (at 10 p.m.) of Back on Board - Greg Louganis. We can't fill our cups up high enough with inspiration, and inspiration is what you will find in the second chapter of this amazing man's life.
It has been said that great heroes need great sorrows and burdens, or half of their greatness goes unnoticed. But in reality, talent of any great depth is born in the dark. It isn't until that spotlight is turned on, that applause is even possible.
Calling all HuffPost superfans!
Sign up for membership to become a founding member and help shape HuffPost's next chapter