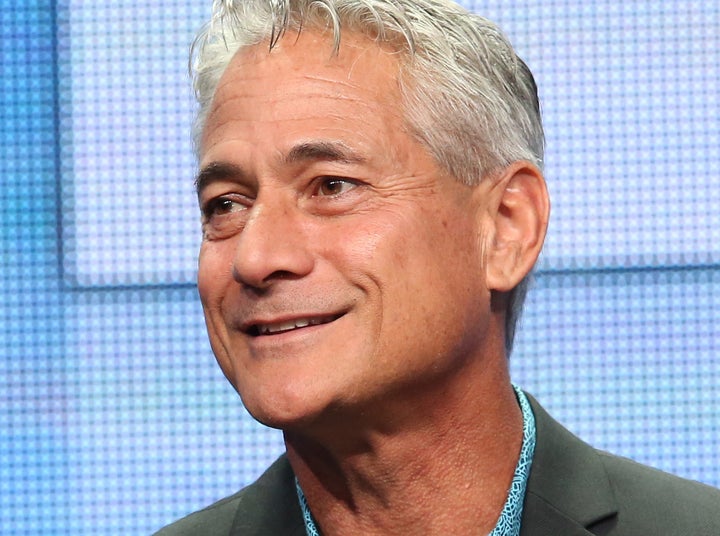 An amazing sign of progress on LGBT rights — and an example of how the entrenched homophobia in corporate America of years past has changed dramatically — is Freedom to Marry founder Evan Wolfson being heralded by General Mills, which, after the Supreme Court's ruling on marriage equality in June, featured him on a commemorative box of Wheaties, "the breakfast of champions." Only a few decades ago, Olympic diving champion Greg Louganis, a man whose records in the '80s still have not been broken, didn't make the Wheaties box, nor did he get the kind of widespread, lucrative corporate endorsements that his peers received.
A new HBO documentary all about his life, "Back on Board: Greg Louganis" (debuting Tuesday, Aug. 4), points to the intense fear surrounding homosexuality that likely was responsible for the lack of endorsements for a sports superstar who wasn't even openly gay at the time but was rumored to be so within the sporting world and the media. 
"It's great, the progress we've made!" Louganis exclaimed in an interview with me on SiriusXM Progress when he was shown the Wheaties box featuring Wolfson. Indeed, the film reveals how much Louganis himself contributed to that progress, as a prominent sports figure who came out both as gay and as HIV positive during a time when there was much less acceptance. After he revealed his HIV status in the 1990s, Louganis lost most of the endorsements he had. (An exception was Speedo, which retained him though 2007.)
"[Director Cheryl Furjanic] reached out to me and I just agreed to do it," Louganis said of the documentary, which shows him as he was immersed within the harrowing experience of seeing his Malibu home possibly taken away from him as he sat among his belongings, packed in boxes, trying to negotiate with the bank on the phone. The film flashes back to his amazing career throughout, then comes back to his uncertain present before flashing back again.
"There was so much going on at the time because I was in the midst of potentially losing my home," he explained. "And what they did with the film, 'Back on Board,' it really goes through the chronology of my sports history and the sports footage really takes you back to that moment in time and, also, to that moment in time of what was happening in the world. People were dying of HIV and AIDS. I was diagnosed with HIV in 1988, six months prior to the Olympic Games. I didn't think I would see 30 because people were dying. Fortunately, my cousin, who was my doctor, said, 'The healthiest thing for you is to continue training.' And that's what I did. It was much easier for me to focus on the diving."
Louganis is a long-term HIV survivor, obviously concerned about his health. He explained how he became an easy target of con artists who preyed upon his vulnerability regarding his being immune-suppressed.
"I learned that my case wasn't so unique from what was happening in the country," he said. "It was classic. 2006. The black mold scare. A contractor came in and said, 'Your house is killing you.' I was very fearful, so I made a lot of decisions out of fear. So then they took all of the equity out of the house in order to get the work done. And it was going to be to an investment, which was going to pay for everything. And they half-demolished the house [removing supposed mold], because work had to be done immediately. So [I was] in a half-demolished house; they got the money. Took all the equity out of the house and took off with my money."
But, as "Back on Board" reveals, Louganis is a survivor in more ways than one. He dealt head-on with adversity in both his past and present, and now mentors swimmers on the U.S. Olympic diving team. And he's become a political activist, something he was previously reluctant to call himself. After supporting athletes competing in the 2104 Olympics in Sochi, Russia — plagued by international controversy over that nation's "gay propaganda" law  — he went directly to the LGBT Open Games in Moscow, facing brutal homophobia along with other athletes.
"We were turned away from our hotels once they learned who the group was," he said. "We had bomb threats. We had a smoke bomb set off by the military at one of our venues. We were kicked out of venues, and when we were in the midst of the some of the events. There was one time when I was fearful we might be detained….I got a true taste of what it's like to be LGBTQ in Russia. And I was so grateful to be able to be there."
And we're grateful that Louganis is still using his stature as a sports hero to fight bigotry. Come on, General Mills. It's not too late for that Wheaties box.
"Back on Board: Greg Louganis'' debuts on HBO on Tuesday, August 4th at 10 p.m.
PHOTO GALLERY
Celebrities Who Have Come Out As LGBT
REAL LIFE. REAL NEWS. REAL VOICES.
Help us tell more of the stories that matter from voices that too often remain unheard.