What do you get when a passionate all-girls school in Toronto sets their sights on raising money for girls in Afghanistan and Pakistan to go to school? Millions of pennies!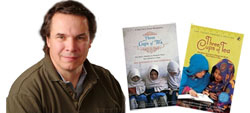 Inspired by Mortenson's remarkable work building schools in the remote hills and plains of Afghanistan and Pakistan, Branksome's community service prefect Samantha Shier knew the school had to participate in Pennies for Peace, a program designed by Mortenson to help students in the west learn about the unparalleled importance of education and to develop their capacities as philanthropists, one penny at a time.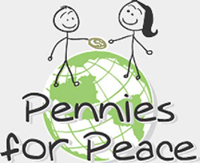 With a long and rich history of dedication to community service it is no surprise that the girls launched Pennies for Peace at Branksome with characteristic enthusiasm and tenacity, yet the results were so outstanding that even Shier and head girl Dilshaan Panjwani told me they were shocked! From day one girls arrived at school buoyantly hauling bags upon bags of pennies, dumping them jovially into waiting jugs outside Principal Karen Murton's office.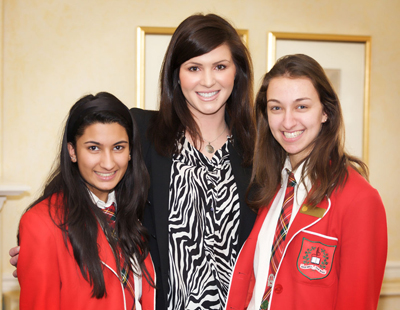 Head girl Dilshaan Panjwani, Marissa Bronfman and community service prefect Samantha Shier
After two full-fledged weeks of coins clashing and crashing into the jugs set up in Branksome's hallowed halls, an astonishing $9,000 worth of pennies had been collected. This extraordinary achievement was rewarded yesterday when Mortenson, so impressed and moved by Branksome's efforts, came to the school to accept the donation and chat with students and the Branksome community about the importance of education.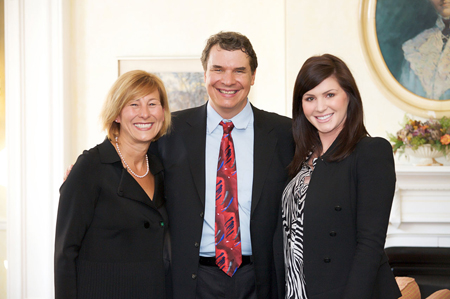 Principal Karen Murton, Greg Mortenson and Marissa Bronfman
As the gymnasium filled with nearly a thousand students, teachers, staff, parents and alumnae, Mortenson strolled through the throngs of students, saying hello and shaking hands with eager youngsters near star-struck by this heroic champion of education. Emanating warmth and kindness with his gentle nature and easy smile, it wasn't hard to picture Greg in the classrooms of Afghanistan and Pakistan, interacting with students thirsty for knowledge and hungry to learn.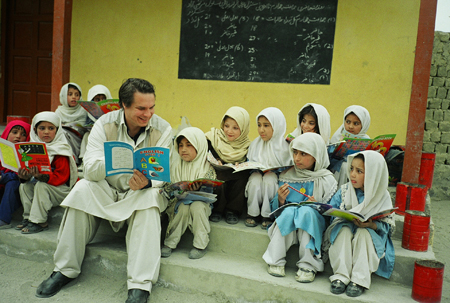 Mortenson reading to students in Pakistan
In a world fraught with scarcity and plagued by terrorism it can be daunting thinking about how to make a difference but Mortenson assured us that meaningful change most often comes about "when ordinary human beings do extraordinary acts", and that it can start with something as small as a penny. He explained why educating youth, especially girls, is the world's single greatest chance for creating lasting peace and equality, and aptly quoted Nelson Mandela who said, "the most powerful weapon in the world is education."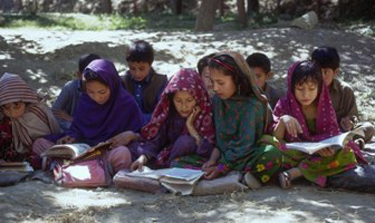 With unwavering courage of conviction and an indomitable spirit Mortenson has dedicated his life to promoting education and literacy in the remote mountain regions of Afghanistan and Pakistan while inspiring millions of people in the West to realize the potent power education has to change the world and to do something about it. Branksome Hall's incredible contribution to Pennies for Peace represents their compassionate commitment to helping others and is a shining example of girls helping girls, a beacon of hope for a future where every child goes to school and peace is a reality for all.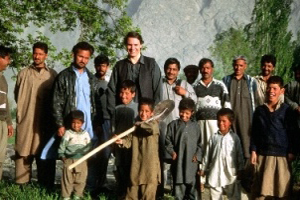 Congratulations to everyone at Branksome Hall who helped raise $9,000 for Greg Mortenson's Pennies for Peace program!
Photos from Branksome Hall courtesy of Caley Taylor Photography. All others courtesy of GregMortenson.com.
Popular in the Community