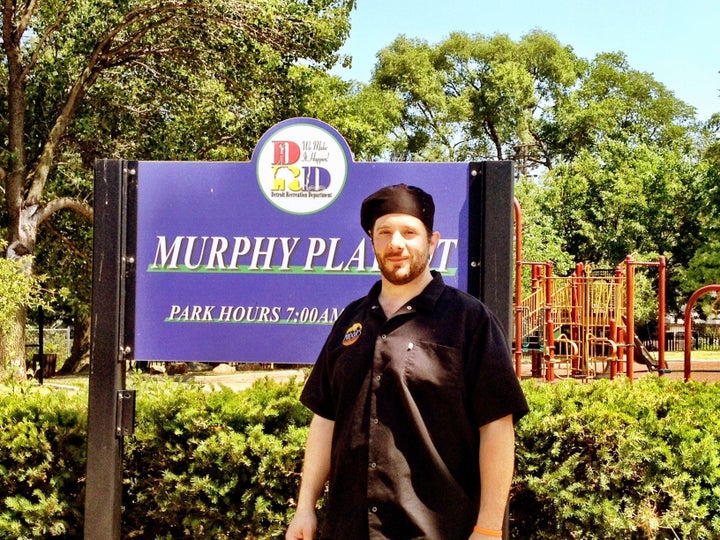 As the city struggles to maintain its public spaces, some Detroiters are taking it upon themselves to keep parks safe and open.
Greg Mudge, owner of Mudgie's Deli in Corktown, Detroit, is planning to volunteer through the city's Adopt-A-Park program to maintain Murphy's Playlot across the street.
"Ever since I've been there we've tried to take care of it," Mudge said.
Schoolchildren, like those at nearby Most Holy Trinity School, use the park's basketball court and jungle gym.
"It's pretty much the go-to park for the neighborhood kids on this end of Corktown," Mudge said.
The owner of a popular deli that has racked up many "Best Sandwich" awards since opening in 2008, Mudge said he envisions having staff of the restaurant spend time volunteering at the park.
Apart from mowing and general upkeep, Mudge has a long list of small projects in mind for the park, including putting in a recycling bins, restoring park benches, repainting the basketball court and more.
The citywide Adopt-A-Park program launched last year, allowing individuals and groups to take responsibility for parks in the city, including mowing, gardening and making sure equipment is safe, and 100 parks have been adopted by volunteers, according to program organizer Trina Tucker.
"In years past the city did cut [the grass]," Mudge said of Murphy's Playlot. "This year they just haven't."
Mudge's "adoption" of Murphy's Playlot has not been made official yet, but Tucker said it is in progress.
Support HuffPost
The Stakes Have Never Been Higher
Related
Popular in the Community