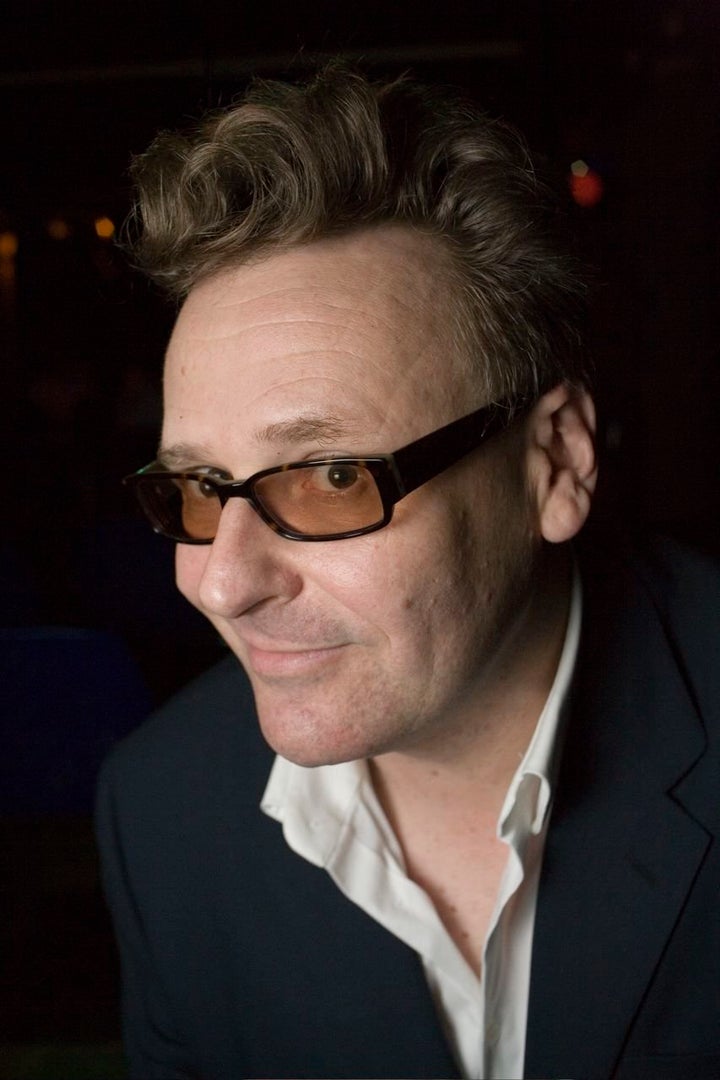 Full of baseball trivia, the golden era of Hollywood blockbusters (think "Cleopatra"), funk music and whatever else pops in his head, Proops' hour-plus-long show is recorded with him alone, no guests needed and released weekly from comedy clubs and theaters around the U.S. and Europe.
The Huffington Post: For people that know you as an improvisor or stand up, how is the podcast different from those other forms of comedy?
Greg Proops: It's probably the closest you can get to hanging out with me. My friends will attest to this. I drink, I pontificate and you don't get to say anything.
It's also from the heart and I think everybody can feel that. It's changed everything around for me comedically. It's so direct. More direct than stand up, more direct than improv. No censors, editing, no corporate meetings.
This is a really good medium for me because the pressure of delivering stand up laughs every 15 to 30 seconds is somewhat alleviated because of the atmosphere and motif of the podcast. I can be funny, but I don't have to tell jokes to be funny. It's horrible to find out that after doing something for 30 years that the thing you're best at is sitting at a table drinking.
As soon as I started doing this my wife told me to make it my focus. I think it's for having done this for a thousand years, I can now sit down and talk about stuff without too much ado.
HuffPost: Have you had any podcast imitators?
Proops: I haven't even thought about that. I've had people compare me to English comics like Jeremy Hardy, Mark Steel and Jean Shepherd, I don't do as many family anecdotes as Jean Shepherd, who was a wonderful broadcaster who did a show where he basically talked.
As far as me being an influence for someone else, no one is going to see my show and want to do it.
Obviously the name of the show is a joke, a friend of mine gave it to me. But some people are very literal. Sometimes you see things like "He's not the smartest man in the world! All he does is drink." Well, they're not listening very closely.
HuffPost: You've talked about previous shows of yours on the podcast, specifically your Largo talk show. Is there any chance of that seeing the light of day?
Proops: I've put a couple on YouTube, highlight reels with guests like Eddie Izzard. I've done the show for years, both at the old Largo and the new one, and had great guests on. Drew Carey did it a million times, Dave Grohl, David Cross, Margaret Cho, John C. Reilly, Jeff Goldblum, Lewis Black, Jon Brion was the band a million times, I was really lucky. The old Largo was more of a clubhouse. The new one is more for teenagers, the old one was a saloon. By it's very nature it was a gathering place. The other one is still big, people still do shows there all the time.
Now the pressure's off me. It was really a murder to book guests. I'd book them by hand. There were no agents involved in any of this. That's why it seemed organic. We left the industry out, which is a way to make shows better and funnier.
HuffPost: It's harder to book guests than to talk without a script for an hour of new material each week?
Proops: As I often say, I'm mesmerized by my own voice. I'm pretty loquacious. I don't require a lot of prompting.
HuffPost: Unlike some other comics and podcasters, like Marc Maron, your anger seems to be justified at the ills of society rather than yourself. You seem like a happy man that uses your anger in the podcast in "the boring preachy parts." Would you ever want to do a "boring preachy parts" show?
Proops: I am genuinely happy. I mean, I have a wife.
HuffPost: How much of a role does your wife play in the podcast?
Proops: She gives me a lot of the material. She combs through lots of stuff and will send me stuff. Last week I talked about a 19th century feminist, Matilda Joslyn Gage, whose daughter married L. Frank Baum, the author of "The Wizard of Oz" and she gave me that article.
I've decided to highlight feminists a lot because I get very, very bored with the Lynne Cheney-patriot view of American history. I'm tired of the fictionalized history of America.
As far as the boring preachy part, it'll never be the whole show because I love riffing about bands and books and stuff. I do love doing that part and I'd like to control my anger more but it's grounded in a heinous miscarriage going on at all times. By the way, it's just is the way people are. It's not going to keep me against railing against it every minute of the day. I get really tired of the "Shut up and listen!" motif the government and the media portray.
HuffPost: Will the D.C. show have any specific topics?
Proops: Since Ray Bradbury just passed it'll mostly be about him. My wife and I saw him a few years ago, I think at the Borders that closed out here. I read all of his stuff when I was little. I think this show might be heavily about him and politics.
We canonize and eulogize. I just feel like some people are hard to replace.
HuffPost: As an improvisor and stand up, how do you marry the styles of comedy?
Proops: I think it's just a matter of switching gears. When you're doing improv you have to surrender your ego. You can't always take the lead and put your dick in everything. You have to let other people in the group have their say so your agenda is irrelevant. When it's me alone, my agenda is at the forefront.
The podcast is going to be blathering and then it's going to get to whatever's up my ass that week. With the stand up, if the crowd looks rough I'll start with good old, fashioned greatest hits and then go into politics. If the crowd looks hip, I'll dive right in with politics.
HuffPost: When you're coming to D.C., will you shy away from more political material?
Proops: Both. I won't ever shy away from politics but I won't write new stuff for D.C. Within a day or two of watching the news and reading the paper, I'll have new material. Of course I read the news anyways.
It's fun to do politics in D.C. in the same way it's fun to do celebrity humor in Los Angeles. If you do too much Hollywood tabloid material junk when you're on the road in regular America, people don't care. People don't even know who Ryan Gosling is. They know who Tom Cruise is. It's not very important in their lives. It's entertainment they turn to when they want to vege out. I think it's the same with politics.
The difference is when you get to Washington, everyone has something to do with it. It's an industry town and your industry is government.