When Brooklyn-based designer and developer Larry Fox took a job as a pizza delivery man to make ends meet, he was horrified at the number of bad tippers he encountered. So last year, the 20-year-old created the Tumblr blog "15%" so colleagues in the food industry could post horrible tips and call out customers publicly, and it was soon flooded with submissions.
Luckily there are some tippers out there so generous that we momentarily forget about out all the bad ones. One Houston waiter learned that firsthand this Memorial Day weekend when he received a $5,000 tip on a $26 bill -- that's a 19,000 percent tip.
The generous gratuity was left Saturday by a couple dining at D'Amico's Italian Market Café in Houston, according to the blog 29-95. The couple were regulars at the restaurant and were often served by Greg Rubar, a waiter there for the past 16 years.
When the couple learned the Rubar's car had been ruined recently by thunderstorms, they were understandably concerned. According to the Houston Examiner, Rubar, who is married with a small child, had struggled with transportation ever since his car was destroyed and had been lately borrowing vehicles from coworkers and taking taxis.
To relieve Rubar of his transportation burdens, the couple left a $5,000 tip on their next bill -- which totaled just $26.95 -- and told Rubar to "go buy himself a car."
"The couple, who do not want to be identified, thought anyone who has worked as hard and as proficiently as Rubar has for so long, shouldn't be punished for something so out of his control," D'Amico's Italian Market Café said in a press release. "They had gone to the restaurant that night to present him with the money."
Before You Go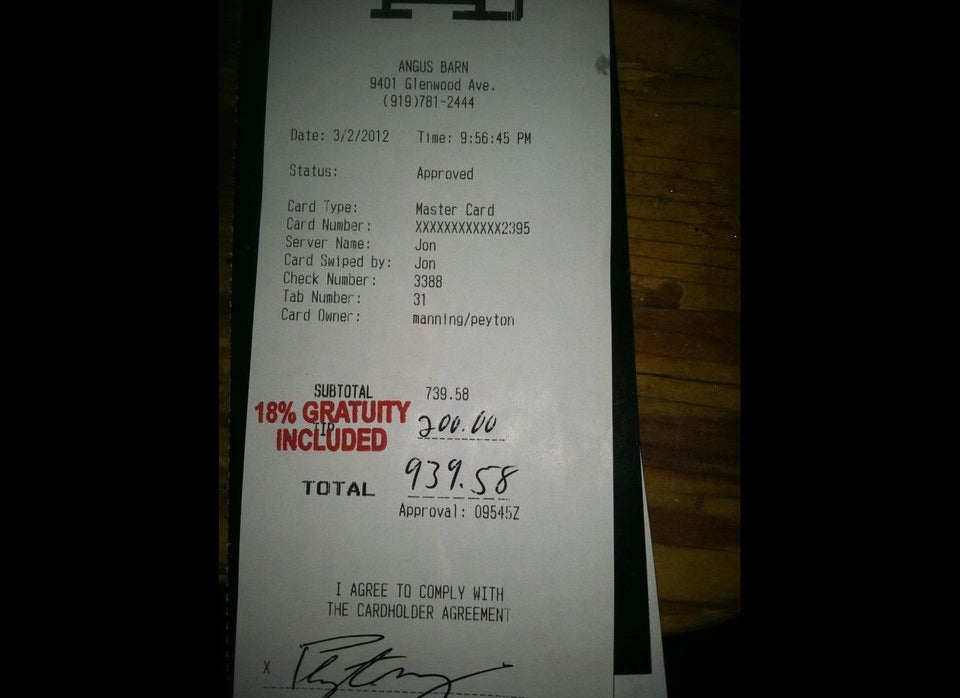 Most Outrageous Tipping Stories