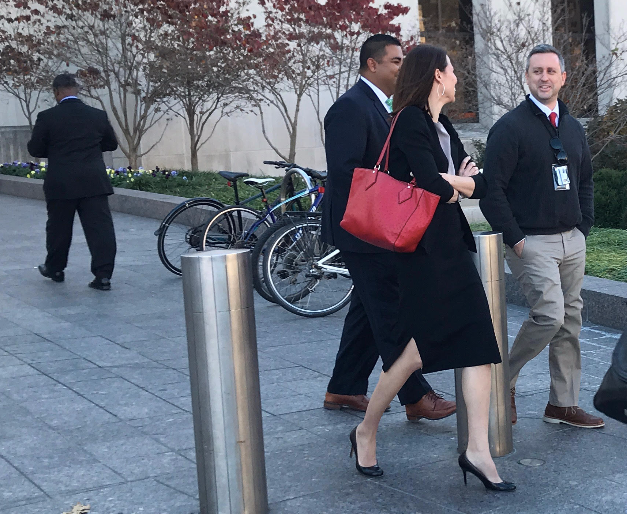 Gregg Pemberton, a detective with Washington's Metropolitan Police Department who also serves as an official in the local police union, had until recently maintained a public Twitter account that reflected his views on a variety of law enforcement topics. On the stand, Pemberton claimed he tweeted "solely" as a member of the D.C. police union board, though he later said that he had used the account in his investigative capacity.
The actions of the police on Jan. 20, as a crowd of mostly black-clad individuals smashed windows and caused general chaos in downtown Washington, have been the subject of scrutiny. Critics claim they arrested scores of protesters indiscriminately, without determining which ones had been violent. Pemberton testified in the case against six of those arrested, who have been charged with various felonies.
Pemberton sent tweets on inauguration day that indicated he was inspired by how officers responded to the destructive behavior of some protesters.
In one tweet, he wrote that it was "incredibly inspiring" to see the restraint "being employed by officers today. Ironic it's the same officers that get accused of being violent." In another, he wrote he was "receiving reports of injured officers," and that he was "humbled at the level of professionalism I've seen today & am proud of our members."
Pemberton acknowledged to defense attorneys that he deleted those tweets and locked down his account following what he termed the "targeted harassment" he received in recent days after other users called attention to his tweets.
Pemberton testified that, after spending nearly all of 2017 reviewing video from that day, he still believed in the "general sense" that police had handled the unrest "professionally." At times, Pemberton said, "better decisions could have been made," but he said he wasn't going to "armchair quarterback a few-second-clip" of police use of force.
Pemberton elaborated on his view of Twitter on the stand, testifying that he believed "sometimes you need to be bombastic in order to get attention" on the platform. "Sometimes the loudest person in the room gets the attention," he said, adding that part of Twitter is saying "edgy, often times obnoxious things."
In one tweet, Pemberton wrote that body cameras were the "bane of disingenuous 'activists' who peddle lies & falsehoods." He testified that he believed there is a "cottage industry of people who just want to make money" who "gum up the works" for the "genuine activists" who truly want to reform how police operate. He claimed he was not speaking about Black Lives Matter specifically, and painted himself as someone who supports police reform and is regularly critical of Washington's police force Department.
The trial opened on Nov. 20. The prosecutors are lawyers from the U.S. Attorney's Office for the District of Columbia, which is under the control of the Justice Department. Washington is unique in that both federal and local crimes that elsewhere would be tried by local prosecutors are instead handled by Justice Department attorneys.
Before the jury entered court for the morning, Judge Lynn Leibovitz warned Assistant U.S. Attorney Jennifer Kerkhoff to be careful not to trivialize tweets that Pemberton sent about policing. But Leibovitz also seemed to suggest that following certain news accounts ― like Breitbart and Fox News ― didn't necessarily indicate Pemberton's political beliefs.
Kerkhoff, outside of the presence of the jury, said that people have been claiming online that Pemberton is a "racist Nazi." Pemberton's Twitter account drew attention after tweets from Unicorn Riot, a media collective that has manned the trial and offered extensive coverage of the proceedings, said that he had been following "one of the main online hubs for neo-nazi 'alt right' harassment campaigns." That's the type of information that other Twitter users used to suggest that Pemberton was "definitely at least Nazi-adjacent."
There's no evidence that Pemberton holds such extremist views. But there's lots of evidence he's not a huge fan of the types of individuals he was investigating. While one can't necessarily ascribe political beliefs to Twitter likes, Pemberton liked a tweet from former Milwaukee County Sheriff David Clarke, a vocal Trump supporter, that said America needed to push back against "leftist goons."
Defense attorneys also aired videos in which Pemberton spoke about Trump's appeal to the law enforcement community. In one video interview with the One America News Network, Pemberton said that Trump "certainly has a message of law and order and he is appealing to a lot of police officers."
Pemberton also tweeted in April that he hadn't heard much about "police shootings of unarmed black youth" in awhile. "Did they run out of funds for their false narrative?" he tweeted. Later, he tweeted that body cameras worn by police had "destroyed" the "false narrative of BLM," referring to Black Lives Matter.
Pressed on his views of Black Lives Matter, Pemberton suggested that his opinions had shifted in the past year-and-a-half. He said that the decentralized movement had become "a lot more level headed." He said he had disagreed with the rhetoric from Black Lives Matter activists in the past, but that he heard more positive commentary from them recently.
Ryan Reilly is HuffPost's senior justice reporter, covering criminal justice, federal law enforcement and legal affairs. Have a tip? Reach him at ryan.reilly@huffpost.com or on Signal at 202-527-9261.
Support HuffPost
The Stakes Have Never Been Higher
Popular in the Community