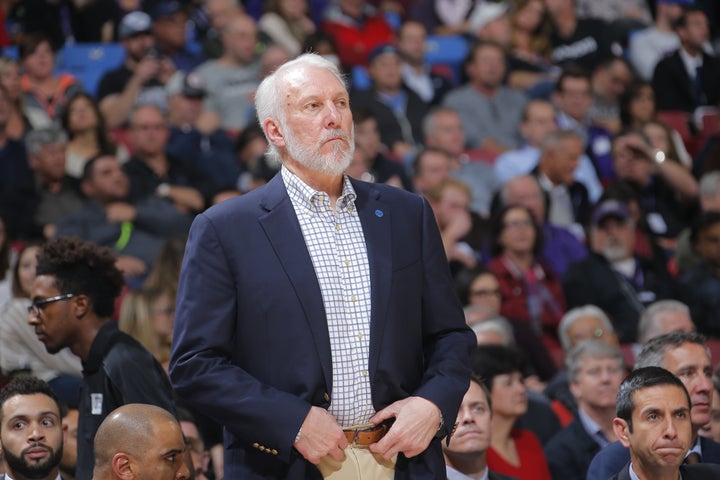 San Antonio Spurs coach Gregg Popovich is as close to a living legend as you'll get in state of Texas. And if you need proof, we point you to Emmanuel Casasola, the man who believes a San Antonio high school should change its name in honor of the 66-year-old. 
Casasola started a petition online on Nov. 12 to change the name of Robert E. Lee High School -- named after a Civil War-era Confederate general, for the two of you who don't know -- to something honoring the Spurs coach.
Casasola told the San Antonio Express-News he decided to start the petition in light of a number of academic institutions that have distanced themselves from Confederate figures and symbols. "I'm not advocating to change the name, but if it does change, it should be to honor one of our own," Casasola said.
In the petition, Casasola made sure to clarify that the petition wasn't just a comedy stunt. "I know this may come off as a joke, but I am being completely serious," Casasola affirmed. "He is loved and revered all over the country as the best coach in all of sports and one of the greatest coaches of all time."
As of Thursday morning, the petition had already garnered over 1,500 signatures in the week since it was launched. Popovich, however, told the Express-News that he wasn't too fond of the idea.
"You got to be kidding," Popovich said. "Are you serious? I would hope that you would use all your muscle or whatever you have to squash that ridiculous idea as soon as humanly possible. Can you please do that for me? Squash that ridiculous idea right now. That is laughable."
Then again, did you expect any other type of answer from Popovich?
Calling all HuffPost superfans!
Sign up for membership to become a founding member and help shape HuffPost's next chapter