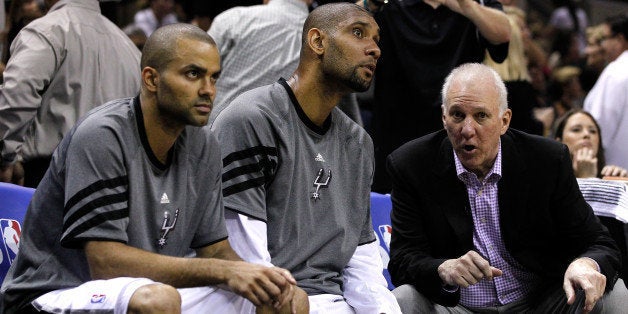 Don't look now, but not only are the San Antonio Spurs rolling along in the NBA playoffs, they're doing so in what many would consider very un-Spurslike fashion. The common myth about Gregg Popovich's teams -- that they play slow, boring basketball-- is simple, but it also happens to be wrong. True, when the Spurs won earlier titles, anchored by David Robinson and Tim Duncan in the middle, they consistently ranked in the bottom third of the league in pace of play. Then, when Manu Ginobili was the game's premier sixth man and could shoulder the scoring load, the offense often went through him. But now, with Tony Parker in the twilight of his career, Popovich has slowly shifted his team's style to allow for a more up-tempo game.
With the 32-year-old Parker at the helm, the Spurs have ranked in the top 11 in pace during each of the past three seasons. According to NBA.com, San Antonio has the top-ranked offensive and defensive net rating in the league, showing the necessary balance on both ends of the floor.
Of course, the real beauty of the Spurs lies not in the wins themselves, but in how they are achieved. Popovich's willingness to adapt to his players, instead of making his players adapt to him, has been the key to the team's nearly unprecedented success. With 18 seasons under his belt, Popovich has missed just one postseason and recently earned his third NBA Coach of the Year award. He has the third-highest winning percentage in league history (.686) to go along with four titles. In an interview with The Huffington Post earlier this month, fellow four-time champion Shaquille O'Neal ranked "Pop" in his top three coaches of all time. "It's [his] consistency and his ability to get guys that are not really NBA stars but make them play at a level to which they look and perform like stars," Shaq said.
This brings us back to Parker (pictured below), who mirrors his coach in terms of dominance and consistency, and who has become an elite point guard in his own right. With Parker running the show and dictating opposing defenses, the offense runs crisply, ranking second overall in effective field goal percentage. Parker's 19-point and six-assist playoff averages are surely impressive, but they also fail to tell the entire story. When combining the net offensive and defensive ratings of all 30 NBA teams, it turns out the Spurs rank first overall. Parker doesn't turn the ball over, he doesn't make mistakes and he understands precisely how hard to press the gas pedal.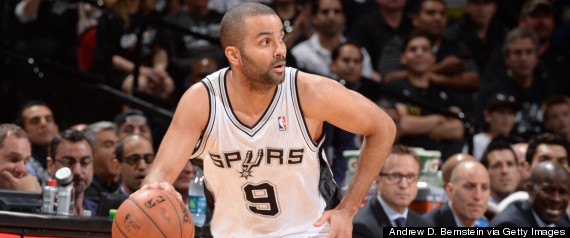 At this point, it's probably time to mention Tim Duncan, who at 38 years old continues his ascent up the ranks as one of the greatest to ever do it. Duncan, who makes a salary cap-friendly $10 million, has turned over his role as option No. 1 to Parker without a hint of complaint. This season he averaged 15 points on just 12 shots, both of which were the second-lowest total of his 17-year career.
Popovich has not only mastered the X's and O's of the game. He has, in effect, created a selfless attitude that permeates his entire roster. It's no coincidence that castoffs like Patty Mills, Marco Belinelli and Danny Green have had banner years with the Spurs, or that fellow unwanted veterans like Boris Diaw and Matt Bonner have found ways to contribute as well. In a league that's both constantly in flux and known for its parity (only eight franchises have won titles since 1984), the Spurs are not just a dynasty. They're a dynasty that knows how to evolve. Regardless of how this season finishes, that's something we can all appreciate.
Email me at jordan.schultz@huffingtonpost.com or ask me questions about anything sports-related at @Schultz_Report and follow me on Instagram @Schultz_Report. Also, be sure to catch my NBC Sports Radio show "Kup and Schultz," which airs Sunday mornings from 9 to 12 EST, right here.
Calling all HuffPost superfans!
Sign up for membership to become a founding member and help shape HuffPost's next chapter