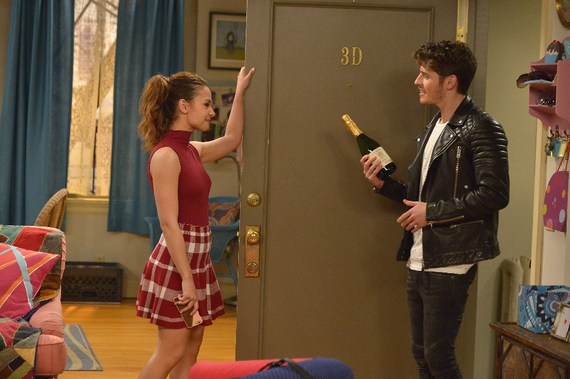 Break out the champagne because Gregg Sulkin is back on Freeform tonight!
The Faking It actor, who has previously starred on Freeform's Pretty Little Liars and Melissa & Joey, will star on tonights Young & Hungry, playing Gabi and Sofia's new neighbor who is constantly playing loud music and bothering the girls.
Celeb Secrets spoke with Sulkin about the new episode, getting details on what fans can expect from his character, whether he will return to the show for more episode and what it was like working with the cast. Sulkin also talked to us about his upcoming movie Status Update and revealed some details about a project he's working on with MTV - make sure to check out our exclusive Q&A with Sulkin below!
Young & Hungry airs Wednesday, July 6 at 8pm ET on Freeform.
Celeb Secrets: You're starring on a new episode of Young & Hungry, which airs tonight. Can you tell us a little bit about your character and what happens in the episode?
Gregg Sulkin: "I play Rick who lives upstairs from Gabi and Sofia and he's a wannabe rockstar. He just moved over from the UK to kind of help his music career and Gabi and Sofia are getting really upset with his noise from upstairs, so Sofia goes to tell him to shut up and when she meets him she's like oh actually he's kind of cute, maybe I'll just put up with his bad music. so a friendship develops and the episode begins.
Celeb Secrets: If this friendship develops between Sofia and your character, can we expect you to be on more than one episode?
Gregg Sulkin: "Yeah, I mean, you know, you have to see. It depends obviously on how tomorrow night goes, how well the storyline is liked, how, you know, honestly, it's up to the show runner too. If I'm liked, I'll be back (laughs)."
Celeb Secrets: So what made you want to guest star on this show?
Gregg Sulkin: "I have a nice relationship with Freeform. I think they're a great network, so I wanted to come back and do a good show for them. I'm friends with Emily, which is cool and I love sitcom. I also like the show. I've seen the show a couple times and I think it's a very well-written and funny show and, you know, it kind of deals with universal issues without basically hitting people over the head with it, so I think it's funny and I'm completely happy to be doing the show."
Celeb Secrets: What was it like working with this cast?
Gregg Sulkin: "Amazing. I have a big bromance with Jonathan Sadowski. Rex Lee, I've known his work for a long time, and everybody else, absolute pros, and obviously Emily has been a friend of mine for a long time and Aimee's just a sweetheart too."
Celeb Secrets: Besides this guest appearance on Young & Hungry, you're also in the middle of filming the movie Status Update. Can you give us any details about the movie and your character?
Gregg Sulkin: "Yeah, I play a guy called Derek Lowe, who's like the star hockey player and he's a bit of a dick, to be honest, and basically at the start of school, the main character, he moves from California to this new school and he's hating every second of it, so basically he has an app on his phone where he can wish for things and so he wishes for things that come true, but then realizes that maybe his old life was better than the new one, so it's kind of like the theme 'be careful what you wish for.'"
Celeb Secrets: And you're working with a pretty star studded cast for the movie. How has it been filming with them? How have you guys bonded on the set of the movie?
Gregg Sulkin: "I think whenever you travel, whenever you go out of town to shoot, I think it's nice. I think you go with people and you're all in the same situation, and so yeah, definitely bonded with the cast. Definitely, I guess we get on with everyone and Ross taught me how to kind of ice skate recently, which has been fun."
Celeb Secrets: Besides those two projects, do you have anything else you're working on?
Gregg Sulkin: "I'm developing a show for MTV right now, which is a lot of fun. It's very amazing and it's very funny and it's very dark. I want to do that. I want to get in the production side of stuff. I feel like I'm at the age now where, you know, I've been doing this for ten years, so I think it's time that I kind of spread my wings a little bit and become more than just an actor."
Celeb Secrets: Since we are Celeb Secrets, can you give us some behind-the-scenes secrets from Young & Hungry and Status Update?
Gregg Sulkin: "I just love joking around with people. I don't know if it's a secret, but I like pranking people. I think it's fun. I like joking around with people. I think it's fun. I like annoying people. I think it's fun (laughs)."
Photo by Lisa Rose/Freeform
REAL LIFE. REAL NEWS. REAL VOICES.
Help us tell more of the stories that matter from voices that too often remain unheard.