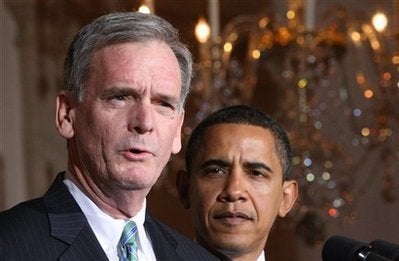 Senator Judd Gregg, nominated to head the Commerce Department in the Obama White House, delivered a double blow to the prospects of a stimulus bill passing the Senate when he let it be known on Wednesday that he generally supported the measure but would not vote on its passage.
"I have recused myself from voting during the pendency of my nomination," Gregg, a New Hampshire Republican, told CNBC.
Earlier in the program he said he was "not really engaged in the stimulus bill," but that he did believe "we need one."
"We need a robust one," he added. "I think the one that's pending is in the range we need. I do believe it's a good idea to do it at two levels, which this bill basically does, which is immediate stimulus and long-term initiatives which actually improve our competitiveness and our productivity."
By recusing himself from voting on a package that he claimed to broadly support, Gregg effectively denied Senate Democrats a possibly significant vote in passing the legislation. Majority whip Dick Durbin and others have begun expressing concerns that the stimulus won't get the 60 votes it needs to pass a Republican filibuster. Gregg could have voted on its passage up until the point that he officially resigned from office.
A cynic might wonder whether the New Hampshire Republican's support for the stimulus was being offered as a means of maneuvering his way towards the White House. Pressed by host Larry Kudlow on whether he had suddenly found the burning bush of Keynsian economics -- Gregg is, after all, a self-described fiscal conservative -- the Senator said that his position was sincere.
"I'm going to support something that I think makes sense, and I think a major stimulus package, and I have said that all along, makes a lot of sense and the Senate is still working its will and I expect it will come up with an even stronger package than the package that left the House."
Popular in the Community