NEW YORK -- One of the high points at any of the Gregorio Uribe Big Band's monthly shows at Zinc Bar in Greenwich Village comes when the audience belts out the chorus of the song "Gracias, Nueva York!" It's a moment that embodies the immigrant gratitude for opportunity that pervades the city.
Uribe, 30, first moved to New York in 2008 to pursue the unlikely aim of building a big band driven by Colombian rhythms. About seven decades had passed since the combined forces of the Great Depression and the phonograph made such large ensembles all but financially untenable.
And yet, Uribe's group is on the verge of another successful milestone: On Oct. 14, the band will release its debut album, "Cumbia Universal," at Dizzy's Club in New York's Lincoln Center.
"When I decided to go for a big band, I was very aware of the chaotic or romantic aspects of it," Uribe told The Huffington Post. "In a world where one person can make music with one laptop, this is kind of going against the current."
"But at the same time, I thought that because there's so much music out there these days, that the same element that was going to make it difficult was what was going to make the band unique," he added. "So I said, ok, I'm ready for that struggle."
Uribe first started experimenting with big band arrangements in 2007, as he was finishing his degree at Berklee College of Music in Boston. As a student at an elite U.S. music institution who had left his native Colombia for the first time at age 18, he'd distanced himself from the popular music of his youth, like cumbia and vallenato, a folksy dance style from the Caribbean that is wildly popular in Colombia.
But as graduation approached and Uribe began to envision his musical future, he awakened to the richness of his roots.
"It's an interesting moment when you're in college and you're far from your homeland," Uribe told HuffPost. "You're playing in school and you're thinking, 'Oh, this music is too simple, what am I doing playing this thing?' But then you come full circle and you think, this music is very organic to me. Why should I not embrace that?"
"And my conclusion was the big band," he went on. "Because it was a combination of these things that I came to love -- big band jazz arranging and Colombian music and rhythms."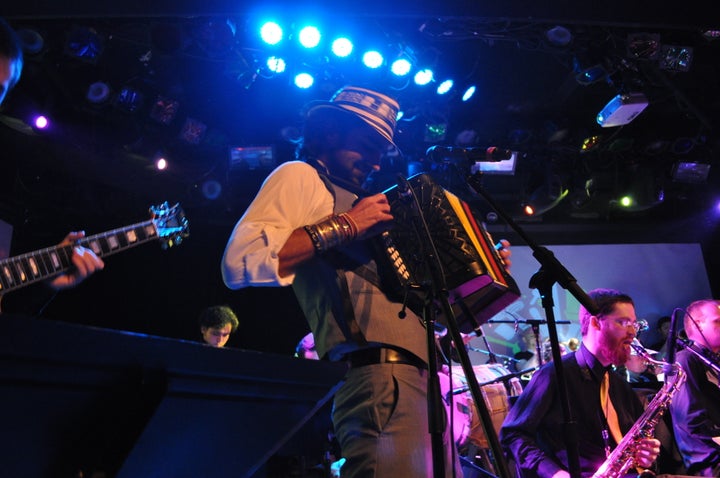 It's music that combines the technical virtuosity of the American big bands of the 1940s with the thunderous percussion of Colombian dance music. The punchy horn section at times channels Duke Ellington, but the huffing melodies of the accordion instantly recall vallenato. It's music that reflects the history and reality of an immigrant city.
The sounds may have a distinctly Colombian tinge, but the 16-piece band boasts members from across the hemisphere. Jonathan Gómez, who plays alegre drum, is the only other Colombian-born musician in the group. The others hail from Argentina, Canada, Mexico, Switzerland and the United States, including two Mexican-Americans.
Even Uribe's look displays the melding of cultures that defines his music. He nearly always performs in a pressed white shirt, grey vest and black tie -- a throwback to the far more formal 1920s and 1930s, when big bands dominated the dance scene. But he also dons a sombrero vueltiao, an emblematically Colombian beige-and-black stitched hat, and he plays an accordion emblazoned with the colors of his country's flag.
The band bootstrapped the production of their new disc, raising $23,000 on Kickstarter to provide initial funding. The band relies on an "extended family" of substitute musicians, so that the official members can free themselves up to take gigs when opportunity calls elsewhere.
But the group's unique sound has also attracted the attention of big names in the music business. Uribe has shared the stage three times with Carlos Vives, one of Colombia's most popular musicians -- most recently at Brooklyn's Barclays Center this month, when Vives performed with salsa star Marc Anthony. Uribe said he hadn't planned to play that night. He only wanted to hand off a copy of the new CD as a present. But when he met with Vives backstage, the star invited Uribe to perform.
"I hadn't even brought my instrument," Uribe said. "I borrowed one of his accordions at the last minute."
Salsa legend Ruben Blades also lends his vocals to the title track, "Cumbia Universal," a song that Uribe says defines the band's values.
"It's the idea of cumbia being a song that everyone can feel included in and enjoy," Uribe said. "And also the idea of the drum beat being part of a common past … I like the idea of having common ground."
Popular in the Community