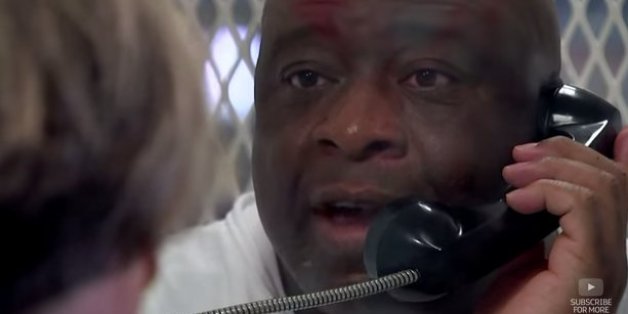 A man convicted of killing an auto mechanic while high on a crack binge and then driving off in the victim's car was put to death by lethal injection Thursday in Texas, the state's ninth execution this year.
Gregory Russeau, 45, was pronounced dead at 6:49 p.m., at the Texas State Penitentiary at Huntsville, the state Department of Criminal Justice told The Huffington Post in a statement.
Russeau's last words, according to the Department of Criminal Justice, were:
Yes, I would like to thank my family and friends for what y'all have done for me, Thank you for being here with me that I do not have to transition alone. I have peace. To my daughter, I love you, to my grandbabies, sisters and brothers, I love you. I am ready to go home.
Jason Clark, spokesman for the Department of Criminal Justice, said in an email that the state has enough of the lethal injection chemical pentobarbital to carry out the four remaining executions scheduled this year.
Russeau was convicted in 2001 of beating 75-year-old auto mechanic James Syvertson in Tyler, Texas, and then fleeing the crime scene in Syvertson's car, Reuters reported.
Russeau maintained his innocence for 13 years. Though he admitted to being on drugs, he claimed he didn't know when he was caught driving Syvertson's car that it was stolen.
Convicted by an all-white jury, Russeau accused police of planting evidence to frame him, claiming they were involved in the town's illegal drug trade. His appeals were rejected.
Russeau had exhausted his appeals and recently told Channel 4 news from Washington that he had accepted his fate.
"To some, it's life and they want to live it," Russeau told Channel 4's Kylie Morris in his only jailhouse interview. "Me, I'm ready for it to be over with. I'm not ready to die, but the madness, the sadness, the humiliation, you know just life in general, being in this situation, is not good."
He said he was at peace.
"I have peace today, so I have no problem laying on that gurney to accept whatever the state's going to do to me, but it's not going to change the fact that they strapping an innocent man to a bunk and injecting drugs into them, just to get their satisfaction."
Syvertson's daughter, Jeanette Deason, told NBC her father's murder "totally devastated" the family.
"He was always smiling, always trying to help people. He wasn't perfect but he was loved," Deason said.
Deason said she had "mixed emotions" about the execution and didn't plan to attend.
"I don't care to see that," Deason said. "They drug it on forever -- it's ridiculous. But I'm not jumping up and down that he's gonna die."
REAL LIFE. REAL NEWS. REAL VOICES.
Help us tell more of the stories that matter from voices that too often remain unheard.