It's common for a sunken ship or an assortment of discarded building materials to serve as the base for an artificial reef, but a sculpture garden? In the West Indies, located within the National Marine Park in an area a few miles north of Grenada's capital, St. Georges, the "Moliniere Bay underwater museum" created by Jason deCaires Taylor contains sixty-five pieces of underwater art spread over an area of eight hundred square meters.
One of Caribbean Travel and Life's editors recently chatted with Taylor, learning that he is a British-born artist and dive instructor who spent his childhood exploring reefs in Malaysia and later studied both sculpture and ceramics, and has a passion for ecology as well as public art. After the local ecosystem of Moliniere Bay was ravaged by the storm surge from Hurricane Ivan in 2004, Taylor spent sixteen months creating the sculptures in an effort to bring the area's fragile ecosystem back into balance. To this end, the sculpture garden serves two purposes: it provides a diversion for visitors who might otherwise spend more time exploring natural reefs, thus giving those natural reefs an opportunity to regenerate; and it provides a new habitat for marine life.
Taylor worked with materials such as steel as well as cement with a reduced pH, which encourages coral to form, and then bolted the sculptures to the ocean substrate. True to his expectations, the sculpture park in Grenada now flourishes with corals, sponges and schools of fish. In addition to peacock flounder, fire worms and banded coral shrimp, Taylor has noted traces of brain coral on some of the statues.
As the corrosion of salt water and the growth of marine life each have their effect on the sculptures over time, Taylor's works have begun to take on eerie but breathtaking new character and depth. Many of the sixty-five sculptures are organized into groups, such as "Grace Reef," featuring sixteen casts of a Grenadian woman lying prone, and "Vicissitudes," a circular grouping of life-sized casts of a diverse group of children. Several of Taylor's other sculptures take inspiration from the folklore and culture of their surroundings, and explorers will note shades of Caribbean history within the sculpture garden. "La Diablesse," Taylor's rendering of the bewitching "she-devil" from Grenadian literature, bears hollowed-out eyes and a cloven hoof, and the "Lost Correspondent" sits at a desk with his typewriter, surrounded by articles from Grenada's pre-revolutionary days.
Visitors to Grenada will find that the National Marine Park is easily accessible via a short boat ride from St. Georges or Grand Anse. The waters of Moliniere Bay are mostly clear and shallow, and the sculpture garden can be explored by divers and snorkelers or partially viewed from a glass-bottomed boat.
In addition to the sculpture park in Grenada, Taylor has also taken part in a project to install more than 400 permanent life-size sculptures in a Mexico underwater museum, near Cancun, Isla Mujeres and Punta Nizuc. All photos courtesy Jason de Caires Taylor.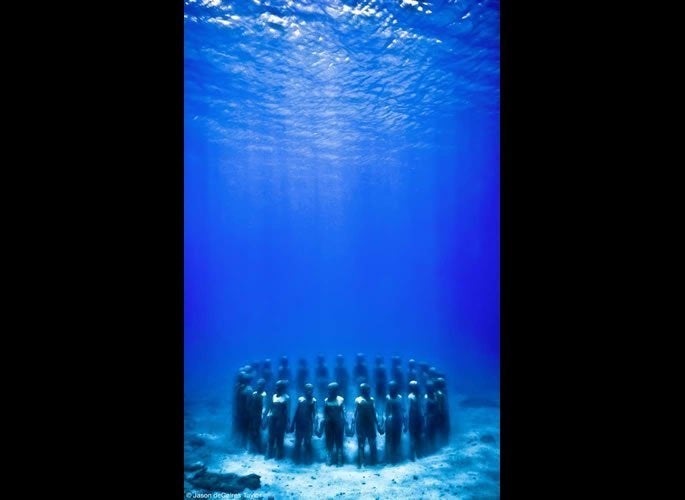 Underwater Grenada Sculpture Gallery